Acumatica CEO Jon Roskill says Acumatica Summit 2021 will bring the community together again. He also says it's the place to further their cloud ERP success through the ongoing journey that is digital transformation.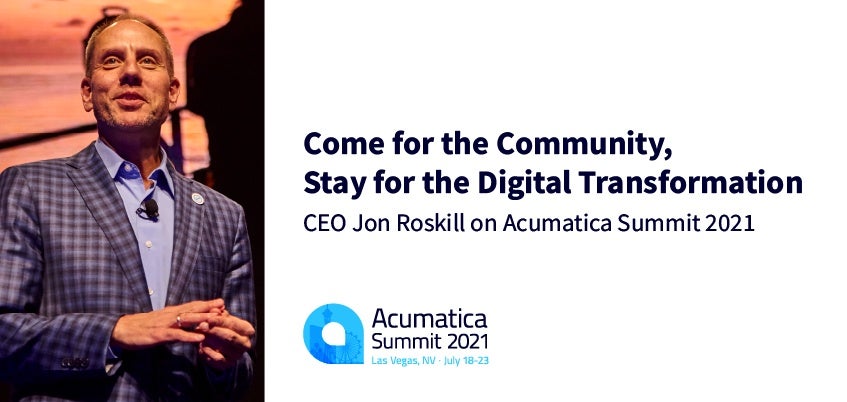 Here at Acumatica, we always talk about the importance of meeting face-to-face, pointing to our annual Summit as one of the best places to make professional and personal connections. But the pandemic affected everyone's ability to meet in person, and as the long-term effects of the crisis continued, we were concerned that Acumatica Summit 2021 wasn't going to be possible. However, with the progress made on vaccinating the nation, and with the tremendous effort put forth by our event planning team, it is happening in Las Vegas, Nevada, July 18-23, 2021.
We're beyond excited to get back to normal business operations while doing everything in our power to accelerate the Acumatica community's cloud ERP success.
Community and safety at Acumatica Summit 2021
The Acumatica community is special. I know because I've spent time with similar communities, and the reunion-like atmosphere at Acumatica's yearly technology conference is not replicated anywhere else.
I know this connection has been heavily influenced by our customer-and-innovation-first mentality, which puts precedence on people and outcomes, not on processes. It's also due to the fact that we rely 100% on our Acumatica Value Added Resellers (VARs) to sell our award-winning cloud ERP software and on our Independent Software Vendors (ISVs) to develop third-party applications (featured in the Acumatica Marketplace) that extend the already stupendous functionality of our Cloud xRP Platform.
The relationship between Acumatica and our partners is symbiotic. We offer a no-compete promise along with an Acumatica Partner Program that provides excellent training and ongoing support. Acumatica's Director of Partner Enablement Jessica Gadbois was recently quoted as saying in response to her well-deserved addition to CRN's 2021 Women of the Channel List, "If our partners succeed, Acumatica succeeds."
The same goes for our customers and developers. Their success is our success, and the goal at Acumatica Summit 2021—and for every Summit—is to encourage open conversations, innovative ideas, and unprecedented learning. That's why every member of our executive, product management, service/support, and development teams go to the Summit and make themselves available throughout the event. Unlike our competitors, we don't hide from our community members; we seek them out.
And because we seek out and spend time with our community, we were not going to open up Acumatica Summit 2021 without first ensuring everyone's health and safety. We secured the Wynn Las Vegas, a five-star resort that has always provided top-notch service, support, and cleanliness and has now applied the Wynn ethos to their pandemic response.
Acumatica's Event Marketing Director, Bob Clancy, explains why staying at the Wynn is the best and safest experience: "Their award-winning Health and Sanitization Plan, which was created over three months while working closely with medical and public health officials, is comprehensive, covering concerns from A-to-Z. For example, all guests and employees must wear face masks or coverings when in public spaces; the Wynn provides face coverings on a daily basis for those who need them. In addition, they screen every person who enters with non-invasive thermal cameras, meticulously clean and disinfect all public areas and guestrooms, provide hand sanitization stations throughout the property, adhere to physical distancing and meeting space occupation guidelines, and much more, as seen in their Health and Safety video."
The Wynn's 300,000 square feet of event space has also been taken into account. With so much space at our disposal, the Acumatica community can spread out during the cloud ERP general, breakout, and training sessions. The Wynn has also installed advanced HEPA air filtration systems throughout, purifying the air to keep their guests safe.
In addition to all the Wynn has put in place, we couldn't have timed the event better. By the time the Summit rolls around (in less than a month's time), the expectation is that the U.S. vaccination rate will be at 70%. Even better, the majority of the hotel staff is already vaccinated.
Coming safely together as a community is the draw for Acumatica Summit 2021, but our focus on cloud ERP learning and digital transformation is going to be the substance.
Post-pandemic digital transformation at Acumatica Summit 2021
The software industry has been discussing digital transformation for years. It's the idea of taking manual, analog processes and systems and automating, integrating, and digitizing them through modern technology, such as a comprehensive cloud-based ERP solution. The result is a connected business performing optimally in the new digital economy. Though digital transformations can fail, the reasons they do are not insurmountable and should not be the excuse for companies to forgo the process.
With this in mind, during the Summit we'll be focusing on post-pandemic digital transformation. There are different stages to this concept.
First, there are those who have not yet implemented a digital transformation and are not running in the cloud at all. Estimates are that about 75% of SMBs fall into this category. The pandemic has magnified how critically important it is for these businesses to be able to react quickly to unexpected and uncontrollable situations, such as suddenly needing to become a remote workforce or dealing with supply chain disruptions.
Then there are those who have already moved to the cloud. Though not immune to the pandemic's far-reaching effects, they have been able to succeed as agile and connected businesses during the pandemic. For example, Seth Bray, CEO of PennAir  says. "While our competition struggles to adapt, our team has been able to work anywhere and maintain business continuity under any scenario because we're running PennAir on Acumatica in the cloud."
What customers in either of these two early stages of post-pandemic digital transformation need to keep in mind is that it is not a quick-fix panacea. Instead, it's an ongoing journey, and this is something the best companies understand. They're the ones who, as soon as they get done improving their business with Acumatica's capabilities, immediately begin tackling two or three things they can improve next. It's continual improvement focused on increasing the efficiency and agility of the overall business, even in uncertain times.
Acumatica Senior Director of Professional Services Todd Kuhns addresses this ongoing improvement in his recent post on cloud ERP implementations. "Though go-live may appear to be the ending of the cloud ERP implementation journey, it's not. For Acumatica, there isn't a destination point. We believe the cloud ERP implementation journey is an ongoing process that sustains the value, use, and quality of your cloud ERP investment."
 Acumatica Summit 2021: Appreciating what we lost
For too long, we as a society were unable to gather face-to-face. The loss of that connection made us realize just how much we appreciate and need in-person human interaction, and Acumatica Summit 2021 is ground zero for connecting with the Acumatica community.
It's where we gather together, feed off each other's energy, learn what others are doing in the same industry, and highlight hundreds of ISVs who provide amazing ideas on improving the digital transformation process. It's also where we talk about Acumatica's product and business strategy roadmap, show exciting product demos, and discuss where Acumatica as a company is headed next.
For example, attendees can reasonably expect to see further integration of Acumatica Construction Edition with the rest of the Acumatica platform and modules, which is a key differentiator from the competition. We'll also address new enhancements made  to the core Manufacturing module, including quality and process components updates, and look at our Retail -Commerce Edition, including Acumatica Point of Sale and our Acumatica for BigCommerce Connector.
Financial Management, which is the heart of Acumatica's product and used by every Acumatica customer, continues to be finessed with advances to the interface and in supporting compliance/regulations. And, finally, we'll look at Acumatica's Cloud xRP platform—where it all begins—which is consistently being enhanced and advanced (remember the Visual Flow Designer we highlighted last year? You'll see even more of it at Summit 2021!).
Acumatica Summit 2021 is the perfect combination of community and business acceleration while in a safe and sustainable environment—in fact, we've upped our sustainability efforts. Todd Wells, Acumatica CMO, explains what we're doing in detail in Doing Our Part: Sustainability at Acumatica Summit 2021. One of our simplest sustainable efforts is reusing our digital mobile app and avoiding the use of paper, which, according to The World Counts, accounts for up to 50% of business waste and 25% of landfill waste.
In addition to reducing waste, the Summit mobile app lets attendees automatically register on-site without the need to touch screens. It provides access to common FAQs and to a site map while allowing attendees to personalize and view their custom Summit agenda, check out featured speakers and sponsors, and more. The app can be downloaded via the App Store and Google Play.
The Acumatica Summit 2021 Event Page has further details. For any questions about the event, email the planning team at eventcs@acumatica.com, and for any questions about Acumatica's cloud ERP software, contact our experts.
I hope you'll join us. We're beyond excited for this year's Summit. As we have said, come for the amazing community and stay for digital transformation success with Acumatica Cloud ERP.