Is it possible for our annual Acumatica Hackathon to keep producing even more creative and unique applications than the year before? Acumatica Summit 20201 Hackathon proves that it is.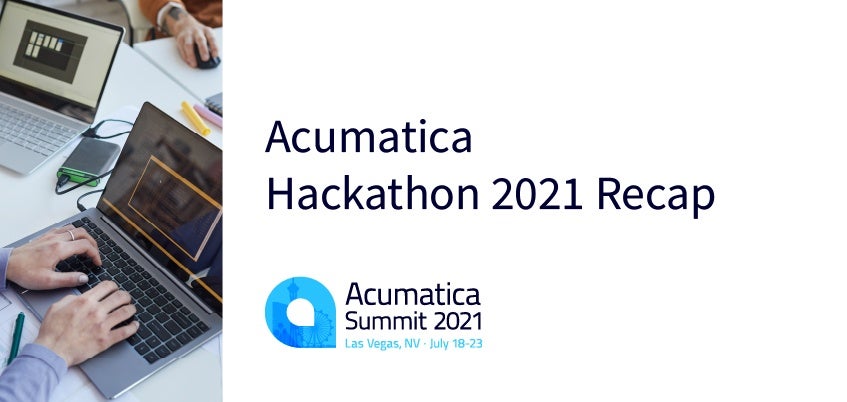 Last year, Acumatica Hackathon 2020 participants came with their 'A' game, creating outstanding solutions and development tools that extend the functionality of Acumatica's cloud xRP platform. I'm pleased to announce that the participants in the Acumatica Hackathon 2021, which was the kickoff event for Acumatica Summit 2021, brought their 'A+' game.
The teams, made up of Acumatica developers and non-developers, presented solutions that were not only innovative but pragmatic. Everyone in the Acumatica community will benefit from their creative ideas.
Acumatica Summit 2021 Hackathon winners
As I mentioned in The Hack is Back: 3 Reasons to Participate in Acumatica Hackathon 2021, participants compete and collaborate, learn and grow their cloud ERP community, and win prizes and accolades. But even those who don't place in the top three are winners for taking the time and putting in the effort to develop solutions that may become official Acumatica apps or features.
This year, along with veteran judges CPO Ali Jani and EVP, Products & Chief Strategy Officer Ajoy Krishnamoorthy, we added two new judges: VP of Platform Engineering Platform Andrew Boulanov, and VP Partner Solutions Christian Lindberg. Every year, it's a challenge to pick the top three solutions out of so many worthy options. When they do, the winners receive a few benefits, including some cool prizes. Here are the prizes from this year's Acumatica Hackathon:
First place: Bose Noise Cancelling Headphones 700
Second place: Samsung Galaxy Tablet A7
Third place: Garmin Forerunner 235, GPS Running Watch
Additionally, the winners will have their names inscribed on the Acumatica Developer Network Hackathon Cup.
Now that we know what the winners got, let's look at what they did to earn the winning spots.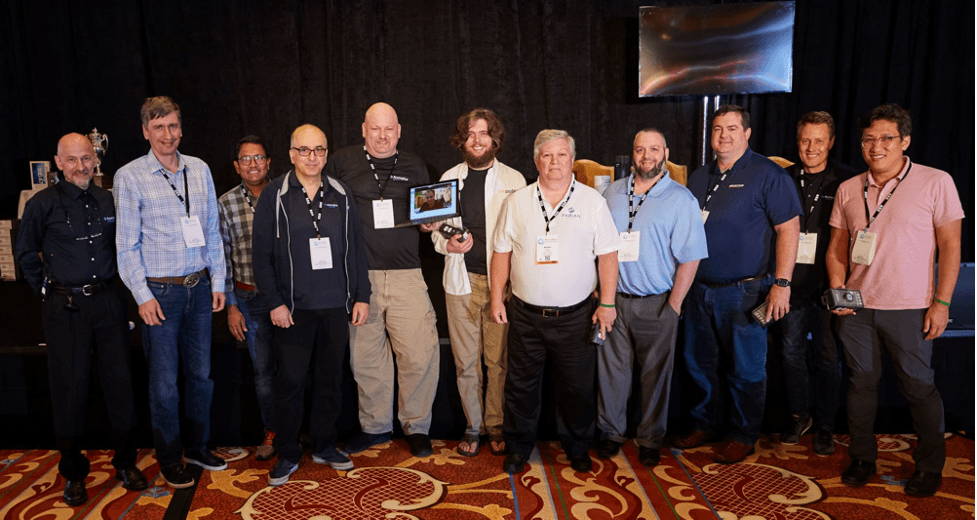 Third Place: Team Zeta
Brian Stevens | Setech Supply Chain Solutions, LLC
Joshua Van Hoesen | ASI LLC
Shane Jervis | Select Sires, Inc.
Troy Vars | CS3 Technology
Joshua Sung | S-Metric, Inc.
Michael Triffon | Pabian Partners
Sergey Nikomarov | Acumatica
Solution: Team Zeta created AnyPay, which adds payment settlement to Standard Acumatica via Cryptocurrencies such as BitCoin and DogeCoin, inline and transparently to the user.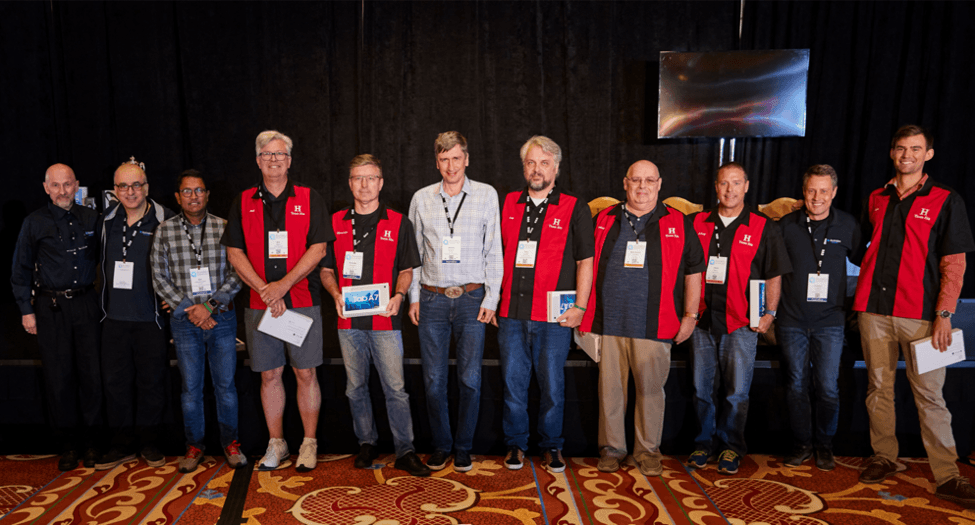 Second Place: Team Eta
Kyle Vanderstoep | Contou Inc.
Tony Lanzer | Aktion Associates
Michael Coman | Accunet
Johnny Pabian | Pabian Partners
Robert Black | Aktion Associates
Alexander Yanushko | Acumatica
Solution: Team Eta went with the Integration strategy as a natural progression in Acumatica's toolkit of low/no code configurations. They allow a moderately technical user to integrate Acumatica with any external system by mapping the external system's required JSON structure to internal Acumatica objects, as well as define the order of HTTP calls that the external system expects to make or receive to transfer that data. This massively opens up the opportunities for Acumatica to integrate with external systems.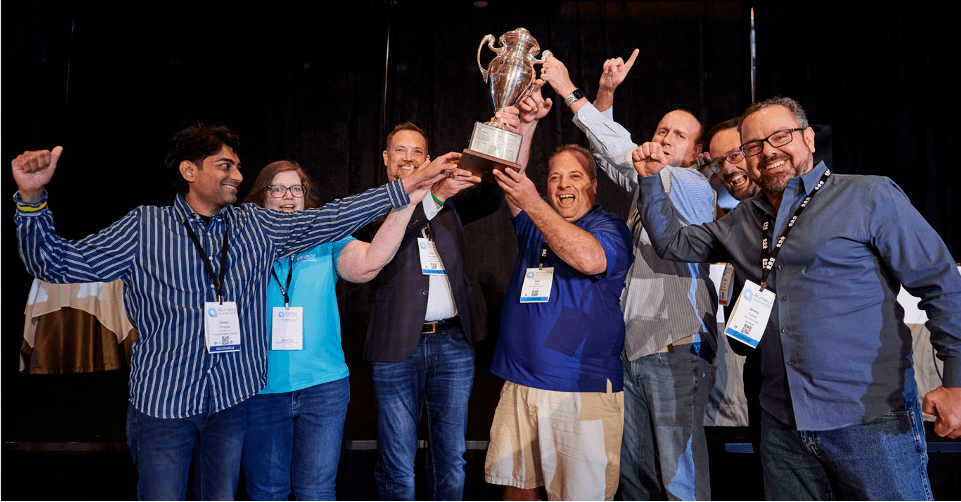 First Place: Team Beta
Patrick Chen | SPS Commerce
Diane Cawley | Savant Software, Inc.
Rob Wire | STS Aviation Group
Ryan Brown  | xByte Technologies
Jeremy Pursly | xByte Technologies
Theo Halstead | Signal Energy
Marco Villasenor | Interastar
Dhiren Chhapgar | Acumatica
Solution: Team Beta created BetaMAX, a tool that works with the Activities process to allow an Acumatica user to interact remotely with a non-Acumatica user, like a customer or shop floor or construction employee via video chat session on their mobile device. Details about the duration of the video session can then be viewed later by managers using dashboards and metrics.
Congratulations to our winning teams!
Acumatica Summit 2021 Hackathon exceeds expectations
There was some concern that Acumatica Summit 2021 wasn't even going to happen this year. However, the Summit planning team put comprehensive precautionary COVID-19 measures in place, including choosing a five-star resort with an award-winning Health and Sanitization plan, so that the Acumatica community could gather together to focus on cloud ERP learning, networking, and "hackathoning".
For participants of the Acumatica Hackathon 2021 who worked hard from 2 PM on Saturday, July 17 until 3 PM on Sunday, July 18, the event exceeded expectations.
Diane Cawley, Savant Software, is a Developer MVP who has been at five Acumatica Hackathons. "You always learn something new no matter what. Even if you think you understand a certain aspect of Acumatica, you can always learn a little bit something different because other people do things differently. We always have a variety of ISVs, VARs, customers, and Acumatica people, and Mark makes sure that the team get mixed that way. Everybody has their own perspective."
She encourages people to attend, including those who aren't developers. "There's no reason to be nervous. There are people who aren't even developers; they like IT stuff and want to be part of it. They help with other portions instead of writing code. There's no expectation that you're an expert on anything. I have never had a team in five years where their expectation was that everyone was a high-level expert. And Mark makes it fun."
Diane also wants to see more women developers join. "I'd like to encourage more women to come to the hackathon. I know there are other women developers out there, and I'd just like to get a higher percentage at the hackathon because it's usually pretty low. There's no reason not to do it."
Kyle Vanderstoep, Contou Inc., is a Developer MVP, and this was his second Acumatica Hackathon. Getting out of the home office and making connections with people was a big draw. "There are only so many connections you can make behind the screen. Everyone here is very much into Acumatica, and sometimes you don't find that level of enthusiasm even face-to-face with like-minded developers. You learn tons of new stuff. There's always an infinite number of things you don't know that somebody else knows and when everyone gets together, it's like they pollinate each other's ideas."
For attendees that might be nervous about participating, Kyle has some advice. "If you're nervous, just come out. We're all sitting here trying to come up with a good idea. Even if you don't have the most technical experience, a big part of the scoring with this type of system is the presentation, it's the sale of the idea. The non-technical guys are mapping the idea of how it can be applied. Developers are heads down sort of in the cave, developing away—the non-technical participants are developing the presentation. To anyone working in the Acumatica ecosystem, come out, lend a hand, even get free food and talk with people and learn a thing or two."
Like Kyle, this is the second Acumatica Hackathon for Robert Waite, REPAY, who is also Acumatica's 2021 Developer of the Year. "It's an awesome event. You learn a lot. The best thing about the hackathon is you come up with a brand-new idea and it just challenges you, and you learn so much. You really develop teamwork skills working with new people and collaborating with people. And the whole competition aspect of just getting the best idea and project together as quickly as possible—there's just something about it that really allows you to excel and get better. After the last hackathon, I went home, and I just felt I was a lot better at working with Acumatica from it. The small little spurt of learning that came out of it really helped in my day job."
And Brian Stevens, Setech Supply Chain Solutions, is a Developer MVP who says this year's hackathon was his third. When he was first trying to learn Acumatica, Mark Franks encouraged him to attend. "It's not about showing up to the hackathon and saying how great you are, it's about coming to the hackathon and being in a room with people who know best how to do things—amazing things—with the software. That's what the hackathon is going to do: Create projects that Acumatica doesn't do. We're not just wanting to reproduce what's already here. We want to expand everyone's horizons on what can we do to reach deeper into the community and the world around us with creative ideas. You don't do that by just repeating what you've done in the past."
He adds, "I'm much more capable this year than I was my first year. I'm able to do more this year, but I'm still learning from many others in the room. And I can share my experience with others that are where I was three years ago. At the end of the day, it's about building a stronger developer community. Not for Acumatica, not for our own companies, but for all the people in this room because if we're helping each other, we're all getting stronger together. And if we're all stronger together, we know this is going to be amazing later…not that it isn't already."
Expect the unexpected at Acumatica Summit 2022
If we learned anything from 2020 and 2021, it's to expect the unexpected. We don't know exactly what Acumatica Summit 2022 will look like, but we're pretty sure it's going to happen, and we're pretty sure it's going to be great. Now is as good a time as any to begin thinking about what you and your team-to-be will bring to the table next year.
In the meantime, the collaboration and creativity found in the hackathon is also available within the Acumatica developer community, and I hope you'll join in. You can also connect with our Acumatica experts for any questions about Acumatica's developer community or about our cloud ERP software.
For all things Acumatica Developer, please visit our developer landing page, where you'll find the latest developer blogs, recordings from our Virtual Developer Conferences, and even a step-by-step guide for onboarding new developers – and much, much more.