Hackathons aren't fun…said no developer (or non-developer) that attended Acumatica's annual Hackathon ever. The Hackathon kicks off Acumatica Summit 2021, and we can't wait to see the creative and practical applications that are sure to emerge.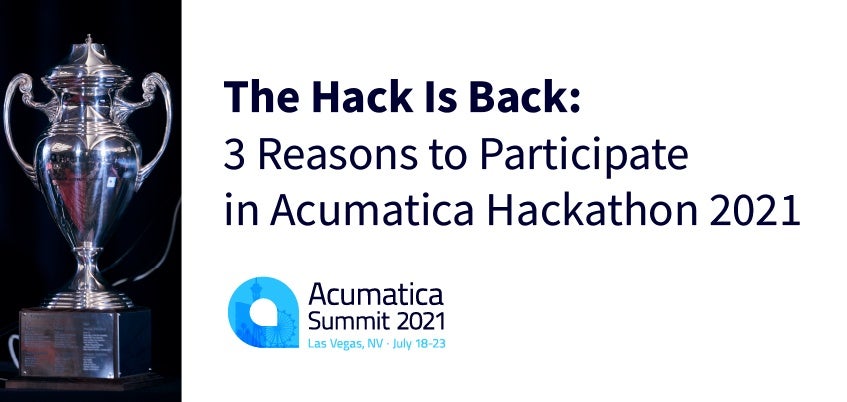 Acumatica Summit 2021 is heading to Vegas on July 18 – 23, 2021 at the luxurious Wynn Las Vegas, which means (drum roll, please) the Hack is Back! The Acumatica Hackathon (Day 1: July 17, 2:00 – 11:59 PM; Day 2: July 18, 10:00 AM – 3:00 PM) is a much-anticipated event that spearheads our annual cloud ERP event and pits teams of Acumatica developers and non-developers against each other as they compete to create the best, most innovative applications for Acumatica's cloud xRP platform.
It's a fun and exciting event, but you may need more than my word for it. Here are a few reasons to sign up for Acumatica Hackathon 2021.
3 reasons to participate in Acumatica Hackathon 2021
Before I get into the reasons, here's a quick recap of Acumatica Hackathon 2020.
We had a fabulous turnout with 14 teams made up of 90 attendees who fought hard to be declared winners by our esteemed panel of judges, which included CTO Mike Chtchelkonogov, CPO Ali Jani, and EVP of Products & Chief Strategy Officer Ajoy Krishnamoorthy. The top three teams developed outstanding applications (the Acumatica Dev Environment Deployer, Generic Forms, and Ask Fred) utilizing artificial intelligence (AI) and machine learning (ML). Acumatica users are benefitting from these applications to this day.
This leads me to my first reason to participate in our annual hackathon.
1. Competition, collaboration, and creativity
It's rare to find an event that allows attendees to simultaneously compete and collaborate while letting their creativity, which is often stifled by business regs and norms, out of the box, but that's what the Acumatica Hackathon is all about. Mixing developers, partners, customers, and Acumatica employees into different teams fosters a collaborative and competitive spirit not found anywhere else.
Yuri Dorovskikh, IT Manager, OFS International LLC, had this to say about his second Acumatica Hackathon. "The most interesting part to me is working with your team to determine what project will bring the most value to the community. It brings together different people from different backgrounds and companies, exploring the limits of the system and how far it can go."
Teams benefit from an assigned subject matter expert (SME). They also know in advance which team they're on and who their teammates are. They can brainstorm before the big day, but they only have 24 hours during the event to develop their applications and write spec, code, and publish their work in GitHub.
"Providing a developer platform for difference-making apps is something cloud ERP vendors know they should do—but few are getting it done. Even fewer are effectively mixing developers and business users in the same event," says Jon Reed of digonomica last year, but he wasn't referring to Acumatica. "Acumatica's hackathons are integrated into their user conferences, and the apps developers get done during this intense hackathon push are inspiring."
2. Learning and community growth go hand-in-hand
Acumatica Summit is meant to be a place where the Acumatica community receives up-to-date, relevant cloud ERP information. It's a time where attendees can network during official sessions, like the Welcome Reception, the annual Partner Expo, and the Hackathon.
The content is bar none, but it's about more than education; it's about building community, which inevitably leads to personal and professional connections that extend past the Summit.
After attending two Hackathons, Brian Stevens, Developer, Setech Supply Chain Solutions, LLC, said this last year, "The combined knowledge in the room spills over into amazing projects and great friendship with people eager to help you succeed with Acumatica. Last year as a new developer, I received insight and guidance that shortened my learning curve dramatically, and the contacts I made continued to support me over stackoverflow as well as email. This year was equally beneficial for making new friends in the Acumatica community and growing my skill set."
He added, "To me, the Hackathon 'IS' the Summit. If the Acumatica Summit is like standing on the sidelines to watch the game, the Hackathon is like actually playing the game. If you want to get to know the real superstars of Acumatica development, interact with key members of the Acumatica leadership team, or just step up your own development skills, the Hackathon is 'THE' place to be,"
3. Winners win things but non-winners are winners, too
We would all love to say that we're competing out of the goodness of our hearts—and we are—but, really, we want to win. And we want to show that we won, which is why the Acumatica Developer Network Hackathon Cup is such a coveted prize.
The winning team's names are inscribed on it, and the cup makes its way around the world digitally so that everyone can see and photograph it. Here it is below in case you've missed it from years previously or are new to the Hackathon community.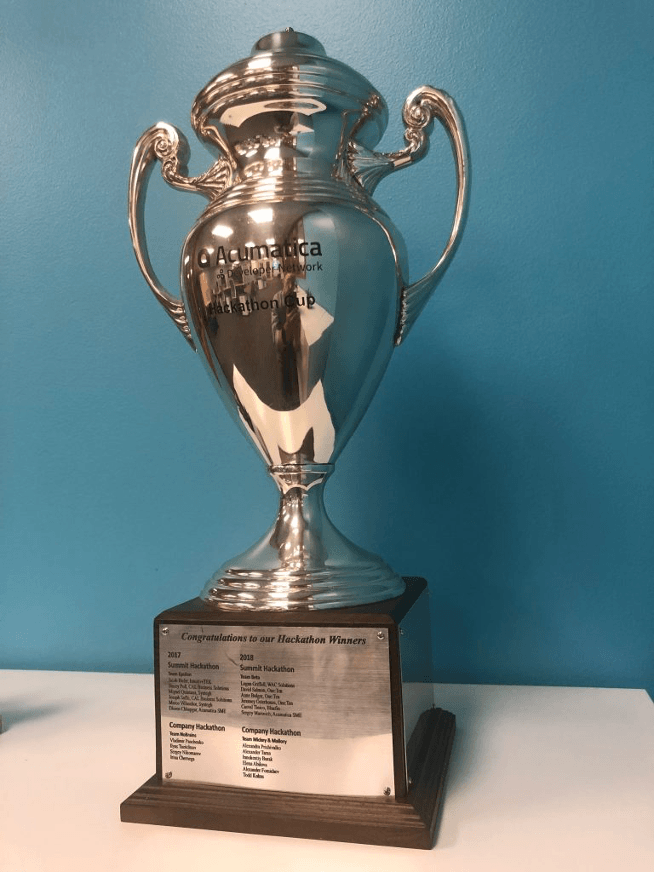 Pictured: The coveted Acumatica Developer Network Hackathon Cup.
In addition to the Cup, the top three teams receive recognition at the Tuesday Keynote, the chance to present during the Developer Track during the Summit, and bragging rights. Pretty awesome considering participants also get to enjoy good food and beverages while getting their creative on. And to sweeten the pot, there are tangible prizes for the top 3 solutions as well as the best ML/AI Solution.
Here are the gifts that were given in 2020:
The prizes for Acumatica Hackathon 2021 promise to be equally as amazing, but even if you walk away without a prize, you're still a winner to us for participating in an event that benefits the entire Acumatica community.
We're serious about you attending Acumatica Hackathon 2021
As you can see, we're serious about getting Acumatica developers to Acumatica Summit 2021 and participating in Acumatica Hackathon 2021. Like our annual Virtual Developer Conference, which included five developer-focused sessions now available on-demand, the Hackathon will provide our developers (and customers, partners, and analysts) with the deep knowledge needed to fully utilize Acumatica's cloud ERP software and Acumatica's cloud xRP platform.
We're also serious about keeping everyone safe and healthy during the whole event. That's why we chose to stay at the Wynn Las Vegas, which has implemented an award-winning Health and Sanitization Plan. From masks for all visitors, hand sanitization stations around the property, and thorough cleaning of all public areas/guestrooms to non-invasive thermal scanning at every entrance and following meeting space guidelines, attendees can rest easy during their stay.
Register for Acumatica Summit 2021 and Acumatica Hackathon 2021 today. We're anticipating a huge turnout, especially as more of the population is expected to be fully immunized and travel is picking up. At this time, the Acumatica Hackathon will not be available as a remote event.
Finally, because the Summit has been rescheduled for July, we announced the Acumatica 2021 MVPs beforehand. Congratulations to all our MVP winners! We can't wait to recognize your efforts at the Summit. We also can't wait to see everyone at this year's cloud ERP event, and we expect everyone to come ready to bring their 'A' game.
To learn more about being a developer within the Acumatica community, check out the Acumatica Developer page and the Acumatica Developer community/resource page. For any questions about the Summit, contact the planning team.