One of the things we're most looking forward to at the upcoming Acumatica Summit in February is highlighting the achievements of our amazing Partners and Independent Software Vendors (ISVs). It's a rewarding time for us to give back and acknowledge the awesome people we work with. Our Partners and ISVs are an integral part of the Acumatica community, and they deserve to be recognized as such.
This past year, our Partners and ISVs have been very busy talking with folks around the globe about how they can use and implement Acumatica's ERP suite to solve business problems. They've also recruited more Partners and strengthened the Acumatica community with their product ideas or communication skills.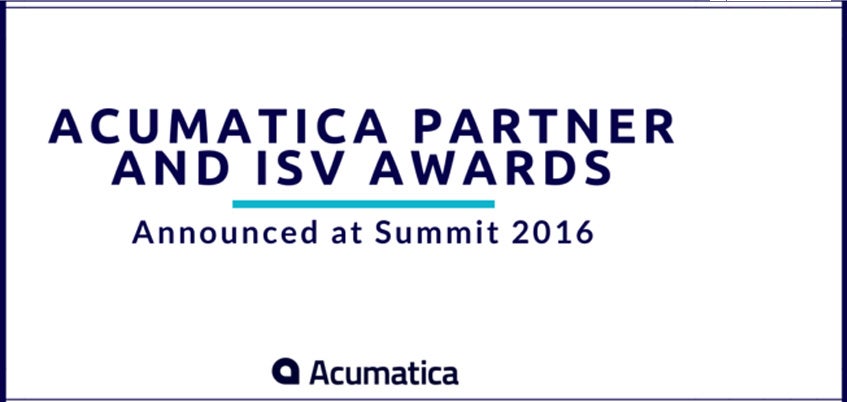 And for that, various awards will be given in Orlando at the Summit. Below are the categories and more information on each award.
Partner and ISV Awards
Here are the awards we'll be handing out:
Acumatica Cloud MVPs: These are our top contributors to the Acumatica cloud community. Most Valuable Professionals are passionate community members that are committed to helping others with our products and platform.
Partner of the Year: Our award to recognize the top license revenue and deal count performer is given in three divisions—Americas, Asia, and International—because there are too many amazing Partners to limit just one.
Acumatica ISV Partner of the Year: The winner of this award is recognized as having the most attached 2015 license revenue for global ISV.
Acumatica ISV Partner of the Year International: This award shows off our most innovative ISV Partner with the highest attached license revenue and pipeline influence internationally.
Acumatica Innovation Partner: Our top innovative Partner will be honored with an award for creativity and resourcefulness.
Acumatica Cloud xRP Platform Partner: With this award, we name the top vertical platform Partner original equipment manufacturer.
Fast Start of the Year: This award, which commends the Partner fastest to three license deals, is offered in two categories: Americas and International.
Partner Recruiting Evangelist: This award is given to the Partner with the most prospective Partner references, since growing our community is very important to us.
We have a spectacular Partner and ISV network that gets better and bigger each year. Don't take our word for it; hear it straight from them below!
What Our Partners Say
Gregg Mercede of Cloud 9 ERP Solutions (and one of our MVPs!) said that when he makes plans to help improve his clients' business processes, he is glad for Acumatica's versatility and integration support. "With Acumatica, almost any process and solution can be wrapped around the software, so that's another tremendous thing," Mercede said, adding it was nice to know he had the tools to reinforce whatever decisions he made with clients.
With more trainings than ever before, this year's Summit will help Partners and ISVs learn how to wrap solutions around the software to deliver satisfaction to customers. We'll also be revealing our newest and future products to show that we take customization seriously.
Chris Dobkin of Njevity said one of the most compelling messages that helps him reach executives is the mobility Acumatica provides. "The value add of Acumatica for us is that true, anytime, anywhere, any-device message," said Dobkin.
A huge portion of the Summit is dedicated to teaching how to maximize our mobility and accessibility promise—and to share that message effectively with clients or users.
Mike DeRossa of DeRossa Mangold Consulting wasn't looking for add-ons to existing software, but something essentially remade from scratch for the current business environment.
We felt like Acumatica is that fresh look that's going to start the right cycle for ERP solutions, the way it should be done." DeRossa added, "The reason we decided to get in to Acumatica was we were really looking for the next phase of ERP software."

Why Attend the Summit
If you're a part of the Acumatica community — or if you want to be — we want to meet you, and we especially want to introduce you to our platform. We're your trusted partner, and our Summit is a great opportunity to maximize the investment you've already made with us. It's important to us that we share our excitement for our new products and our vision with our Partners and ISVs, and we also look forward to hearing from you about your amazing implementations.
Register today. We'll see everyone soon at the Summit!