With Acumatica Summit 2018 just weeks away, the Crestwood Associates' team is ready to go, including Account Executive Rick Feterick. He hasn't missed a Summit yet and believes the value of attending can't be overstated.
As we continue to countdown the days to Acumatica Summit 2018 (coming January 28-February 2, 2018) I'm increasingly concerned that customers and partners who haven't registered (is that you?) are going to miss out on our best cloud ERP event yet. Yes, I truly feel that this year's event is going to be even better than the last, and Crestwood Associates' Rick Feterick – who has attended every single Acumatica Summit – agrees.
"None of the Summits have ever disappointed from my perspective. They've always been better than the previous. They continue to set the bar up pretty high and then exceed it," he says.
Rick shares with us why he sees attending Acumatica Summit 2018 (and every Summit hereafter) as crucial to his company's success.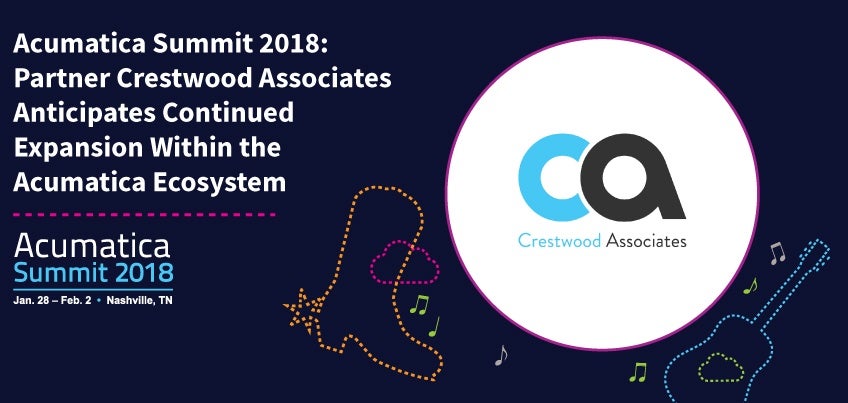 Crestwood Associates' history with Acumatica and the importance of Acumatica Summit 2018
"I had my own company for many years, a small Microsoft VAR, and I became aware of Acumatica very early in their history because it was founded by some people who had worked with Microsoft Dynamics SL; that was a solution that I had worked with for many, many years," says Rick. "I became interested and kind of intrigued with them and started talking to them. I ended up becoming one of the first Acumatica partners that signed up."
During this time, Rick was involved in merging his own company with Crestwood Associates. "I had actually already signed up to become an Acumatica partner under my company, and then back in 2011, I sold my company to Crestwood and with that, they became an Acumatica partner, as well."
Rick's relationship with Acumatica went deeper than just the partnership. He explains that he was on Acumatica's initial partner advisory board, providing guidance for the solution. He was also impressed with Acumatica's vision and execution of that vision.
"All along, I was really intrigued by their innovation and flexibility of their solution. I had been doing this for 20 years, and by this I mean implementing ERP solutions for the midmarket. I saw this solution as filling gaps and providing what many current solutions just couldn't do. I think it took it to the next level from the standpoint of flexibility, innovation, and technology," he says.
In conjunction with Acumatica's cloud ERP product and platform, Rick could see the "passion and the excitement that the Acumatica folks had about their solution and their product."
"And the other thing I saw is just their accessibility. Obviously, that comes with the territory of a smaller company but they made it very easy to talk to people at the highest level at Acumatica, for them to hear your thoughts on how things need to progress and go – always willing to do whatever it takes. It was just a very exciting time, it was a very exciting product, it kind of coincided with moving my company to a larger organization and it all came together," Rick states.
He played a key role in advocating for Acumatica at Crestwood Associates. "[Acumatica is] something that we not only want to offer to our clients but that we want to focus on, that would be a growth opportunity for us. I feel we were obviously successful because we went from where I was involved with them as one of the first partners all the way to the point now where we were recently named Partner of the Year by Acumatica."
Not only were they the Partner of the Year in 2016 – based on having the highest combined deal count and sales revenue – but they had two of their team members win Acumatica's coveted MVP (Most Valuable Professional) award in 2017. With such a long-lasting partnership, Rick sees attending our annual cloud ERP event as an essential component in strengthening that relationship.
"We find we get an awful lot out of it from both a relationship standpoint and a knowledge transfer and learning standpoint," Rick says.
He continues, "I go there to learn what's new about the product, what's coming, how this would add value to clients in the community and the industries we work with. We're also sending consulting people to build their technical skills. We've sent marketing people to align ourselves with some of their marketing campaigns and programs. Our ownership at Crestwood has gone to these Summits and so it has become more and more critical, we find it essential, really, to maintaining our focus and our success with the product."
Crestwood has also recently begun developing its own custom add-ons for Acumatica. "That'll be even another layer that we're looking forward to Acumatica Summit 2018 because we'll have additional solutions of our own that are Acumatica based that we can showcase and present to the attendees there."
Every team member, including the executives, are excited to attend. Ricks says, "Our two owners are very engaged themselves both in our continued focus and even deeper connection with Acumatica but even with the Acumatica executive team where I think they're very aligned and very much working in tandem for both of us to be successful going forward."
So many benefits of attending Acumatica Summit 2018
As Rick points out, Acumatica Summit 2018 offers partners the opportunity to grow with Acumatica through "knowledge transfer, learning new functionality, understanding new industries, developers and consultants building their skills, developing relationships with third party providers, and meeting one-on-one with the Acumatica executive team."
On top of that, he's excited about heading to Nashville, Tennessee. "I have only driven through Nashville a few times. I hear great things about it and I will say the venues chosen by Acumatica in the last few years have been very good, but I'm maybe most excited about Nashville," he says. "I'm sure the location will be outstanding and the uniqueness of the city from the music and food and a variety of aspects is going make the trip that much more interesting and enjoyable."
Are you registered for Acumatica Summit 2018? From the benefits Rick shared with us today to those shared in my previous five posts by partners Kensium, PC Bennett, i-Tech, ASC, and ASI, I can't think of any reason compelling enough to keep you away from our cloud ERP trainings, breakouts, and networking, along with our inspirational speakers and fantastic entertainment.
Join Rick, our other partners, and our team at Acumatica Summit 2018 and prepare to expand your cloud ERP success within the Acumatica ecosystem!