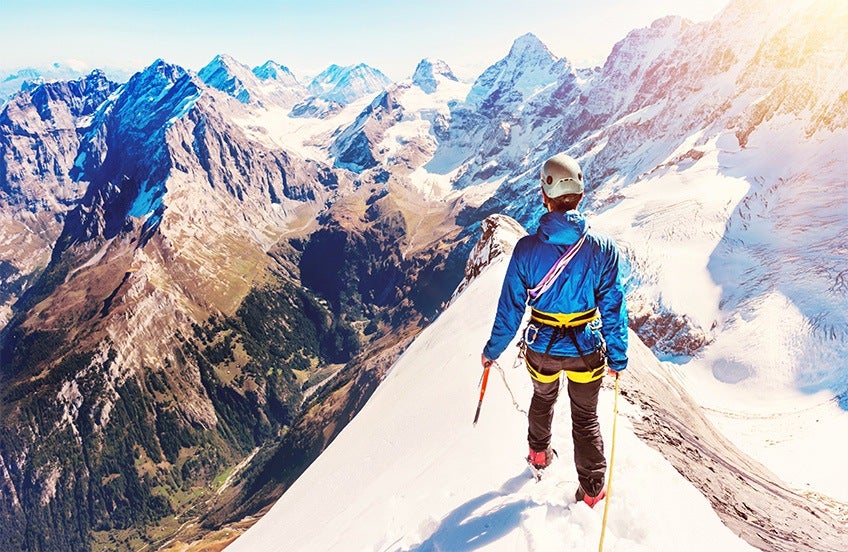 I am very excited about all the great activities going on with respect to Acumatica's Developer Community at Acumatica Summit 2019 in Houston starting this weekend and continuing into next week.

Kicking things off is our 3rd Annual Hackathonon Saturday at 2 pm running until midnight, then picking up again at 10 am the next morning.  This year we have a nice mix of Acumatica partners & customers registered to participate along with  Acumatica subject matter experts (SMEs) – assigned to teams as mentors and others acting as "rovers", floating from team to team helping out as needed.  One new spin on this year's hackathon is we are optionally allowing one remote participant per team.  All the solutions developed at the hackathon will be available on GitHub as in the past.
We have commissioned a really nice Hackathon Silver Cup Trophy, where we have not only laser etched the names of the past Summit Hackathon winning teams, but also included our internal company hackathon winners over the past two years. We have enough space available in the 4 base plates to cover 12 years of winners!

We will display the trophy at the Summit Reception near the Acumatica booth, where those of you attending will get a chance to see this beautiful cup up close.  Additionally, we will be awarding the top 3 teams with Amazon Gift Cards – for first, second, and third place teams.

Since most of our Developer MVPs and a large number of developers from our engineering teams will be participating in the hackathon this year, I have arranged to do many of our Summit interviews at this year's hackathon on Saturday and Sunday as possible.
I thought it would be great to not only interview members of our partner developer community, but also select members of our internal developers as well. The Main Theme: Acumatica has a thriving developer ecosystem & community, supporting developer partners & customer software development efforts.  We will be teasing these out with the interviews, providing evidence through testimonials.
At the Acumatica Welcome Reception on Sunday, we will present our Developer MVPs with their Awards and a photo op with Jon Roskill our CEO; Ali Jani, VP of Product & Services; and Ajoy Krishnamoorthy, VP Platform Strategy & Head of Construction Division – along with our other MVP recipients.  A full list of this year's MVPs was announced here.
Again this year, we will have a Developer Track held on Monday & Tuesday, kicking off with our very own General Session, where we will recognize our first ever Developer of the Year. We have a clear winner, who has been contributing to the developer community in a myriad of ways. This person distinguished themselves from their peers by answering over 90 questions on Stackoverflow this past year, tripling his nearest competitor, rivaling our top Acumatica employees.  We are keeping it mum for now but will update you after the presentation of the award on Monday.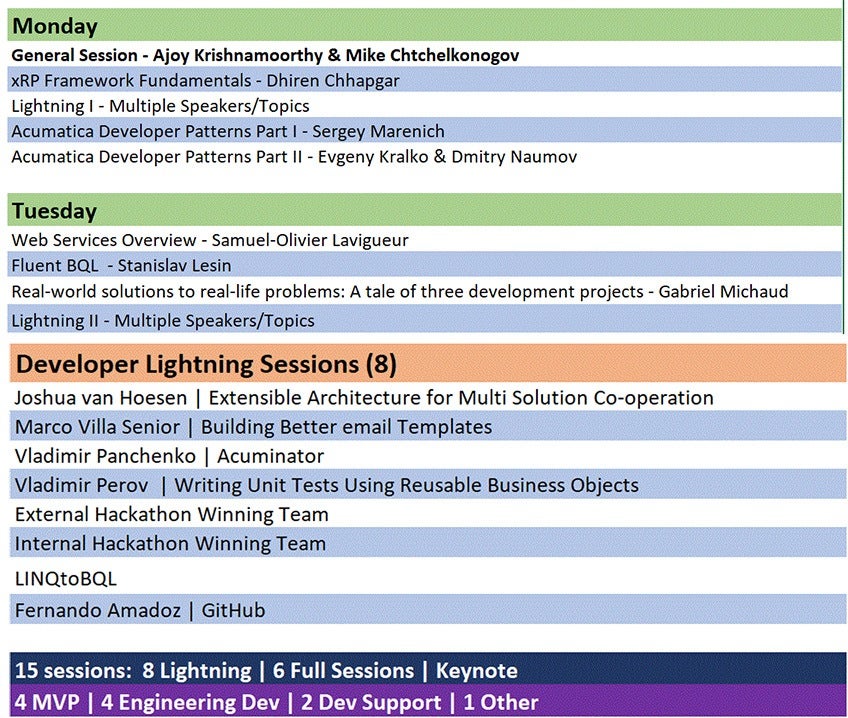 We are always striving for new content for developers to consume and reuse to assist them in their developer efforts at our developer events, keeping things fresh and useful.  At this year's developer track, the only content that is not new is the foundational developer sessions – xRP Framework Fundaments & Web Services Overview presentations.  All the other sessions are brand spanking new! Since we are recording all the track sessions, we will be able to offer these presentations for viewing after the Summit for you to view at your convenience. This year we have a variety of presenters contributing content – 4 of our Developer MVPs are presenting this year and 4 of our developers from our Engineering teams. 
Sunday evening between 7:30 pm & 8:30 pm, we will have a small cocktail party event for our Developer MVPs, where we will have a number of our executives and engineering/developer/support personnel stop by for a drink and join in on our informal discussions.
Lastly, not related to the developer community, per se, is the Fun Run, which I'll be leading again this year on Tuesday morning at 6 am.  It's only  a 5K and you could  run/walk the course in an hour or less, if you feel you are not in good enough shape.  Just sayin'.
We hope to see you at Acumatica Summit 2019…  If you miss this year's, you should definitely try to make it next year!