Acumatica's CEO sees January as the most wonderful time of the year. Why? Because it's the month when our annual cloud ERP event begins. Today, he shares the many reasons he's looking forward to Acumatica Summit 2019.
For many, the most wonderful time of the year is the holidays. The traditions, decorations, activities, and general goodwill promote feelings of happiness and expectation. For me, the most wonderful time of the year is in January when our annual cloud ERP Summit takes place. The Summit is like a gift that keeps getting bigger and better every year, and I'm anticipating Acumatica Summit 2019, coming January 27-February 1, 2019, to be the best one yet!
Let me explain why.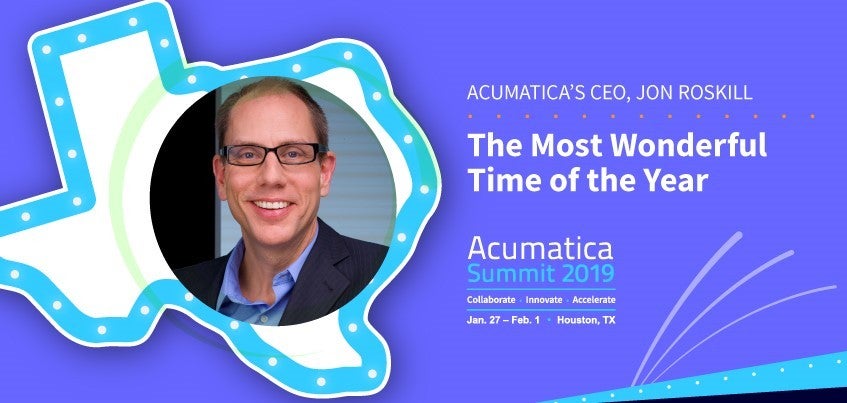 Jumpstart your digital transformation journey at Acumatica Summit 2019
One of the main themes for Acumatica Summit 2019 is digital transformation—something IDC says is going to be an essential component of growth strategies for 50% of SMBs in 2019.
The transformation isn't linear in nature. Instead, it's a journey filled with detours and complex layers and requires a complete buy-in by the company's workforce. For organizations ready to jumpstart their transformation, attending the Summit will give them insight into how Acumatica's modern ERP solution can help them succeed.
During days one and two of the Summit, they'll see how real customers are doing unbelievable things with Acumatica, while also increasing their efficiency and their bottom line. They'll learn how we're advancing new technologies, such as natural language interface, the Internet of Things (IoT), artificial intelligence (AI), and machine learning (ML), and how we use them to pragmatically solve real-world business problems. And day one isn't complete until we present multiple awards to our customers and partners, the most central components of our market success.
Days three, four, and five provide attendees with a myriad of tracks, sessions, and trainings to choose from, but this year we've made some changes. During past Summits, the track sessions have been largely oriented to those companies in the process of implementing Acumatica. Now we're releasing role-based, end-user training conducted by the best Acumatica trainers in the world.
This is great news for organizations that are just booting up with Acumatica cloud ERP as well as for those expanding what they already have. We've ensured that our new training format helps you and your organization through the complex digital transformation journey.
In addition, a major focus at the Summit (and all year long) is to support even more the engagement of our developer audience. The ever-popular Hackathon will be returning with teams made of developers, non-developers, and SMEs who will create real-life business solutions over a 24-hour time period. The winning team will take home the new Acumatica Developer Network Hackathon Cup.
Also returning is our full developer track, which begins with a Developer General Session. Acumatica CTO Mike Chtchelkonogov will talk about plans for our cloud xRP platform and technology investments, and the Developer of the Year will be honored.
What sets Acumatica Summit 2019 apart
I consider Acumatica's annual cloud ERP event to be a unique experience, partly due to what I've just shared and partly to the accessibility of our executive team. I've attended conferences where the executives hide in conference rooms. We don't do that.
At Summit, you'll experience our entire team taking part in the activities and ready to chat (and even learn from) partners and customers throughout the entire event. We prioritize interaction with the community and particularly enjoy the Sunday night Welcome Reception and the Monday night Celebration Party, which will be at the House of Blues Houston with some fun surprises you won't want to miss.
These are great opportunities to strengthen old relationships as well as to meet new people, such as those customers and partners from areas like Latin America, South Africa, Indonesia, and the Philippines who will be in attendance this year (as Acumatica continues gaining traction in more and more countries) and those many new organizations who have joined the Acumatica community after leaving their legacy solutions (such as Sage, Dynamics, and SAP) behind.
Finally, I don't want to underplay Acumatica Summit 2019's unique location and venue. We're headed to Houston, Texas (anticipating wonderful weather in January) and the beautifully-appointed Marriott Marquis Houston. Though your free time may be limited, there will be moments when you can visit Houston's many attractions and try Houston's cuisine. And don't forget our annual early morning Tuesday morning Fun Run (5K through Houston) and Tuesday morning Yoga session for those who like connecting through athletic pursuits.
Acumatica Summit 2019: the gift that keeps on giving
The Acumatica team works hard to put on the Summit every year. Months of preparation culminate into a single week focused on not only giving our customers and partners practical, deep insights into Acumatica's cloud ERP software—information they can use immediately to accelerate their business in the marketplace—but also on celebrating our customers who have found success through connecting their business end-to-end with our customizable cloud ERP solution and open ERP platform.
From the very first Summit, where we had approximately 30 people in attendance, to Acumatica Summit 2019, where we anticipate up to 2000 attendees, Acumatica has experienced unbelievable growth. In fact, we've reached the major milestone of having over a million users worldwide!
Because of this amazing growth and because I've had the privilege of being a part of the Acumatica community for five years, I can't stress enough how much attending the Summit will demonstrate the incredible value Acumatica continuously imparts. I invite you to read previous posts by Acumatica's executive team on why they think you should attend Acumatica Summit 2019. To summarize, our VP of Partner Solutions writes about bringing our ecosystem together at the Summit, our VP of Platform Strategy describes the Summit as a family reunion, and our COO shares how attending can help you run your business more efficiently.
It really is the most wonderful time of the year for me. I look forward to either seeing you again or meeting you for the first time and hope you'll make it a point to introduce yourself. Until then, feel free to contact us with any questions or to learn more about Acumatica cloud ERP. We're personally invested in helping you and your business succeed.