Here at Acumatica, we like to take a holistic approach to planning our annual Summits, which means we try to incorporate both learning and fun into each one. We anticipate that having Acumatica Summit 2019 in Houston – a very fun city –  will provide a complete cloud ERP experience for our Acumatica community.
I'm always excited when it's time to start sharing details about our annual cloud ERP Summit, details such as registration for Acumatica Summit 2019 (January 27-February 1, 2019) is already live, and our eagerly anticipated early-bird deals are available. I also get to share that we're heading to Houston, Texas (which you may have already heard). Today, I'll focus on why we chose Houston and what this city has to offer during your stay.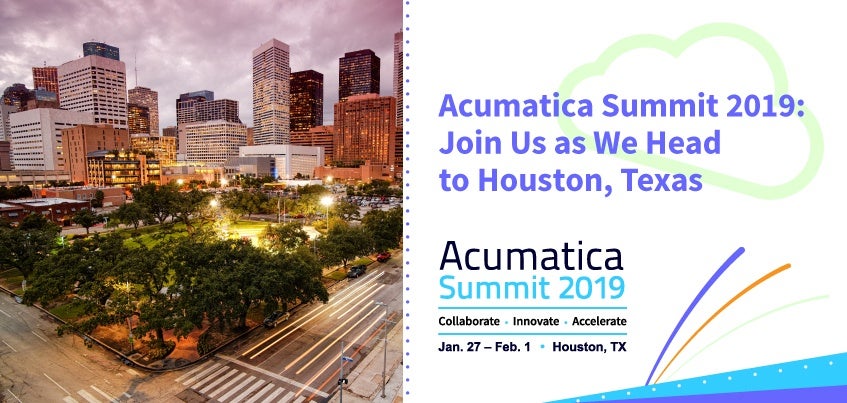 Why we chose Houston for Acumatica Summit 2019
Selecting our Summit location is not just a matter of closing our eyes and poking a pin in a map. Instead, it's a process that rests on the belief that location impacts the success of our premier cloud ERP event.
As we begin the process, we ask ourselves these questions:
Is the location easily accessible by all modes of transportation and for our global community?
Do they have a venue that can house our number of attendees? (We had over 1,100 at Acumatica Summit 2018, and plan on having over 2,000 in 2019, so this is a big deal!)
Will their meeting space accommodate our general sessions, breakouts, training tracks, entertainment, and meals in one place?
Are there fun things for our attendees to do and see during their free time?
Houston is a "yes" across the board.
Its central location and multiple airports with non-stop service to 180 destinations means our global customers, partners, and developers can get there easily. The Houston Marriott Marquis, our hotel and convention center, has 1,000 guest rooms and over 150,000 square feet of event space (not to mention a Spa, Fitness Center, and rooftop lazy river – more on that in an upcoming post), so the venue is covered. And fun things to do? Houston has plenty.
Cloud ERP software training first, then fun
Our yearly Summits host a plethora of cloud ERP-focused activities. They include info-laden keynote sessions; customer and partner general sessions; breakout sessions broken down by customer, marketing, product, sales, and developer needs; a partner EXPO; hands-on training tracks; and so much more. While our takeaway goal for our Summits is helping you accelerate your success using our cloud ERP software, we also want you to have a great time in the process. Houston is important in making that happen.
As the fourth largest city in the U.S., Houston is slightly smaller than Massachusetts but larger than New Jersey. As to its climate, the city averages 18 days per year with temps of 32 degrees or less, 99.6 days with temps of 90 degrees or more, and rarely does it reach 100 degrees.
A city this size, and with such temperate weather, is not lacking in entertainment options. I have a few I want to touch on today, and I've included appropriate links to make it easier for you to plan your activities. I'll also provide more information about Houston's top visitor attractions in another Acumatica Summit 2019 post coming soon.
Indoor activities:
The Museum District: While the city has the Metro Rail (their light rail system that will get you all around Houston), the Museum District is comprised of 19 museums within walking distance of each other. The selection of museums is astounding, and you'll be able to find more than one that you'll want to visit.
Space Center Houston: If you're fascinated by space exploration and the U.S. space program, this is a do-not-miss stop. The Space Center advertises that they have "more than 400 things to see and do." Excitingly, your admission to Space Center Houston includes the NASA Tram Tour at the NASA Johnson Space Center (JSC). Just so you know, this is the training base for U.S. astronauts and site of Mission Control.
The Galleria: Shopping may not be your thing, but you may still want to visit this 2.4 million square foot mall just to check it out. It's Texas' largest shopping center containing 400 stores and restaurants, as well as two hotels and three office towers. I should also mention that there's more to do than just shop. You can figure skate on the full-size ice rink, swim in one of the two swimming pools, get your hair and nails done at the numerous beauty salons, and so much more.
Outdoor activities:
Hermann Park Golf Course: This 18-hole, public golf course is open seven days a week and is located next to the Museum District. The beautiful course is surrounded by oak trees and a Rose Garden; this may be the perfect way to unwind after a full day of cloud ERP training.
Houston Zoo: The mission of the Houston Zoo is to connect communities with animals and inspire "action to save wildlife." At last count, the zoo houses 6,000 permanent animals. Keep in mind that this activity may be a full-day one, so you'll want to plan accordingly.
Buffalo Bayou Park: If hiking, biking, and boating (weather permitting) sound like a great plan, then this is the place to do it. The 160-acre park is an award-winning urban oasis. Various tours happen throughout the week, and making advanced reservations is suggested; I'll describe these tours in a post I'm currently working on. Stay tuned!
Houston, we [do NOT] have a problem
I had to fit this (incorrect) quote in somewhere. But the fact is, the planning team is anticipating an amazing, problem-free Acumatica Summit 2019 experience in a perfect location. Between the needs we have for our cloud ERP sessions and the need for free-time activities for our attendees, Houston is the answer.
If you already know that you're going attend, we encourage you to register right away to get the early-bird special. If you're not sure, then definitely stay tuned for further posts discussing the professional and personal benefits of attending Acumatica Summit 2019. And don't hesitate to contact us with any questions about this event or our true cloud ERP.