We have wrapped up another successful Acumatica Summit. Today, we will recap the week, highlighting how the Acumatica community enjoyed—and benefitted from—our premier cloud ERP event in Houston, Texas.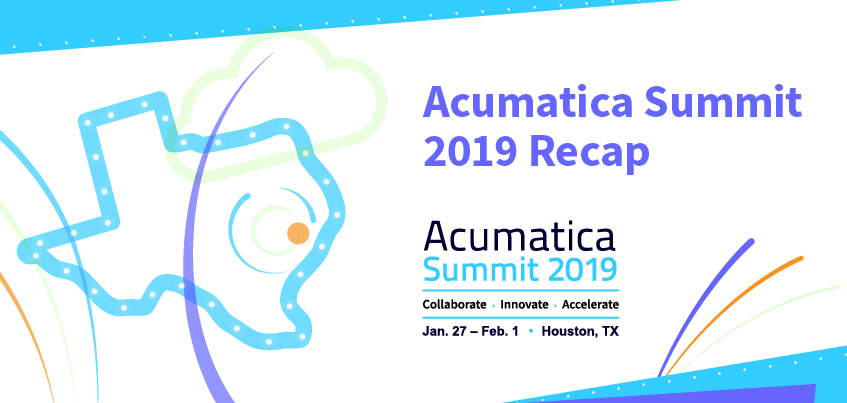 It was a record-breaking week at Acumatica Summit 2019 where more than 1,500 customers, partners, analysts, and employees gathered for our annual cloud ERP event, this year at the Marriott Marquis Houston. Each attendee experienced best-in-industry cloud ERP insights, an extensive Solution Showcase with 83+ exhibitors, amazing networking opportunities, and impressive entertainment. During the Summit's two keynotes, Acumatica CEO Jon Roskill inspired the audience with exciting announcements including:
88% new revenue growth in 2018
5,200+ total customers
New international distribution agreement with Cegid of France
Tableau integration for improved data visualizations
PC Mag's Editor's Choice for Best ERP Solution for the third year running.
Acumatica's new Amazon Alexa for Business skill
Product enhancements utilizing artificial intelligence (AI) and machine learning (ML)
The first look at Acumatica 2019 R1, our latest product release
In addition to announcements and product demonstrations, customer success played an important role at Acumatica Summit 2019. Attendees had a chance to hear from various Acumatica customers—such as MiiR, Nothing Bundt Cakes, and Fabuwood (Acumatica's 2018 Customer of the Year) via video or live on stage—discussing how Acumatica's cloud ERP solution has transformed their business management processes and helped them grow. They also heard from the CEO of Lexware, who explained why Acumatica's platform was the right choice for them, and watched as World Hope International, a company that helps connect farmers to market, was recognized as the 2018 Acumatica Non-Profit of the Year.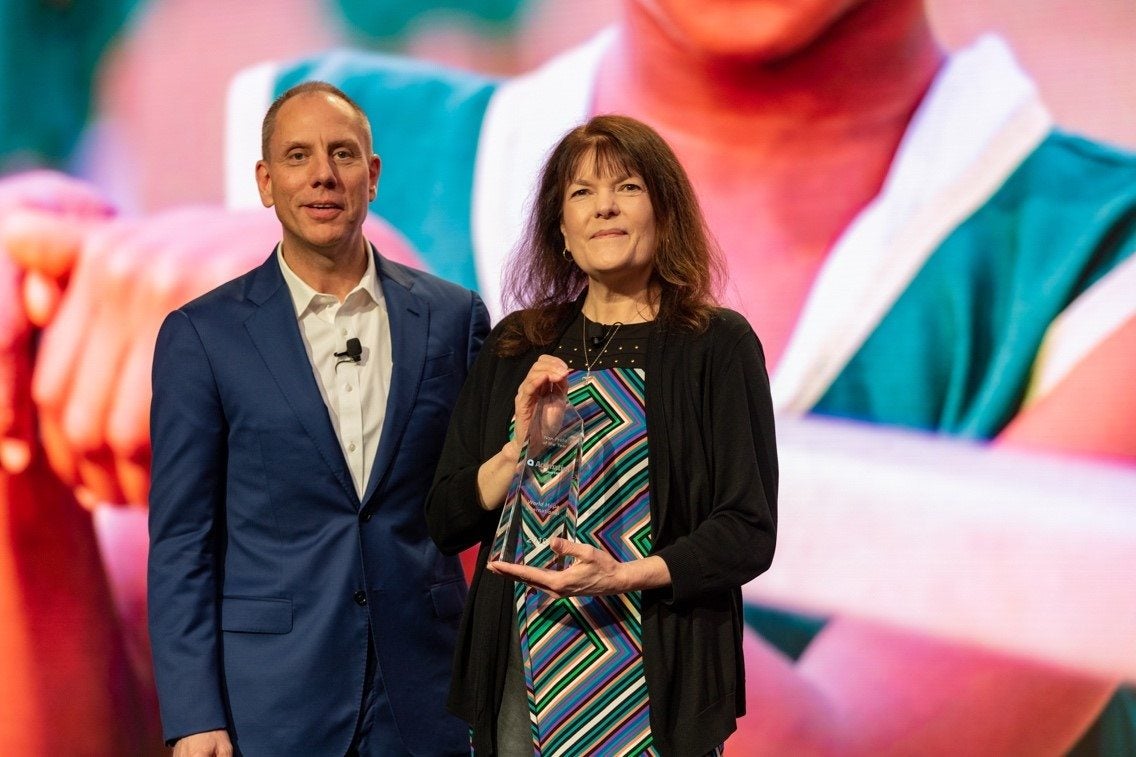 Pictured: Acumatica CEO Jon Roskill presenting the 2018 Acumatica Non-Profit of the Year award to World Hope International.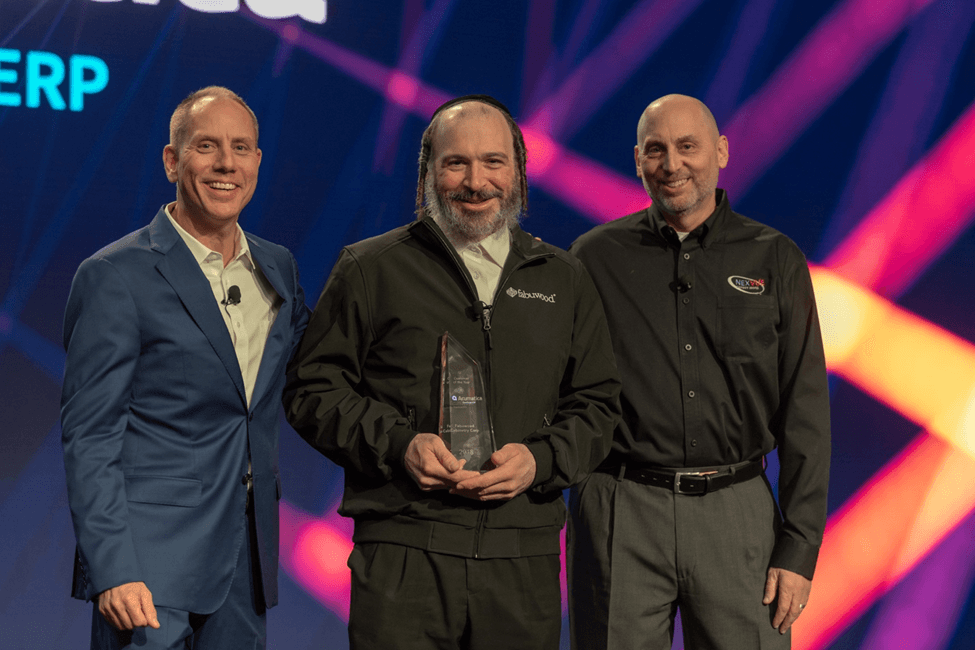 Pictured: Acumatica CEO Jon Roskill presenting the 2018 Acumatica Customer of the Year award to Fabuwood.
Partnerships, integrations, and the connected business
The Summit focused on the importance of the "connected business," which includes embracing digital transformation, up-leveling people and processes, and building a greater community of peers (such as Acumatica's).
Jon revealed a new long-term agreement between Acumatica and Cegid, the leading business management software provider in France. Cegid CEO Pascal Houillon expressed his confidence that the partnership with Acumatica strengthened the company's leadership position in the cloud.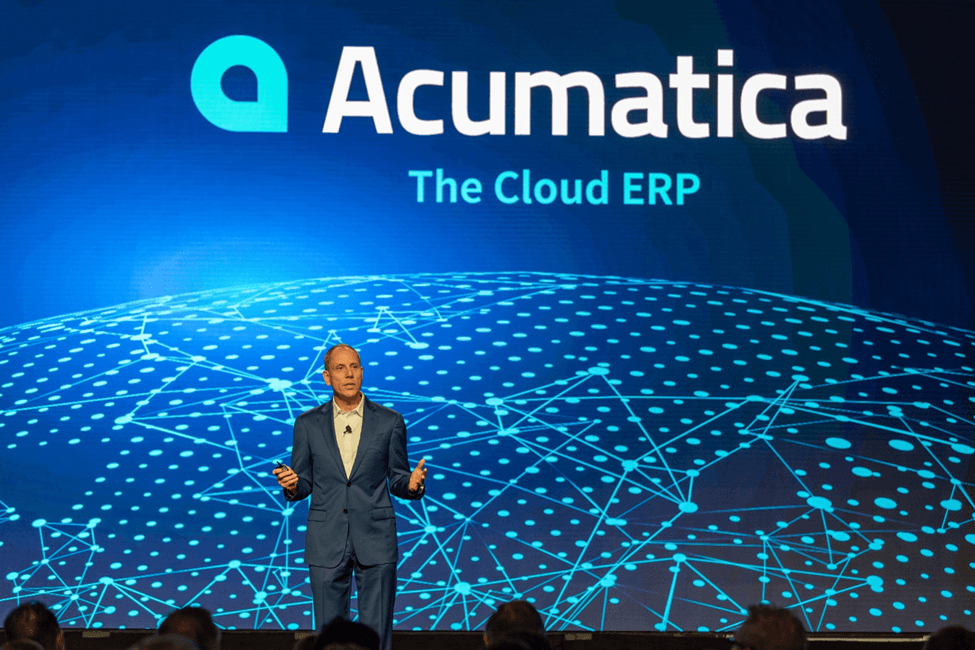 Pictured: Acumatica CEO Jon Roskill onstage at Acumatica Summit 2019
Emerging technologies Machine Learning and AI, along with reporting, BI, and data analysis, are hot topics in the cloud ERP space, and they certainly were at Acumatica Summit 2019, as well. For example, Ajoy Krishnamoorthy, VP of Platform & Technology, was thrilled to share that the Acumatica Cloud ERP Connector for Microsoft Flow is now available.
He also discussed how Acumatica is already using—and continuing to invest in—Machine Learning and AI, and demonstrated how the Google Cloud Vision Product Search can enable manufacturers and field service users to quickly and effectively search for parts or components. And he brought out two great new tech toys: a camera drone equipped to scan QR codes on shelved inventory and the Microsoft HoloLens that showed a range of hands-free, voice-activated capabilities.
As for Acumatica's Product Roadmap, Ali Jani, Acumatica's Chief Product Officer explained that, similar to Acumatica's latest release, Acumatica 2019 R1, it was driven and shaped by input from our user community. Ali noted that business functionality, high usability, and ease of implementation are the backbone of our new product offering. Doug Johnson, VP, Product Management, along with Jessica Gadbois, Partner Enablement Manager, demonstrated a few of the enhancements in Acumatica 2019 R1, including:
Improvements to the side panel
Personalizing your website or instance based on color to more clearly identify branch offices
Multi-factor authentication
They also presented other new features, such as multi-currency capabilities and rate consistency in Project Accounting and Field Services, the benefits of Acumatica's mobile app, and the increased warehouse management functionality in our Distribution Edition. Doug and Jessica could not possibly address every enhancement made to each edition, but more information on the upgrades will be coming soon, including enhancements made to our latest edition, Acumatica Construction Edition.
Acumatica Founder and CTO Mike Chtchelkonogov looked beyond 2019, sharing that Acumatica has planned improvements and advances to Acumatica's cloud ERP modules and editions and to the Acumatica xRP platform. He said the community can also expect improvements to UI, usability, dashboards & reporting, and more. Again, this includes utilizing AI, Machine Learning, and Natural Language, with the latter's usability in real work highlighted by an Acumatica Alexa for Business demonstration.
Full details on day one and two Keynotes are available in our Acumatica Summit 2019 Day One post and Acumatica Summit 2019 Day Two post. You are also welcome to replay the morning Keynotes and can view them here.
Attendee participation, innovations and celebrations
It would not be a true Acumatica Summit without attendee hands-on participation. Through informational breakout and training sessions, innovative new solutions unveiled during Acumatica Hackathon 2019 (see the recap here), and our biggest-ever Solutions Showcase, Acumatica Summit 2019 was a catalyst for attendees to come together for collaboration and business acceleration.
Our annual event included a few reasons to celebrate as well. The welcome reception on Sunday evening kicked off the week's festivities—and provided the forum to  recognize the 2019 MVP and Developer MVP recipients. And Monday night's much-anticipated celebration party was an evening of networking, community, and fun at the House of Blues Houston.
Acumatica Summit 2019 closed with former NASA astronaut (as well as engineer, author, explorer, and current Columbia University professor and Senior Advisor for Space Programs at the Intrepid Sea, Air, and Space Museum) Mike Massimino, who delivered an inspiring and comedic message on teamwork, innovation, and leadership.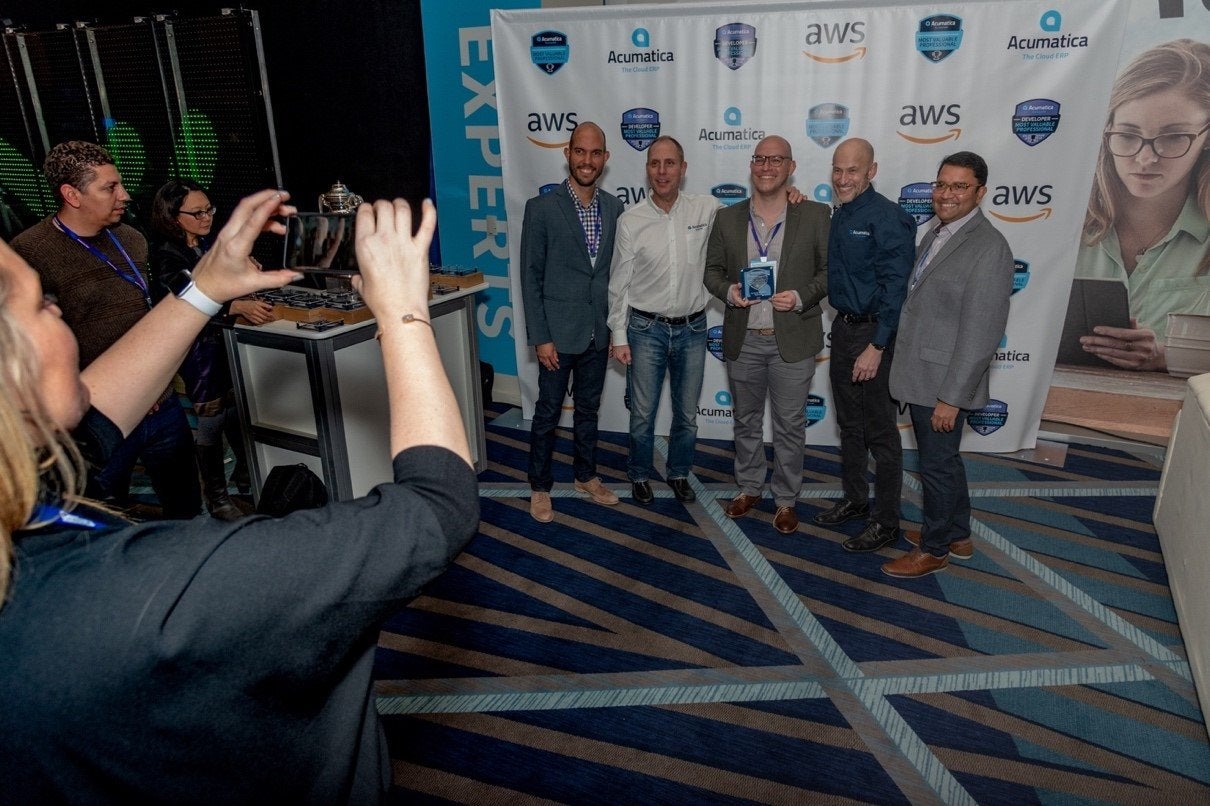 Pictured: Acumatica's Jon Roskill, Ajoy Krishnamoorthy and Mark Franks posing with MVP winners during Sunday's welcome reception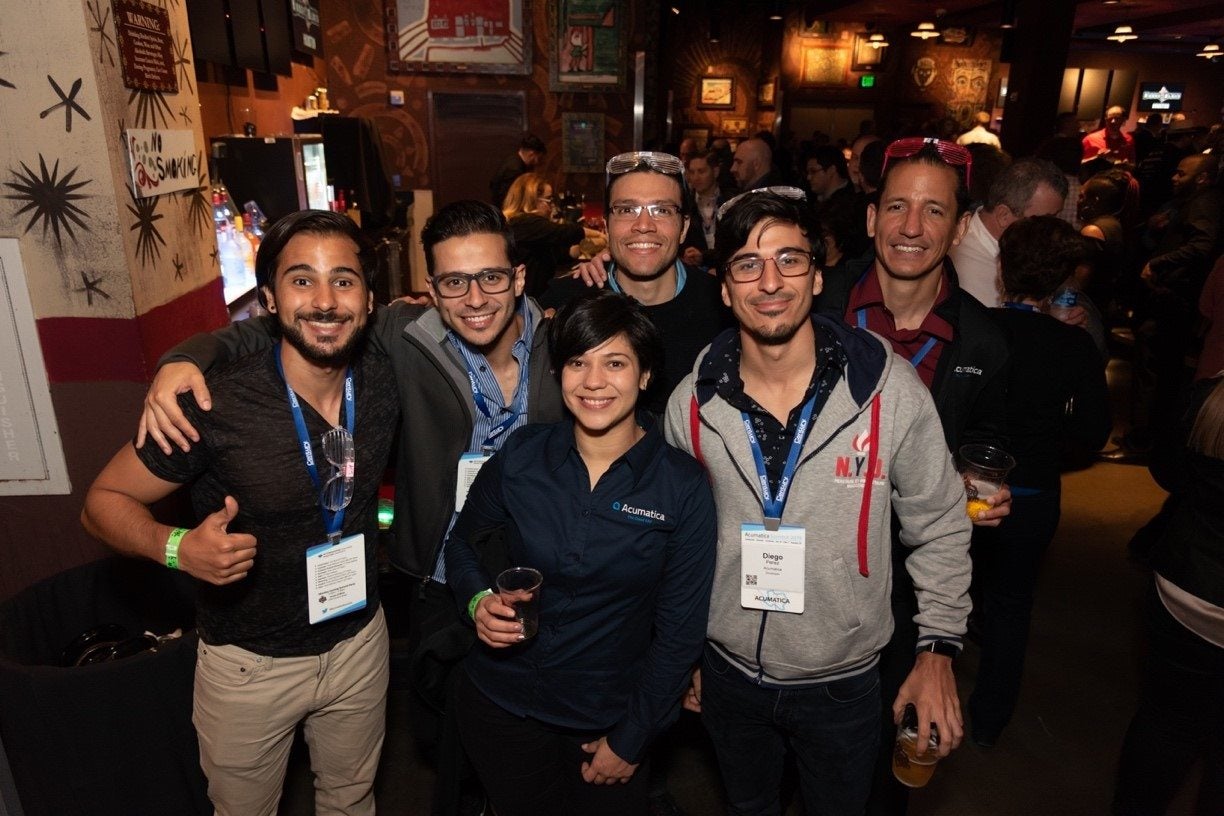 Pictured: Acumatica attendees enjoying the House of Blues Houston
A new year with Acumatica
The Summit affords the Acumatica community an opportunity to connect with like-minded individuals who have one goal in mind: diving full force into the new year with the tools and resources needed to succeed in the cloud.
Even though we had a fantastic week, we would love to hear ideas from our attendees on how we can enhance our annual cloud ERP event. We are always ready to improve the Summit experience and will be working in the coming months to make Acumatica Summit 2020, heading to the Cosmopolitan in Las Vegas, Nevada on January 26-31, spectacular.
The Acumatica team is dedicated to enhancing our cloud ERP product and platform for the Acumatica community. We deeply appreciate our partners, customers, and developers who set aside time to attend Acumatica Summit 2019 and hope you are as excited as we are to continue our transformational journey.