The first day of Acumatica Summit 2020 saw CEO Jon Roskill deliver an outstanding Welcome Keynote that highlighted the cloud ERP company developments of 2019 and those to come in 2020. The bottom line? Unending possibilities for customer and partner success.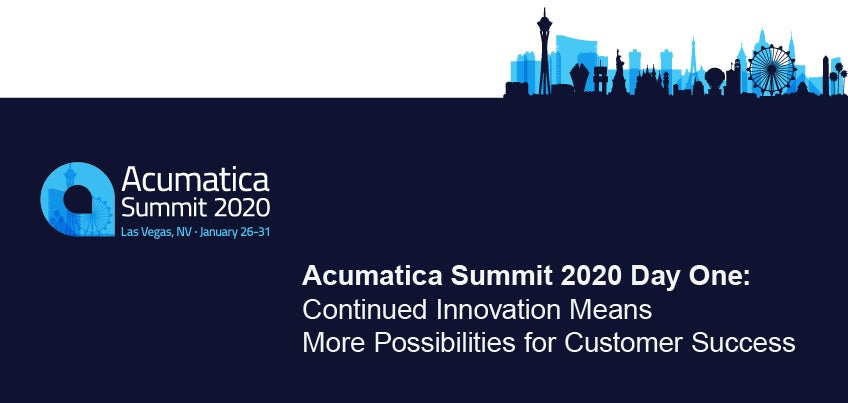 Standing on The Chelsea Theater stage at The Cosmopolitan of Las Vegas for the first day of Acumatica Summit 2020, CEO Jon Roskill addressed nearly 2,300 attendees while thousands more watched via the live stream broadcast. He welcomed customers, partners, media, and analyst participants, reminding them that the Summit is "ground zero" for the global Acumatica community.
"We get together to watch how things go, how things grow, and have fun together—that's what this Summit is all about," he said.
Acumatica Summit 2020: Reflecting on 2019
For Acumatica, 2019 was a stellar year. Customer/partner success and innovation tied as our top priorities, fueling our commitment to make Acumatica's cloud-based ERP solution the choice of midmarket companies who need to digitally transform their businesses. We are excited to share that we surpassed the 6,500 customer mark, and, as noted in the Day One Summit press release, we again achieved astonishing revenue growth, making this the 7th consecutive year we've led the industry.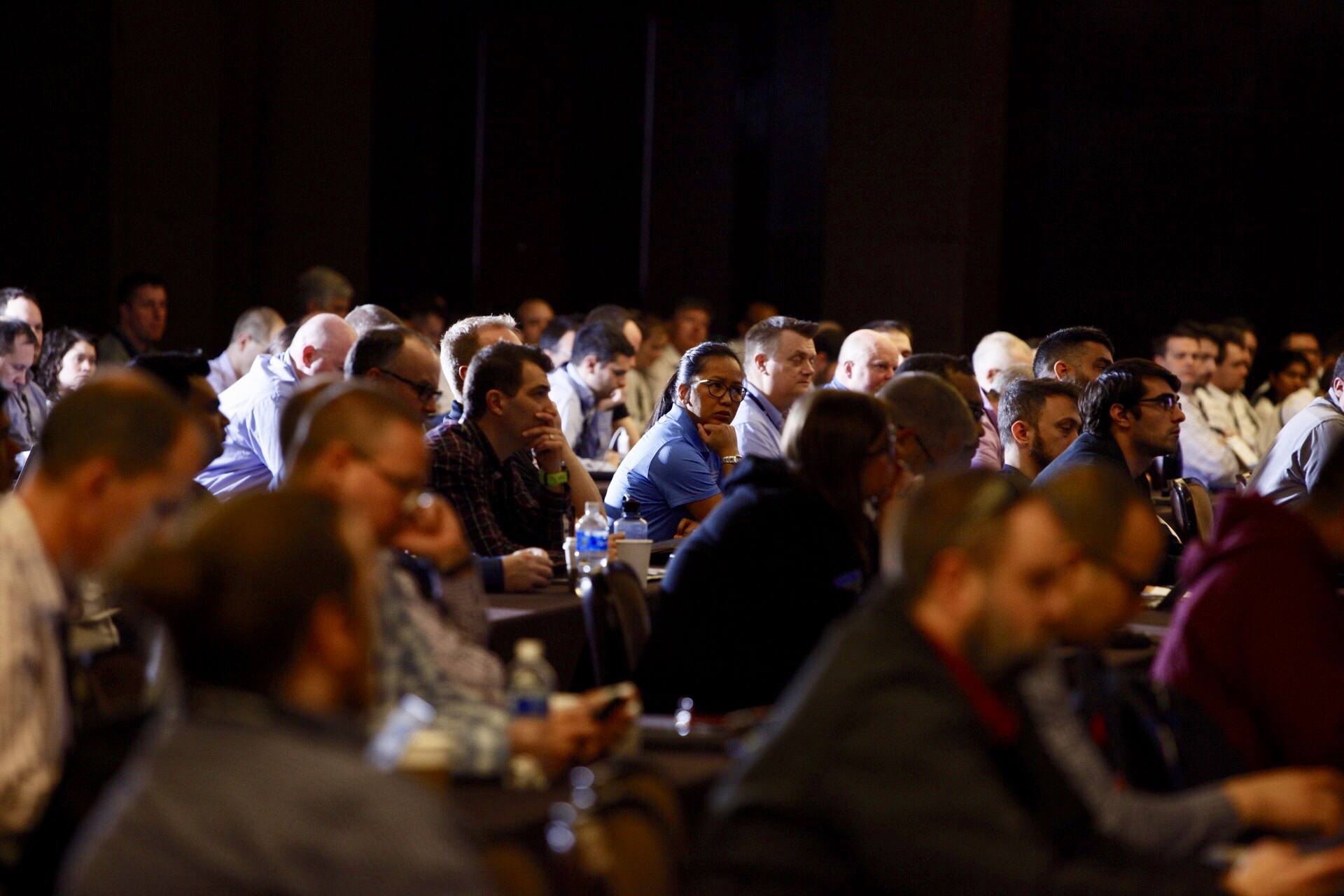 Throughout the year, Acumatica received multiple awards, including PCMag Editor's Choice Award for Best ERP Software, an "Excellent" rating, and 4.5-out-of-five stars. We set the standard for usability in the market, according to Nucleus Research's ERP Technology Value Matrix 2019, and saw many positive customer reviews on G2.
"Those are reviews written by people like you about your experience day-to-day with Acumatica, and the fact that we're emerging in that top right corner is something we're proud of," Jon said, referencing Acumatica's position as a Momentum Leader in G2's Fall 2019 Momentum Grid Report.
Additionally, the Fall 2019 reviews by Forbes, G2, and Gartner showed us that our users—along with leading research companies—view Acumatica's combination of technology, customers, and value as a winning one. Public support from those same customers we are working hard to serve has pushed us to even greater heights.
And to celebrate our customers and partners, we named Power Storage Solutions Acumatica's Customer of the Year and FoodMaven our Impact Customer of the Year. Each company acknowledged Acumatica's adaptable platform, functionality, and customer emphasis as major reasons for their selecting Acumatica cloud ERP.
"The best part of our jobs is getting to see customers be successful with Acumatica," Jon said.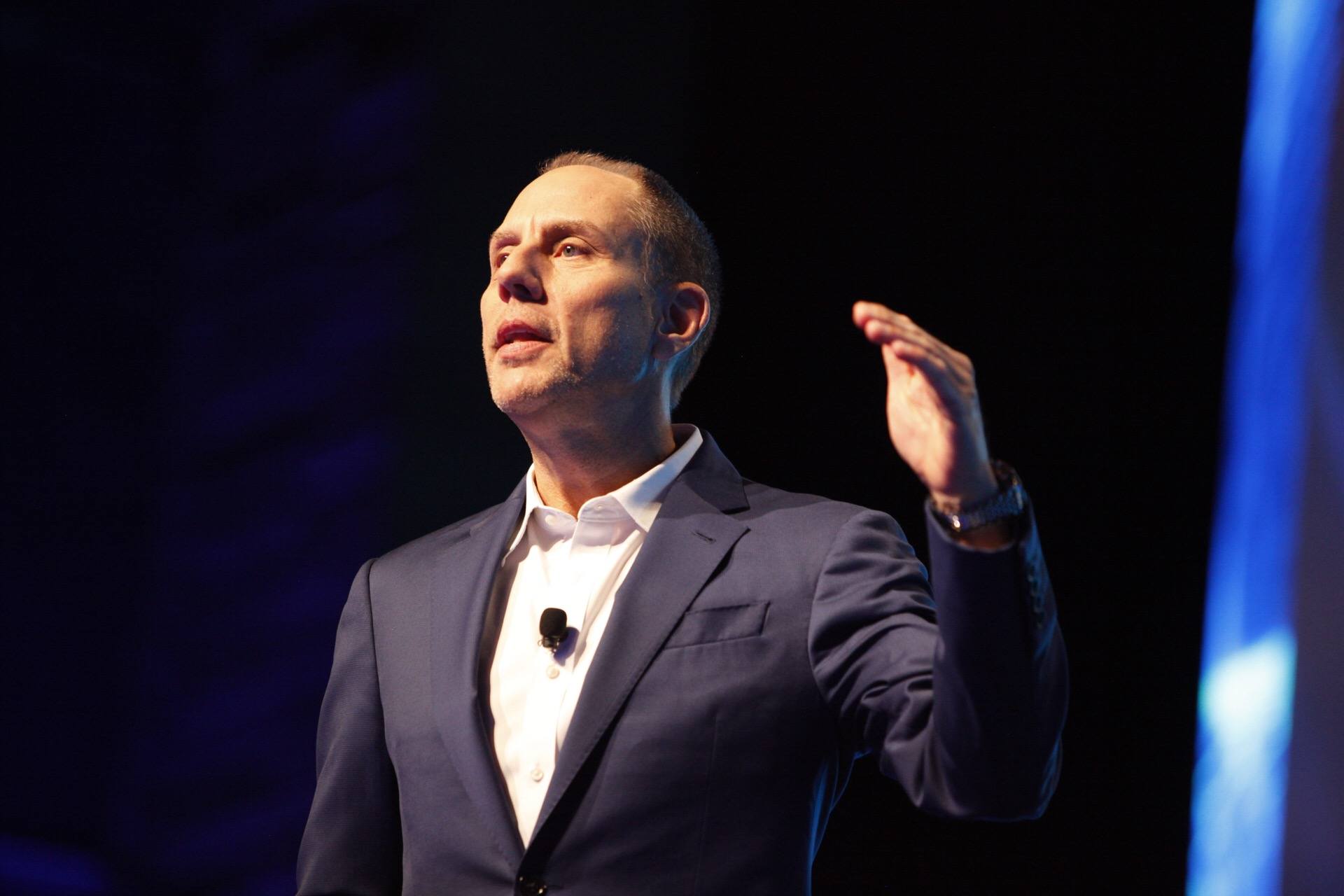 Acumatica Summit 2020: Innovating for 2020
"Everything at the core of Acumatica is about solving customers digital transformation problems," Jon said, shifting to discuss the Acumatica product.
Our emphasis on using technology to pragmatically solve business problems is felt within every bi-annual release, and Acumatica 2020 R1 is ready to go with customer-centric enhancements across the board of Acumatica's industry editions: Commerce Edition, Manufacturing Edition, Construction Edition, Distribution Edition, and Field Service Edition.
Exciting announcements included:
Natively building a BigCommerce connection into the Acumatica Commerce Edition.
Improving Acumatica Manufacturing Edition by acquiring JAAS Systems, providing a complete solution for manufacturing companies.
Partnering with eWorkplace Apps to meet the needs of manufacturers and distributors with their first two integrated solutions, Quality Management and Process Manufacturing Partnering.
Partnering with the Construction Financial Management Association (CMFA) to bring a free, one-year membership to all new construction customers as well as providing the Acumatica Financial Benchmarker, a powerful tool by CMFA that provides an interactive, side-by-side comparison of your financials versus industry benchmarks, helping you determine where you need to improve within 22 metrics.
Delivering Acumatica Payroll (integrated on top of the Acumatica platform, union/certified, Fed/State forms) as part of Acumatica 2020 R1.
Enhancing our integration with Smartsheet, an end-to-end work execution platform with 83,000 customers in 190 countries around the world; Smartsheet in Acumatica Marketplace is available for all Acumatica customers and partners.
The Keynote also touched on our exciting alliance with BDO, our international distributors, and the growth of our ISV/OEM partner community—which now numbers over 200 within the Acumatica Marketplace.
Closing out the Day One Keynote, Jon encouraged the community to get connected through Acumatica's online resources (including Stackoverflow, LinkedIn, GitHub, and Acumatica's user groups), acknowledged Acumatica's 2019 MVPs, and talked about Acumatica's future direction.
"We're investing in three core areas: The platform and all the technology underlying that; building best-in-class business functionality into all of our modules; and the industry editions," he said. "We're embracing new technology all the time."
Acumatica Summit 2020: More to come
Acumatica Summit 2020 has brought cloud software excitement, energy, and enthusiasm to Las Vegas. And it's just going to get better from here. We have meticulously planned every breakout, training track, exhibition, and more to provide attendees with the knowledge and further expertise they can take with them to further their company's success in the digital economy.
Contact our team with any questions about the Summit or our cloud ERP software. It's going to be an amazing year for the Acumatica community, and we can't wait to walk alongside you on your Acumatica journey.