Why does Acumatica's Bob Clancy believe that staying at the Wynn Las Vegas is the best and safest way to experience Acumatica Summit 2021? He has a few reasons.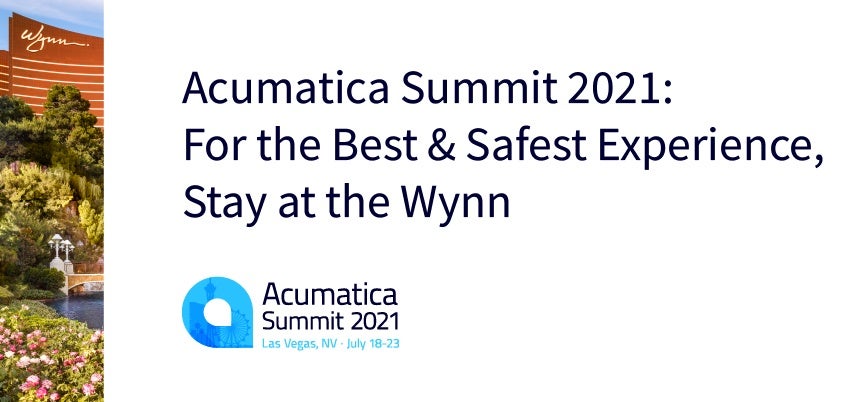 By now, you've heard that Acumatica Summit 2021 is on, taking place July 18 – July 23, 2021 in sunny Las Vegas, Nevada. Our annual cloud ERP event offers expert training, demonstrations, and insights and provides excellent networking opportunities.
Since registration opened, attendees have been reserving their hotel accommodations at the Wynn.  Please keep in mind that the guestrooms we've reserved at the guaranteed discounted conference rate at the Wynn Las Vegas will fill up quickly as we get closer to the Summit.
I highly recommend attendees to stay at the Wynn Las Vegas versus other accommodations, and we have a few reasons above and beyond rates and availability.
Why should I stay at the Wynn for Acumatica Summit 2021?
One of the things I'm most excited about Acumatica Summit 2021 is the venue. As the five-star Wynn Las Vegas declares, "There's nothing in the world like Las Vegas—and there's absolutely nothing in Las Vegas like Wynn."
Having had the pleasure of staying there during an event planning visit, I can attest to the fact that the Wynn is a superlative hotel—and that's saying a lot considering their competition. The Wynn guestrooms boast stunning views of the Las Vegas Strip and valley vistas and every amenity any person would wish, from a pillow-topped bed and touch-screen technology to amenity-filled bathrooms.
Then there are all the Wynn's amenities, like the heated pool (with poolside cocktails, food service, and gaming), the Spa and Fitness Center, the Wynn Plaza Shops, and the Wynn Golf Club. I go into all of the details in Acumatica Summit 2021 Heads to the Wynn Las Vegas.
But the Wynn Las Vegas does something far better than any other hotel or resort in Las Vegas: Ensuring the health and safety of their guests and employees during the COVID-19 crisis.
Their award-winning Health and Sanitization Plan, which was created over three months while working closely with medical and public health officials, is comprehensive, covering concerns from A-to-Z. For example, all guests and employees must wear face masks or coverings when in public spaces; the Wynn provides face coverings on a daily basis for those who need them.
In addition, they screen every person who enters with non-invasive thermal cameras, meticulously clean and disinfect all public areas and guestrooms, provide hand sanitization stations throughout the property, adhere to physical distancing and meeting space occupation guidelines, and much more, as seen in their Health and Safety video.
The safety protocols the Wynn Las Vegas have established are extensive to say the least. For Acumatica Summit attendees, that means the Acumatica community can rest easy knowing that the hotel's standards far exceed other hotel's expectations.
CEO Matt Maddox wrote in a guest opinion for the Nevada Independent, "Wynn was one of the first to produce a detailed reopening plan in April [2020] that is now the foundation for the similar plans across many industries, not just hospitality. We reopened with top-notch health and safety protocols, stringent employee testing, a dedicated contact tracing team, and rigorous sanitation plans."
The Wynn for the win
The Wynn's focus on health and safety alone is enough to win my vote for staying there during Acumatica Summit 2021, but there are additional reasons:
Experiencing the event while staying at the same location is better than experiencing it while staying offsite. Attendees who choose to stay at the Wynn experience all that our cloud ERP software event has to offer, while being fully immersed, surrounded by new (and old) friends, and doing it all in a safe environment.
If you haven't been to Vegas in July, here's a spoiler alert: it's HOT. The average daytime temperature in Las Vegas in July is 107o F / 42o Attendees staying at the hotel won't have to set foot out of the air-conditioned luxury unless they want to. They'll also have access to the Wynn's cool and refreshing pool right outside their guestroom door. In my option, that sounds much better than having to walk a mile from another hotel each day in the mid-summer desert heat!
As I already mentioned, the discounted rate is even better than we've had in previous years. Getting everything Wynn Las Vegas has to offer at a fantastic price is a once-in-a-lifetime opportunity. But keep in mind, when the guestrooms allocated for Acumatica are booked, the special rate will no longer be available, and guestrooms outside of our block may be limited.
So don't hesitate. Register for Acumatica Summit 2021 today; reserve your spot in the general, breakout, and training sessions; and, perhaps most importantly, secure a beautiful room at a fabulous rate in a safe and healthy location. Again, once the negotiated block in filled, there will be no additional rooms added to this block. That means if you miss the block rate, you will pay the standard rate that's based on hotel demand, which may vary day by day.
We can't wait to see you! Questions about the event can be directed to eventcs@acumatica.com, and questions about Acumatica's cloud-based ERP solution can be directed to our experts.