The Acumatica Summit 2021 Women in Technology Luncheon & Workshop is a must-attend event. Why? Former U.S. Army Black Hawk Pilot Elizabeth McCormick.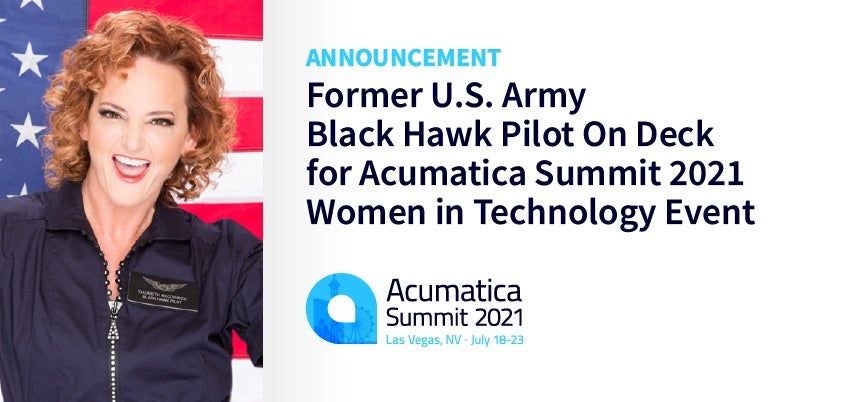 The Acumatica Summit 2021 Women in Technology Luncheon & Workshop is taking place on the second day of our annual cloud ERP Summit, Tuesday, July 20, 2021 from 12:00 PM – 1:50 PM. It's a do-not-miss event where women in technology learn best practices and gain insights into effectively building their careers.
We have a dynamic, interactive, and inspirational speaker on deck. Her motivational talks focus on leadership, sales, and safety, and they stem from her own personal life experiences. And let me assure you, her life experiences are unlike the average person's life experiences.
Here's a brief overview of who she is and what she has to say. I think it may inspire you to sign up for a spot in this very popular session.
Elizabeth McCormick in the house
Elizabeth McCormick is a retired Chief Warrant Officer 2 and one of the first approximately 100 females to become a Black Hawk Pilot for the U.S. Army. She has earned multiple awards, including the U.S. Congressional Veteran Commendation for her "service to her country and community as a disabled veteran."
Before suffering her military career-ending injury, Elizabeth flew air assault, command and control, top-secret intelligence missions. She also transported high-level government VIPs. As you can imagine, her success as a female Army helicopter pilot didn't come without some challenges.
Elizabeth explains in an article she wrote for the VFW that to get into Flight School, she first had to complete Warrant Officer Candidate School, which meant she had to go toe-to-toe with the male candidates by meeting the same physical standards. She almost gave up (five of the seven other women in her class did), but she pushed herself.
"And just when I thought, this is it, I can't do more, I did more. I had more than I thought possible. Most of the time, it's our thinking that limits us—not our bodies, not our environment, not our circle of influence (well, unless we let our limiting beliefs in)," she writes. "The mental game was the toughest."
She explains that she endured name-calling and negative reinforcement on the daily. "It would have been easier to quit than to persevere. It was physically demanding and mentally grueling, and emotionally it took a toll on my self-esteem."
Success, however, was hers, and she credits her success to the confidence-boosting strategies she developed and utilized over 20 years ago. Now she passes on those same strategies to any group wise enough to have her speak to them about positivity, building confidence, and performing optimally.
As she explains in one of her many presentations, "What we say, our brain believes."
Not done yet
When Elizabeth retired from the military, she took her lessons in perseverance with her into the corporate world as an international contract negotiator and commodity manager in purchasing and supply chain for global corporations. She led several teams to "top achievements" through her analyzation and negotiation skills along with her mentoring, management, and teambuilding skills.
She eventually transitioned into becoming a motivational business speaker. She is a founding member of the John Maxwell Team of certified speakers, earned her Certified Speaking Professional (CSP) career designation by the National Speakers Association in 2019, and added a "Certified Virtual Presenter" designation for her proficiency in online performances in 2020.
In addition, Elizabeth has managed to fit in time to write 20 business-tip books along with a personal development book, The P.I.L.O.T. Method; the Five Elemental Truths to Leading Yourself in Life. P.I.L.O.T. stands for:
Potential: You have potential, are you confident in that potential, and how to boost it.
Implementation: What are you doing with your potential, and how to get more out of it.
Leadership: The three pillars of leadership based on aviation principles and how they apply to you.
Optimize: Are you living your best life?  Learn how you CAN be more, do more, and live more.
Tenacity: Never give up. How to find that toughness within you.
Elizabeth says, "You are in the Pilot's seat of your life."
Needless to say, she will have amazing advice on surviving and thriving in any environment with a thorough understanding of what it takes to be a strong woman and leader in any industry, including the cloud ERP marketplace. She'll have a Q&A portion to her presentation. And her message will resonate with every attendee.
Ready to register for Acumatica Summit 2021 (July 17-23, 2021 in Las Vegas, Nevada at the beautiful and safe Wynn Las Vegas) and to sign up for the Women in Technology Luncheon & Workshop? Do it today to ensure your spot is reserved.
Make sure to also download the Summit App and you will see the Women in Technology Luncheon & Workshop on your personalized agenda. Instructions on downloading the app will be provided once you've registered for Summit. If you don't receive the instructions, please contact eventcs@acumatica.com.
As an award-winning pilot, speaker, writer, and media guest (appearing on ABC, CBS, NBC, FOX, CW, CNN, and in the Wall Street Journal), Elizabeth has energizing, actionable insights that will translate well in the cloud ERP space.
For any questions about the Summit, contact the planning team, and for any questions about Acumatica's cloud ERP software, contact our experts at any time.