Why should you not miss Acumatica Hackathon 2022? Acumatica's Mark Franks will tell you in today's blog.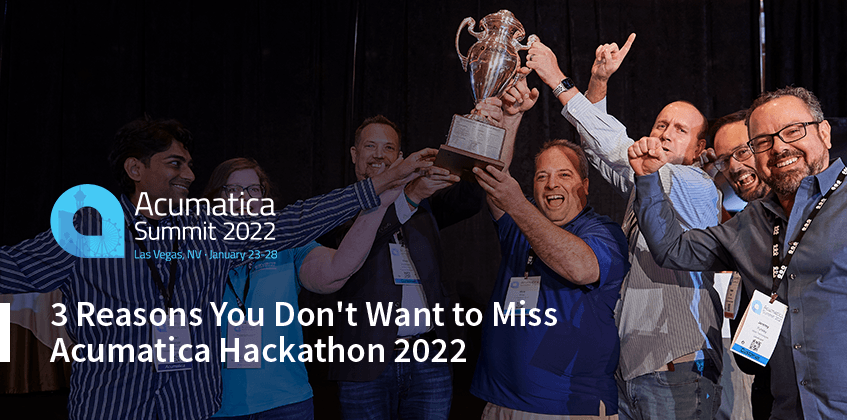 Acumatica Summit 2022 is quickly approaching (January 23 – 28, 2021 at the Wynn Las Vegas), and by extension, Acumatica Hackathon 2022 (January 22-23).
Acumatica's popular Hackathon, which opens our annual cloud ERP Summit every year, is all about working together as a community to help each other succeed. Yes, it's competitive, but the goal is collaboration as teams design creative, pragmatic applications for Acumatica's cloud xRP platform.
It's really an event that Acumatica developers and non-developers shouldn't miss.
Why you shouldn't miss Acumatica Hackathon 2022
As I wrote in my Acumatica Hackathon 2021 recap, the participants came with their 'A+' game. The top three winners produced innovative solutions, including a payment settlement application for cryptocurrencies, a natural progression integration strategy, and a tool that works with the Activities process that allows an Acumatica user to interact remotely with a non-Acumatica user.
Pretty impressive, but I didn't bring it up to brag on what the Hackathon produces. It actually leads to my first reason you don't want to miss this year's event.
1. Think outside the box
I think it's safe to say that working day-in and day-out in the same place doing a lot of the same things can stifle creativity. This is not to say that inspiration can't hit no matter where you are or what you're doing. It can and it does, but, sometimes, we need to get outside of our normal routine if we want to be able to think outside the box.
Acumatica Hackathon 2022 is the perfect opportunity to shake things up. Acumatica's 2021 Developer of the Year, Robert Waite, REPAY, says, "It's an awesome event. You learn a lot. The best thing about the hackathon is you come up with a brand-new idea, and it just challenges you, and you learn so much."
He also says, "After the last hackathon, I went home, and I just felt I was a lot better at working with Acumatica from it. The small little spurt of learning that came out of it really helped in my day job."
2. Build a stronger community
Not as exciting as reason #1, but building a stronger community is a huge deal—especially here at Acumatica. We strongly believe that connected customers are successful customers. We also believe that success begets success. In other words, when members of our community succeed, we succeed, and when we succeed, they succeed.
One of the best parts of our Acumatica Hackathon is that teams are made up of developers, customers, and partners along with a subject matter expert (SME) from Acumatica's engineering/developer groups. The diversity of the teams lends itself to developing teamwork skills, learning from other people's perspectives, and growing stronger as a community.
Brian Stevens, Setech Supply Chain Solutions, attended last year's Hackathon and says, "At the end of the day, it's about building a stronger developer community. Not for Acumatica, not for our own companies, but for all the people in this room because if we're helping each other, we're all getting stronger together. And if we're all stronger together, we know this is going to be amazing later…not that it isn't already."
3. Have fun
Who doesn't want to have fun? And when you can have fun during a professional event, so much the better. Hanging out with people that are just as excited about Acumatica's cloud-based ERP solution as you are is a perfect way to get the creative juices flowing, and you also get to enjoy free food and beverages.
Kyle Vanderstoep of Contou Inc., a Developer MVP, says, "Everyone here is very much into Acumatica and sometimes you don't find that level of enthusiasm even face-to-face with like-minded developers. You learn tons of new stuff. There's always an infinite number of things that you don't know that somebody else knows and when everyone gets together, it's like they pollinate each other's ideas."
Why you should miss Acumatica Hackathon 2022
If you're anti-thinking outside the box, anti-community, and anti-fun, then you should miss Acumatica Hackathon 2022. It's going to be chock-full of learning, growing, and good times, and we wouldn't want you to be miserable.
For those who aren't 'anti' any of this, then let me give you a few more details:
The applications produced during the Hackathon are assessed by an esteemed panel of judges, including CPO Ali Jani; EVP, Products & Chief Strategy Officer Ajoy Krishnamoorthy; VP of Platform Engineering Andrew Boulanov; and VP Partner Solutions Christian Lindberg.
The top three teams win great prizes (the 2021 prizes included Bose Noise Cancelling Headphones 700, Samsung Galaxy Tablet A7, and Garmin Forerunner 235, GPS Running Watch), have their names inscribed on the Acumatica Developer Network Hackathon Cup, and earn bragging rights.
The top three teams also receive recognition at the Tuesday Keynote and the chance to present during the Developer Track during the Summit.
The first-place team will be etched in perpetuity by being added to the prestigious Hackathon Trophy along with the names from previous years – including Acumatica's internal company hackathon winners.
If you're in, sign up today. I guarantee you'll walk away richer in friendship and in your cloud ERP knowledge—a win-win for everyone.
The hackathon starts Saturday afternoon, so you should fly in on Friday night or before – so plan accordingly.
To learn more about the Acumatica Hackathon or Acumatica Summit 2022, contact the event team at support@acumaticaevents.com. And as noted in Registration is Open for Acumatica Summit 2022, you can be assured that we will be following current COVID-19 protocols for the health and safety of our community.
Questions about Acumatica's cloud ERP software and the Acumatica developer community? Contact our experts who are standing by.
One last thing: Please don't forget to nominate your Acumatica 2022 MVPs. The deadline is December 31, 2021. Winners will be honored during Acumatica Summit 2022.
Looking forward to seeing you in Vegas!