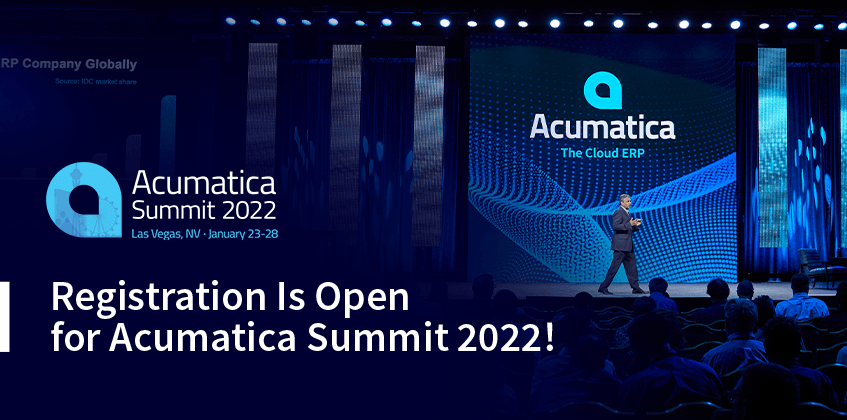 Do not rub your eyes. Do not adjust your screen. What you're seeing is correct. Registration for Acumatica Summit 2022 is now open!  We are returning to our traditional end of January Summit dates to get the Acumatica community revved up for another dynamite cloud ERP event.
Acumatica Summit 2022 details
Todd Wells, Acumatica's Chief Marketing Officer, notes in his Acumatica Summit 2021 recap, "It was a successful Summit that focused on the resiliency of the Acumatica community and the reliability of Acumatica Cloud ERP. It's a winning combination, and we will continue focusing on innovation and our customers as we meet the future head-on."
Meeting the future head-on is right, and the Summit planning team is hard at work planning the upcoming Acumatica Summit 2022 to "out-success" this past year's event. Here's what you need to know:
Where: Las Vegas, Nevada at the Wynn Las Vegas
When: Sunday, January 23 – Friday, January 28, 2022
What: A gathering of the Acumatica community to continue the ongoing discussion on resiliency and the digital transformation journey. Come see live product demonstrations, sneak peeks into Acumatica 2022 R1, and product roadmap insights.  If that is not enough, there is also the ability to interact with the Acumatica team, network with your peers, and attending the highly anticipated social events.
We guarantee it will be time well spent, and we encourage you and your team to take advantage of our early-bird registration special which ends Friday December 17th (11:59 PM Pacific Time). The savings are substantial if you register before the deadline.
Summit Only (Sun – Tues): $795 versus $995
Summit & Training (Sun – Fri): $1,895 versus $2,495
Training Only (Wed – Fri): $1,595 versus $1,895
These rates are only available for a certain amount of time, so don't miss out on these amazing savings.
Why attend Acumatica Summit 2022?
In our opinion, the only people who ask why they should attend Acumatica Summit are those who have never attended this premier cloud ERP event. The majority of attendees come for their first time and continue to sign up year after year.
Jon Reed of digonomica is a great example. He's attended for many years, and in a recent article regarding this year's Summit, he gave an Acumatica progress report.
"Acumatica is doing a lot of things right. That shows during their keynotes, which are far above the mediocre/stilted/overblown average, thanks to superior pacing, heavy doses of customers, unapologetically geeky demos, and gelled teams that play well off each other, with easy ribbing and jokes (example: casually using each other's credit cards during on-stage demos). It probably helps that their leadership team has been pretty stable for some years. It also helps that Acumatica doesn't have a pressing need to go viral, or try cheesy tactics like hiring professional keynote moderators (who invariably come off as tone deaf carnival barkers)."
He's right on all accounts. We are unapologetic about being the world's fastest-growing cloud ERP company, surpassing the 8,000-customer mark and earning a 97% customer satisfaction rate.
Brian Stevens of Setech Supply Chain Solutions is a Developer MVP, and he's another great example of someone who has attended multiple Summits. This was his third year participating in the Acumatica Hackathon, which jumpstarts every Acumatica Summit event.
Though his feedback is Hackathon-specific, it is relevant to the whole Summit experience. "It's not about showing up to the hackathon and saying how great you are, it's about coming to the hackathon and being in a room with people who know best how to do things—amazing things—with the software. That's what the hackathon is going to do: Create projects that Acumatica doesn't do. We're not just wanting to reproduce what's already here. We want to expand everyone's horizons on what can we do to reach deeper into the community and the world around us with creative ideas. You don't do that by just repeating what you've done in the past."
Expanding your horizons at Acumatica Summit 2022
The Acumatica Summit is an innovative, affordable, educational, and enjoyable experience for all attendees. Register NOW and join the Acumatica community at a beautiful, luxurious venue for the sole purpose of accelerating your cloud ERP knowledge and your business' success. Rest assured, the health and safety of our attendees will continue to be a priority. We will be following all current COVID-19 protocols to make our event as safe as possible.
For any questions about the Summit, contact the event team at support@acumaticaevents.com. For any questions about our cloud-based ERP solution, contact our team today.