Acumatica Summit 2018 has just started, and we're excited for customers and partners to experience our weeklong cloud ERP event. This year, however, is even more special, because we're celebrating Acumatica's 10 Year Anniversary!
With Acumatica Summit 2018 just getting underway, our customers and partners are looking forward to a week of exciting product news, networking, and fun. The team at Acumatica is looking forward to it too, of course, but we're also excited to celebrate a big milestone: Acumatica's 10 Year Anniversary! The story of how Acumatica became the only true cloud ERP platform is a good one, and I want to give you an inside look at the journey through the eyes of our own Mike Chtchelkonogov and Ali Jani.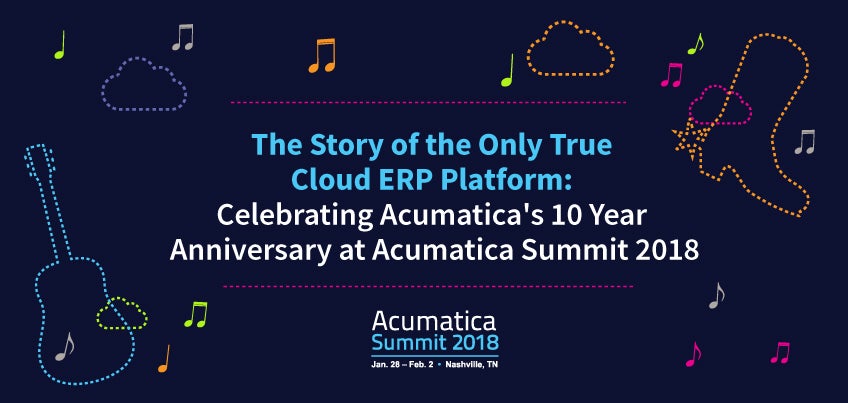 Acumatica's 10 Year Anniversary: Looking back
In 2014 I became CEO of Acumatica, the innovative cloud ERP platform had already set the company up for incredible growth since its launch in 2008, and I believed it was on track to continue that trajectory. My experience in the software industry included being Microsoft's Channel Chief, and I shared Acumatica's commitment to their channel partners as well as the belief that the Cloud was the future.
Mike, Acumatica's CTO, is one of the founders of Acumatica and recalls how it all began: "It [Acumatica] started with a few people; it was about five or six guys from Parallels. We were developing a platform for the next generation billing solution and we believed this technology was well suited for the ERP market. So we had a discussion with Serguei Beloussov and John S. Howell, Jr. and decided to create a split company from Parallels and founded a new company to focus on ERP software."
In 2005, Mike says this core team of developers with ERP backgrounds had been working with Microsoft on Parallels' Business Automation, a telecom business solution for the cloud. "That was quite an interesting experience because, we learned the modern web technologies and realized that the functionality that had been previously developed and delivered over the desktop application could be delivered through the web with the same amount of functionality and richness of the interface. We came up with the idea that we wanted to build a platform out of this and we developed a prototype."
Between 2008 and 2010, the company now known as Acumatica really began to develop its cloud ERP platform. The initial billing system they created is now our current Financial Management module.
In early 2009, Ali Jani (VP Partner Strategy, Product Management, and Services) joined the team with his extensive ERP experience.
At the time I joined, the company basically had only one customer, our sister company Parallels. The product was in its infancy; a financials-only package without any of our bells and whistles that we have today with all the different suites and modules," Ali says. "Really, the focus had been, let's take this platform that was built over the last few years and start to build functionality on top of it. We decided to expand this platform to include Distribution Management and CRM.
He points out that when Mike, Andrew Boulanov (Chief Architect), and their team were developing the platform, they had no existing ERP customers at the time. This turned out to be a major plus as they didn't need to worry about the technology supporting migration of existing customers. Instead, they were able to do what they wanted and used modern, cloud-based technology that seized the opportunity of a transition in the market.
When I joined, I did a lot of due diligence with my background being ERP. When I evaluated Acumatica, I recognized that the technologies were fresh, and it was purpose-built for the cloud. That was a major differentiator; the technology was really picked up at the right time, not technology of decades ago," Ali says. "We recognized ourselves as being a platform company. I sat down with Mike the first month I was there and talked about how we could leverage this technology to future-proof our platform and ERP application. It's in our roots to build something that was going to last a lifetime; people don't frequently switch ERP systems and they're really buying the system for the future, not just for what they do today.
Both Mike and Ali acknowledge that this mindset is still the philosophy of Acumatica today. They also say that Acumatica's successful journey is largely due to our VAR, ISV, and OEM partners.
John Howell really believed in the channel. Everything that we did from day one was not about adding sales teams or doing direct sales. We recognized the platform and the power of the platform can only be exposed if we have people who want to leverage the platform, to build products and adapt the ERP solution for their end customers," Ali says. "We can't be experts in every vertical and we needed the partner channel to help us with their domain knowledge and expertise to leverage the platform, build customizations, and use our tool sets to deliver solutions.
He goes on, "That helped us really secure a differentiation by building a product that is highly adaptable and then staying true to the channel. We don't compete with our channel, we have the best channel program on the market, and this helps us focus on one thing, making our partners successful."
In fact, our first OEM vendor, JAMIS Software, joined in 2011. President and CEO Jeffrey Noolas has this to say about our xRP platform: "The Acumatica Cloud xRP Platform has given us a substantial technology lead with a highly functional product in a very sticky niche where no one can catch us for years."
The success of our partners and our platform has led to us celebrating Acumatica's 10 Year Anniversary today. As Mike relates, "From the very beginning, we were focused on the midmarket. The key feature for the midmarket is the customization. We provide very rich customization tools that give you easy-to-modify applications on essentially all levels – that is a very distinguishing feature for Acumatica."
Acumatica's 10 Year Anniversary: Looking forward
Starting in Moscow, then moving to rented headquarters in Northern Virginia, and on to our current location in Bellevue, Washington, Acumatica has continued to thrive and today is the fastest growing cloud ERP in the market.
Ali says, "Jon Roskill joined in 2014. Ever since then, we've been on the very rapid growth stage with 100%+ growth rate year over year. The growth has been amazing."
Mike and Ali, along with our long term team members such as Doug Johnson (Vice President, Product Management) – who, according to Mike, was our very first hire in the U.S – and Sean Chatterjee (Vice President, Partner Sales) have all worked together to make Acumatica the best cloud ERP software available.
"It's a team of people who are very committed, and one reason for our success is that we stick together. We've been very lucky with finding the right people over the years. Altogether, we've been an excellent team," Mike says.
As CEO of Acumatica, I'm proud to be a part of this team. As the company has grown, so has our team and we are excited for what is ahead. Our goal for Acumatica is to continually improve our platform and products, support our partners who help us make it all happen, and provide our customers with a true cloud ERP solution that will grow and adapt to their individual needs.
One of our core beliefs is that customers have a right to an open and flexible platform with a consumption-based licensing approach to scale as your business grows. You can have the Cloud on your terms too, with public, private, and hybrid deployment flexibility and access to YOUR data, anytime, anywhere.
Another unique factor that sets Acumatica apart is that over 70% of our resources are in technical roles. We embrace technology here at Acumatica and were the first to do things such as Amazon Alexa integration. We invest in feature enhancements not just product maintenance and are excited about the future as AI and Machine Learning really take shape. The possibilities are endless.
While we're celebrating Acumatica's 10 Year Anniversary at Acumatica Summit 2018, I want to thank our Acumatica team and our partners for their commitment to excellence, and all of our customers around the world.
We're just getting started!