How do you make an in-person event, like Acumatica Summit 2021, environmentally responsible? Acumatica's Chief Marketing Officer explains.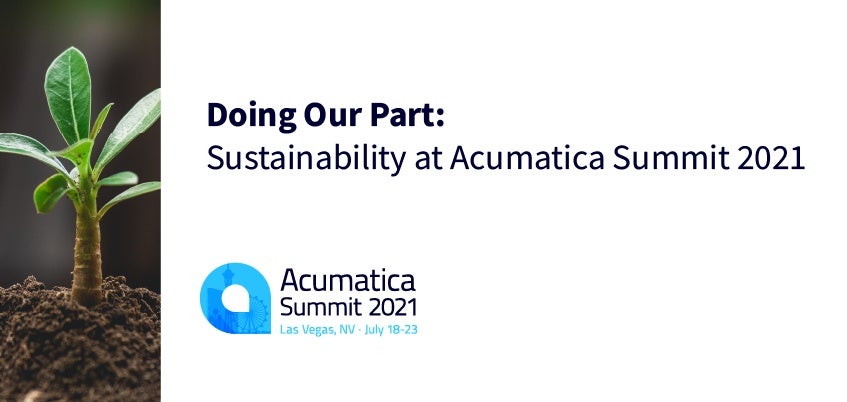 As an award-winning business management solution, Acumatica is committed to providing innovative products and top-tier support to every customer. We are also committed to being an environmentally conscious corporation; these efforts can be seen in both our daily operations and in our annual cloud ERP events, such as the Acumatica Summit 2021 (July 18 – 23, 2021 at the Wynn Las Vegas).
World Environment Day, which is celebrated every year on June 5th, is a day set aside by the United Nations for "encouraging worldwide awareness and action to protect our environment." We wanted to take an active part in celebrating the day by highlighting what we are doing to make Acumatica Summit 2021 a sustainable event.
Sustainability at Acumatica Summit 2021
Last year, we instituted a green/sustainability initiative for Acumatica Summit 2020. To take these initiatives to the next level at Acumatica Summit 2021, we are partnering with MeetGreen, a sustainable event agency that is a certified women-owned, ISO 20121, net zero emissions business.
MeetGreen works with organizations to develop a sustainable event policy that aids in lowering an event's carbon footprint. They have a tool, the MeetGreen Calculator 2.0, that benchmarks the sustainable elements of an event based on 14 key categories. With their help, we have created an effective Acumatica sustainability plan that incorporates their suggestions with the things we were already doing.
For example, we introduced a digital mobile app at Acumatica Summit 2020 to provide our attendees with conference information, eliminating the need to print out thousands of event guides. The app will be used again this year.
We also worked with last year's venue to make recycling bins available throughout the meeting space and to provide locally grown and sourced food. The Wynn Las Vegas is taking these steps and elevating them to a whole new level. According to their Wynn Responsibility website, "Wynn Resorts has taken a leading role in addressing the complex environmental issues facing the hospitality industry. With a circular approach that encompasses our entire supply chain, we continuously examine ways to reduce our environmental impact as we move closer to achieving our goal of operating zero carbon, zero waste resorts."
The resort has put the following initiatives in place:
Green buildings: The Wynn Las Vegas and Encore buildings have been awarded the Four Green Globes from the Green Building Initiative. Their buildings have been certified as having excellence in resource efficiency, health, and environmental sustainability.
Renewable energy: The resort uses solar power (from rooftop solar panels while also generating solar power to scale at the 160-acre Wynn Solar Facility) to reduce greenhouse gas emissions. Up to 75% of the resort's peak power requirements is offset by this energy.
Energy efficiency: The resort conserves utilities by exceeding efficiency standards when possible. An example is using LED lighting. Their efforts have resulted in an offset of over 100,000 metric tons of greenhouse emissions.
Water conservation: The resort's water conservation efforts include installing five acres of artificial turf (saving over 30 million gallons/year) and using non-potable water for the golf course. They also have a drip irrigation system that is designed to only deliver the necessary amount of water.
Responsibly sourced produce/goods: The resort sources most produce from a 400-mile radius and review their food vendors' sustainability standards. Seafood is often sourced from day boat fisherman, which supports family-owned sustainable fishing operations.
No/limited food waste: The resort ensures that excess food is converted into animal feed by local food waste management businesses, and reclaimed food is donated to a local food pantry.
Reuse & recycle: The resort has their trash thoroughly sorted to remove recyclable materials. Machinery is repaired or reused to extend the duration of the product life.
Recycling soap: The resort has partnered with Clean the World to collect, recycle, and distribute used soap domestically and internationally.
In addition to all that the Wynn is doing, we will be sourcing many of the conference giveaways from renewable products, eliminating as many disposable giveaways as possible, reusing branding materials so they do not end up in landfills, investing in certified carbon offsets, and offering attendees options to help reduce their emissions during the Summit.
Acumatica Summit 2021 is on track to be our most sustainable and environmentally conscious event yet.
Doing our part at Acumatica Summit 2021 and every day
The sustainability measures we are taking for Acumatica Summit 2021 mirror the measures Acumatica takes every day to ensure we are limiting our environmental impact. In 2020, Acumatica was able to make great strides in reducing our environmental impact.
For example, when an Acumatica ERP customer moves their business from a legacy solution to Acumatica's cloud services solution, the customer reduces the carbon output of their growth business on average by 72%, and we have saved 6x the emissions produced by Acumatica's own carbon footprint. We also transitioned to a remote workforce, resulting in 50%+ reductions in operational emissions, 88% reduction in business travel flight emissions, and 44% reduction in office energy. (Read more about our corporate sustainability initiatives here.)
We are committed to doing our part by continuing to find ways to reduce emissions and improve operational efficiency. This commitment includes continuing to choose venues for our annual Summit that consider environmental responsibility a priority, like the Wynn.
Acumatica is thrilled to partner with the Wynn Las Vegas for Acumatica Summit 2021—and we appreciate the resort's award-winning Health and Sanitization Plan, ensuring that our customers, partners, developers, and analysts will enjoy a safe, educational, and fun event.
If you haven't registered, now is the time. Questions about the Summit can be directed to eventcs@acumatica.com and questions about Acumatica's cloud ERP software can be directed to our team of experts.