Acumatica sustainability is not a "one-and-done" deal. It's an ongoing commitment displayed in our daily operations and at our special events, including the upcoming Acumatica Summit 2022.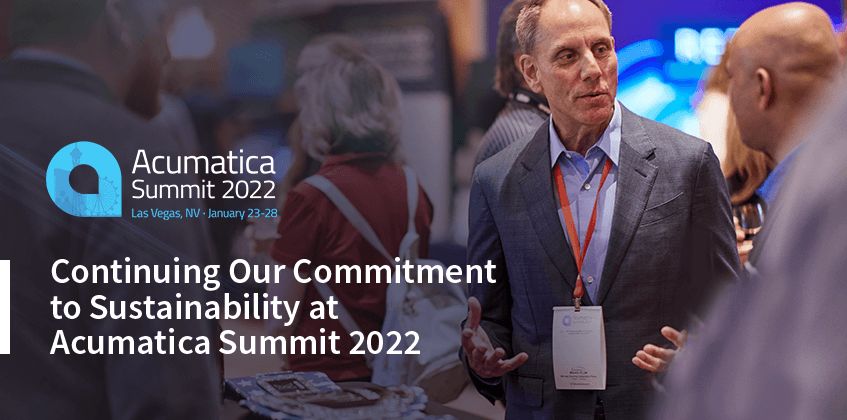 At Acumatica, sustainability is a mindset.  We are proud to say we produce net-zero carbon emissions—a goal achieved, in part, by transitioning to a mixed remote and on-premises workforce in 2020. We are also pleased that, on average, we reduce our customers' carbon output by 72% when they switch from a legacy system to our cloud ERP software.
Climate Neutral—a nonprofit organization working with brands and consumers to decrease global greenhouse gas emissions—recognized Acumatica as a climate neutral organization in July 2021.
Sustainable event agency MeetGreen, via its third-party auditing tool MeetGreen Calculator 2.0, has also recognized Acumatica as a Leader in Event Sustainability for our efforts at Acumatica Summit 2021. In MeetGreen's words, a Leader "measures, tracks, and reports on performance targets using key data," "shares best practices freely with others to continuously raise the bar," and "addresses global issues with solutions that are event specific." MeetGreen itself is a certified women-owned, ISO 20121, net-zero emissions business.
How Acumatica Sustainability Looked at Summit 2021
Acumatica Summit 2022 (Sunday, January 23 – Friday, January 28, 2022) is returning to Wynn Las Vegas, an environmentally responsible venue. Having achieved a richly sustainable environment in 2021, our event planning team will incorporate the same initiatives for 2022—and take them a step further.
Let's look at what we did during Acumatica Summit 2021.
Provided virtual keynote attendance: Saved 358,400kg of greenhouse gas emissions (carbon dioxide equivalent [CO2e])
Optimized recycling and composting at the venue: Diverted 98.98% of total event waste, making Acumatica Summit 2021 a MeetGreen Verified Zero Waste Event
Ensured sustainable attendee gifting: Gave attendees backpacks made of upcycled water bottles
Eliminated single-use, catered bottled water: Saved approximately 11,163kWh of energy
Donated recovered event materials: Gathered smaller items exhibitors discarded during move-out and donated them to organizations in the Las Vegas community
Donated unserved event food: At Acumatica's request, Wynn Las Vegas provided 750 pounds of food (approximately 2,000 meals) to the Las Vegas Rescue Mission.
Reduced, reused, and rethought printed collateral and signage: Saved 38 signs and all hanging banners for reuse and reduced printed signage by 49.5% from 2020 to 2021
Leveraged renewable/solar energy: Used Wynn Las Vegas's rooftop solar panel array and the nearby 160-acre Wynn Solar Facility to power 75% of Acumatica's onsite energy
Supplied digital information: Replaced thousands of printed event guides and materials with our digital mobile app, which we first introduced at Acumatica Summit 2020.
How Acumatica Sustainability Will Look at Summit 2022
Our sustainability efforts for Acumatica Summit 2022 will incorporate the steps we took in 2021, but, instead of seeing our achievements as "one-and-done," we're working with Wynn Las Vegas and our supplier base to make these our standard operating procedures for every future event. Doing our part by reducing emissions, improving operational efficiency, and being an environmentally conscious business is our ongoing mission, rooted in data and progress.
We set important data-driven baselines in 2021, driving progress towards measurable goals, corporate targets, and global standards. With Wynn Las Vegas's help, we tracked our waste, and, moving forward, we plan to also measure our energy and water consumption in 2022.
Acumatica Summit 2022 promises to be an exciting cloud ERP event, but it's also shaping up to be our most sustainable and environmentally friendly event to date. If you have any suggestions about how we can meet—and exceed—our sustainability goals, please let us know. We're in this together.
You can direct any inquiries about Acumatica Summit 2022 to support@acumaticaevents.com, and contact our team to learn more about Acumatica's award-winning cloud ERP software.