Creating an equitable workplace begins with getting a diverse group of people and businesses to the table. The Acumatica Summit 2020 Women in Technology event is the perfect place to make it happen.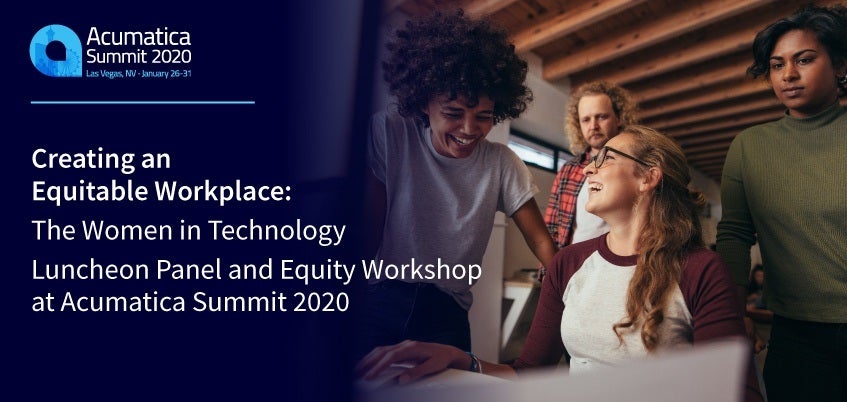 As an executive at Acumatica with over 20 years of experience in the tech industry, I am excited to share about the Acumatica Summit 2020 Women in Technology Luncheon Panel & Workshop taking place Tuesday, January 28 at 12 PM. It is open to every attendee interested in learning more about equitable opportunity in the workplace. Following the luncheon panel will be an interactive workshop that will focus on attaining and maintaining female talent.
Leading our Women in Technology discussions are two remarkable guest speakers, Dani Carbary and Tara Buchan, both of whom are National Directors for the Women in Work Program at The Riveter (more on the organization below).
I'll be joining Braughnwynn "Bibi" Brown, VP of Marketing & Sales Enablement at EasyPost, Impact sponsor of this Women in Technology event and Aliya Rakimgulova, Director of Global Technical Support at Acumatica, our featured panelists for this fireside style chat. You are bound to hear some inspiring stories from the voices of these women in business on the panel share ways we've felt seen, heard, and empowered.
We'll be discussing best practices for an equitable workplace, and you can expect to hear data, trends, talent acquisition, and retention practices that will powerfully impact you and your business.
If you would like to attend the Women in Technology Luncheon Panel & Workshop and have not yet registered for Acumatica Summit 2020, this is the time. You can sign up for this event when you register. Space is limited.
Q&A about the Women in Technology Luncheon Panel & Workshop
You may be wondering, why is there a luncheon panel and workshop specifically for women in technology? You're not alone. Before attending a women's conference, I didn't understand why a women-centric event was necessary. I felt that attending an event alongside my male counterparts was equitable. However, when I actually attended my first event, I witnessed women with different positions, personalities, and perspectives being given a platform. They were given a voice and tools they could leverage to help them grow and succeed in their career. They were being supported by other women to attain their goals.
It was powerful.
Tara and Dani know all about this. They work at The Riveter, a modern day union of women and allies providing community, content, resources, and work and gathering spaces, all focused on equity of opportunity for all working women. Launched in May 2017, The Riveter now has nine locations across the United States with plans for future expansion. Their jobs allow them to work toward gender equity, diversity, and inclusion principles and implementation. I had the pleasure of interviewing Tara and Dani about who they are and why they're passionate about educating employers about creating equity in the workplace.
Question: Before working at The Riveter, what did you do?
Dani: For the past few years, Tara and I have focused on gender pay gap and opportunity initiatives, specifically in the Seattle area. We achieved great success in our work and heard over and over from employers that they wanted us to continue to drive these efforts, but more on a national scale. As employees of The Riveter, we've been able to grow our work, and will roll out initiatives in six more cities in 2020.
Question: Can you tell me more about the work you do at The Riveter?
Dani: Tara and I work with a cohort of employer organizations that have committed to workplace equity. We have companies with over 550,000 employees all the way to organizations who have two employees. They share best practices with each other and the work they've done toward diversity, equity and inclusion of which they're particularly proud, but they also share lessons learned. What would they do differently if they could do it over again? What are they doing differently now based on what they've learned?
Tara: Yes, we've been really intentional with how we decided to grow the group of companies. We call them signatory organizations. They sign on and are committed to equity in the workplace. There's a lot of diversity in the size of organizations, as well as the industries represented. Our philosophy is that the best way to solve problems is to have many different viewpoints at the table, including people in varying stages of the journey. For example, some of the companies we work with are very early on in their work toward diversity, equity and inclusion, but are eager to incorporate changes in the workplace. Others have been investing time and talent in this work for awhile and want to pay it forward.
Question: Why are you passionate about this issue?
Tara: I have a lot of reasons. I've had people ask if I have a daughter and if that's why I do what I do. Actually, I'm very interested in it because I have three boys. I feel like if we don't have everyone at the table, we're not going to create any level of change. That's why we want companies that are each level of their journey. If you're sharing with a company who is still learning about equity of opportunity, think of how much more impact that creates rather than a bunch of people in a room patting each other on the back.
Dani: I agree. I have three boys, as well as a daughter. I'm trying to do my part to ensure there's equity of opportunity for all—so if my boys don't see it, how can they model equity in the future? I have a background in professional sports (as does Tara). It's a male-dominated field, and I've had some experiences in that industry that were different from my male colleagues. I didn't recognize the differences when I was going through it exactly, but I reflected on it after I became a parent. I saw that if my children were to follow my same path, my boys would have a much clearer road ahead than my daughter.
As employers, we should ALL be working toward the goal of creating clear paths toward opportunity and inclusion in the workplace, so that all types of talent can thrive, and so that companies can attract and retain the best employees.
Question: Here at Acumatica, our engineering team is at about 29% female, which is better than the 8% from the large company I came from. What are your thoughts on how the technology industry as a whole is impacting women in technology?
Dani: We began working on pay equity initiatives about four years ago, and even in that short time, it's changed so much. The conversation has changed from talking solely about pay to looking at other inequities, and the technology industry has played a major role in that. Now we're focused on the opportunity gap. So, yes, maybe person A and person B doing the same work might make the same salary, but what are the opportunities that the female might not have in her career? How is she being affected by workplace flexibility? She may not have the same opportunities if she chooses to become a parent. Does she have the same path to a leadership position? Is she being evaluated the same as her male colleague? This conversation has definitely been moved along by the tech industry who have been looking at this data.
Another practice that the tech industry has shifted has to do with benefits for employees. Some of the largest tech offices are well-known for their "perks" like sleeping pods, pool tables, afternoon beverage carts and things like that. That's all fun and great. But are those perks actually improving the lives of the humans who work there? The tech industry is now looking at wellbeing-type benefits based on data, such as wardrobe rental for women who spend so much more than men on their professional attire, breast milk shipping for female employees on work travel, and specific health and wellness medical benefit needs for all genders. Something tech does really well is look at data and how they can use it to make changes in their organization. That gives us hope.
Tara: Yes, and it's also something we come back to all the time: attracting and retaining the best talent. Low turnover rates and having the best talent on the team is crucial. When an employer thinks about the employee as a whole person, it makes the employee want to stay at that company. That is so important to the bottom line. Though we always hope that an employer wants to instill these best practices because it's the right thing to do, we know through data that it's also imperative to a company's success.
Question: What are you looking forward to at the Women in Technology Lunch at Acumatica Summit 2020?
Dani: We're really excited about the workshop portion of this event. The most exciting part of any event we do is when people to learn and share from each other. I'm excited to hear what other organizations have to say about their practices, what they want to learn, and what they want to work on. None of us are doing everything correctly, and we can always learn from each other.
Tara: I agree. We get excited about hearing what other companies are doing. Engaging with other people is our favorite. I am also excited to hear the stories from the other women on the panel.
Thank you to Dani and Tara for taking the time to talk to me before Acumatica Summit 2020. Though I couldn't include the whole interview, I did want to point out that even though they firmly believe that women should advocate for themselves and for other women in the workplace, their emphasis is on the employer's role. When an employer looks out for an employee, it's a benefit to both sides. They also mentioned that The Riveter has an amazing amount of programming and events geared toward business basics, equity and advocacy, and motherhood.
If you have questions for Tara or Dani or would like to join their cohort, they say to give them a shout at The Riveter any time.
I also had the opportunity to chat briefly with Bibi, VP of Marketing & Sales Enablement for EasyPost, our Impact Sponsor of the Women in Technology Luncheon Panel & Workshop. As a B2B marketer who has helped build global communities through content and marketing initiatives, forming strategic partnerships, and launching campaigns and global live events, she's brought awareness to women in business with such events as Women in Game and hosting the inaugural Women in IoT Luncheon.
When asked why EasyPost is sponsoring this event, she said, "Women in Tech is one of our two social impact initiatives for 2020. Today, the EasyPost platform integrates enterprise businesses with over 100+ carriers, and EasyPost offers other supply chain services expanding services to SMB businesses as well. We've noticed over the years a steady increase in women-owned businesses, more products developed by women for women, and most importantly the presence of women in leadership helping drive technology to shape this multi-billion-dollar eCommerce industry. EasyPost is determined to help continue championing this phenomenon."
She says she's looking forward to hearing about how others are creating change and shaping companies. "It's an opportunity not to harp on the past, point out the obvious—like salary discretions, and still the lack of women in leadership—but rather explore the future and share what companies today are doing to be part of the movement."
Join us for the Women in Technology Luncheon Panel & Workshop
The Women in Technology event is a tremendous opportunity to bring our community together, network, and leverage other people's experiences. At the end of the day, if we don't have the courage to take the leap, we can be inspired by someone else who has.
And speaking of being inspired, here are some statistics cited in the Women Tech Council report, The Gender Gap in Tech & How to Fix It:
Firms that moved from no female leaders to just 30 percent women leadership, companies increased net revenue by 15%
Women-led private technology companies achieve 35% higher return on investment
Companies with strong reputations have twice as many women in senior management as those with lesser-regarded reputations
Join us by registering today for Acumatica Summit 2020 (taking place in Las Vegas, Nevada at the Cosmopolitan of Las Vegas, January 26-31, 2020) and the Women in Technology Luncheon Panel & Workshop. And if you're interested in learning more about Acumatica's equity in the workplace values or our cloud ERP software, contact our team today.