Get maximum value from your next ERP
Let Nucleus Research guide you to the leading solutions in a crowded ERP market
Mergers. Acquisitions. Technology innovations. Cloud migrations. In today's ERP market, the one constant is change. So, how can you easily identify the most powerful, user-friendly solutions?
"ERP Technology Value Matrix 2016" will help. Published by Nucleus Research, this report separates the leaders from the followers in the current ERP market.
"Nucleus expects that Acumatica will continue to deliver value and positive return on investment similar to what it demonstrated this year."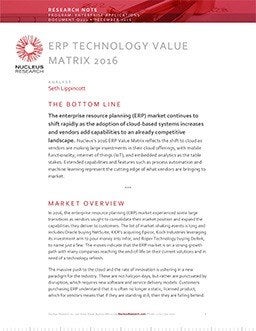 In this report, you'll find out:
How the ERP market is shifting—and what it means for customers like you.
Who are the true leaders in the ERP space.
Which unique features and capabilities each leader brings to the table.
Why version 6.0 vaulted Acumatica into the Leader quadrant.
What makes Acumatica the most user-friendly solution on the matrix.
Don't miss these valuable insights. Just complete the form, and this report will be yours in seconds.
This report is provided by Acumatica, a leading provider of cloud business management software that empowers small and mid-size businesses to unlock their potential and drive growth. 
Get it now!
We won't share details without your permission