Switch to cloud apps – and multiply your ROI by 2.1
Build your business case for cloud ERP with this free report from Nucleus Research
Want to convince your colleagues that cloud ERP can deliver a bigger payback than on-premises software? This Nucleus Research report will help you make your case.
In "Cloud Delivers 2.1 Times More ROI" you'll learn why today's feature-rich cloud applications deliver far greater financial benefits than even the cloud solutions of a few years ago.
"Nucleus found that cloud application projects deliver 2.1 times the ROI of on-premise ones – up 24 percent since 2012".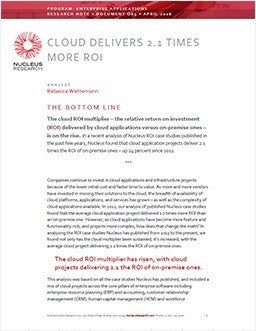 In this report, you'll discover:
What's driving the ever-increasing ROI of cloud projects.
Why today's cloud applications are cheaper than ever to implement—even though they're far more sophisticated.
How much you can expect to reduce support costs in the cloud.
Why your cloud ERP vendor will be highly motivated to please you from day one.
How your cloud ERP platform can support your green initiatives by using 91 percent less energy.
Don't miss these valuable data points. Just complete the form, and this report will be yours in seconds.
This report is provided by Acumatica, a leading provider of cloud business management software that empowers small and mid-size businesses to unlock their potential and drive growth
Get it now!
We won't share details without your permission