Don't just implement ERP. Implement a whole new way of working.
Plan your strategy for ERP success with this free white paper from Serious Insights.
A successful ERP implementation isn't all about technology—it's about designing the right work experiences for your users.
In "ERP By Design: Finding Balance in Technology Adoption," you'll learn how to apply the Management by Design methodology to ERP to get greater value from your next implementation.
"The best work experiences are those that are thoughtfully co-created—they are work experiences that empower individuals, yet reflect the needs of the organization in the whole."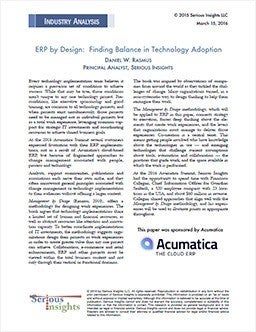 In this white paper, you'll learn:
How to achieve the perfect balance between efficiency and innovation.
How to focus attention and create engagement throughout your project.
What it means to have rhythm and motion in your implementation.
Which elements of company culture your new ERP can change.
How to achieve effective—even joyful—use of your new system.
These insights could change the way you think about selecting and implementing ERP. Enter your information, and this white paper will be yours in seconds.
This white paper is provided by Acumatica, a leading provider of cloud business management software that empowers small and mid-size businesses to unlock their potential and drive growth.
Get it now!
We won't share details without your permission