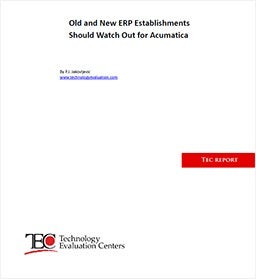 Acumatica's Cloud Enterprise Resource Planning (ERP) software delivers the benefits of cloud computing and Software as a Service (SaaS) without sacrificing system customization, control, security, and performance.
How can you benefit from using Acumatica?
You can customize and create new cloud applications
Built-in security means your data is secure
You'll still be able to share and collaborate with others, then export your work to HTML, Microsoft Excel, Word, PDF, and email
Read this report by TEC principal analyst P.J. Jakovljevic and see how Acumatica's offerings give both new and old ERP software vendors a run for their money.