What Comes After BYOD: Early Results from the IDC Mobility and CIO Summits
Learn about the current state of BYOD and mobile device management.
Bring your own device (BYOD) is on the rise, as more employers decide to let employees use their own tablets and mobile phones for business. Along with this practice comes security concerns, as well as a desire for more robust applications.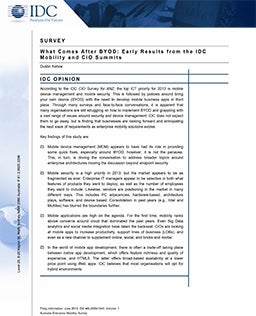 According to a recent study from IDC Insight, approximately 80% of Chief Information Officer (CIO) respondents have experienced employees bringing their own devices to work. Based on interviews and surveys, IDC found the top information and communications priority for 2013 is mobile device management and mobile security.
Download this report to learn about the current state of BYOD and mobile device management, including:
BYOD policies, which 23% of respondents say their company doesn't have
Mobile security solutions, which 74% of respondents have in place
The mix between HTML, native, and hybrid applications, which can be cost-prohibitive for many companies to develop