Become a Valued Acumatica Reselling Partner
Customer satisfaction builds great companies. Acumatica is building that kind of company and we know it depends on the team of people who sell and implement our Acumatica ERP solution.
Since Acumatica ERP is 100% sold and supported by our VAR partners, we realize how valuable you are to us and make sure we show it. We offer excellent on-going training and support in addition to generous margins and terms. We provide an environment where you have a solid business partner in Acumatica, with competitive advantages, no channel conflict, and great financial reward.
If you know client/server ERP, you are going to love Acumatica Cloud ERP!
If your organization sells client/server or Cloud ERP software applications to medium-sized businesses, you can differentiate yourself from other cloud providers by adding Acumatica to your existing portfolio of offerings. You'll close a higher percentage of deals by offering the latest technology in a Cloud ERP and CRM solution.
Advantages you get when you make Acumatica part of your future:
A True Cloud ERP solution available NOW
Economic advantages our partners enjoy
A Real partnership with a vendor who won't compete with you
Flexibility of deployment options and licensing
Technology that is second to none
Functionality you know
Training and support for your long term success
Acumatica is the fastest growing Cloud ERP company. Our solution is currently in use worldwide and we can now say that we have thousands of customers. Acumatica is a proven and referenceable ERP solution ready to be sold and implemented now. There is no reason to postpone the decision to get on board with the move to the cloud.
An unprecedented demand is growing
It has been estimated that less than 20% of the current ERP systems are in "the cloud," yet over 50% of today's prospects evaluating a new ERP system are considering the cloud or have stated a preference for a SaaS solution. Forward thinking VARs are investing in this opportunity to grow their businesses. Don't be left behind.
The midmarket opportunity is HUGE
While many software vendors focus on the small business (on-line accounting) market and others fight for the enterprise deals, the midmarket cloud ERP space has been under-served. That's exactly why Acumatica focuses on midmarket customers! We offer a full-featured cloud ERP solution based on modern technology that runs on any device which is much more attractive than legacy client/server systems that have no future and are lacking in innovations.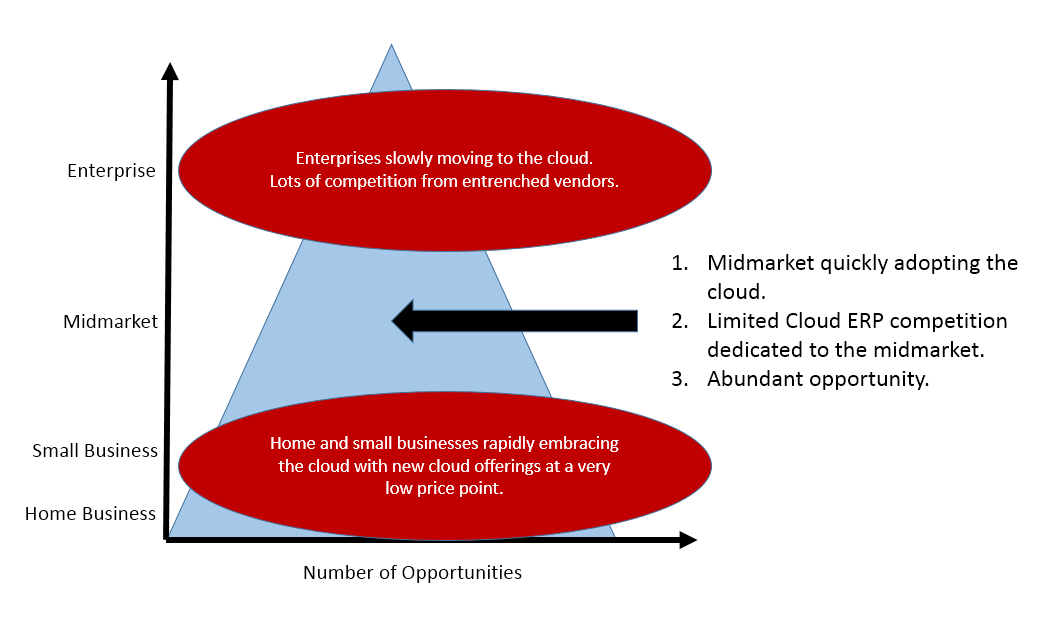 Why Acumatica is growing so quickly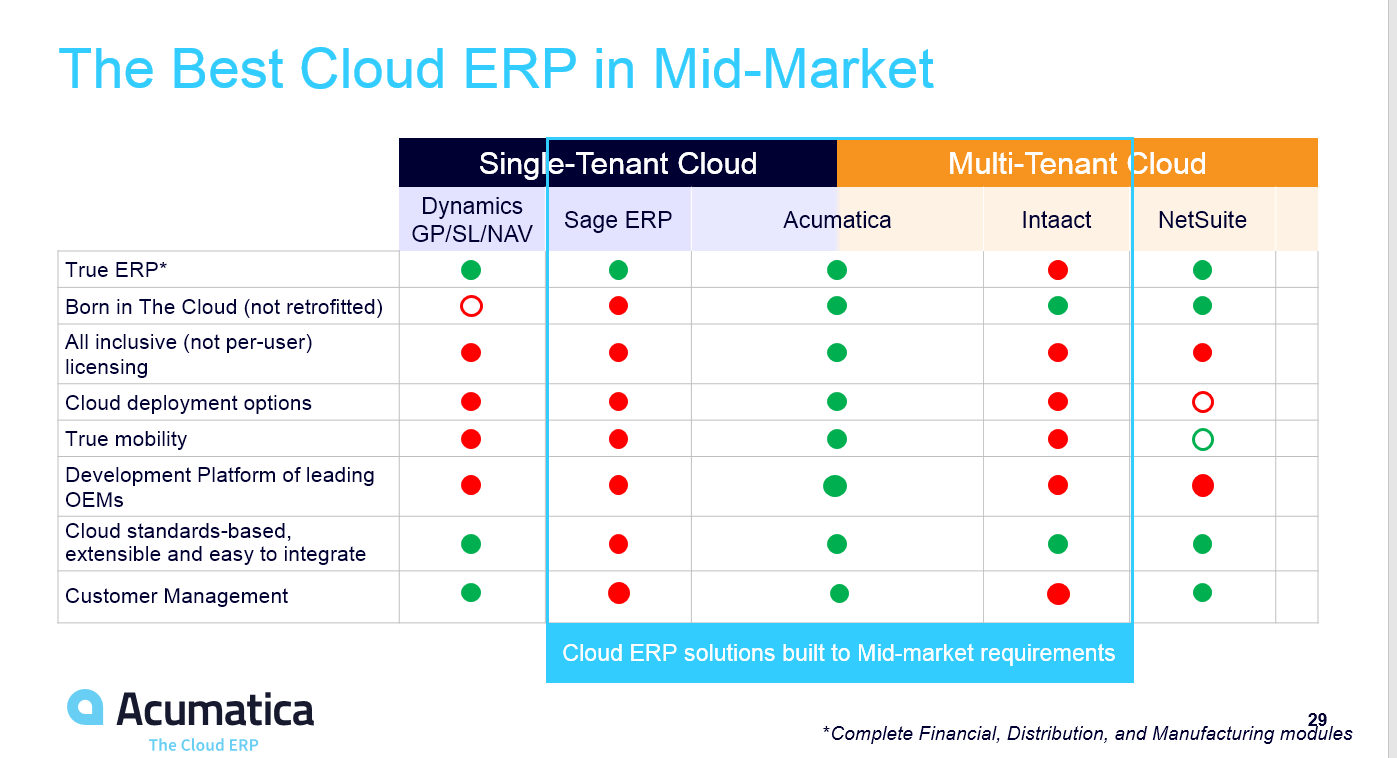 Show Next
As an experienced VAR, you have a choice of which solutions to support. This is a big decision for your business and can be expensive if the wrong solution is chosen. Thus, we have created this table of the major economic advantages that a partner enjoys when they join the Acumatica team. We invite you to use it to compare us to other Cloud ERP vendors.
| Economic Advantages | Benefits | Acumatica | Vendor X |
| --- | --- | --- | --- |
| 100% reseller channel with no direct sales | VAR's are our only channel and Acumatica never competes against our partners | Y | N |
| Lead generation | We distribute 100% of leads generated to our partners | Y | N |
| No initiation fees | Save $7,500 - $14K in startup fees that you can use to build your Acumatica practice | Y | N |
| No annual fees | Saves thousands in annual fees so you can continue to invest in growing your Acumatica practice | Y | N |
| Free internal use license | So you can provide great support to your customers. | Y | ? |
| Monthly partner newsletter and monthly marketing enablement call | Perfect solution for running your own business | Y | ? |
| Free test and demo licenses | Great for training, development, and enablement purposes | Y | ? |
| Access to business application source code | A big advantage if you'd like to customize or develop an ISV solution | Y | N |
| Generous margins | Higher starting margins and greater recurring revenue on subscriptions | Y | N |
| Low startup and training costs | Your application consultants and technical staff will learn how to quickly sell, demo, modify and support Acumatica because it has familiar features and is based on the Windows Server, .NET and SQL Server technology you already know | Y | ? |
| Reduce unbillable time | If your customer runs Acumatica at our hosted location, it is likely your unbillable support costs will be lower | Y | ? |
Show Next
You want a solid business partner, not just a software supplier. You want a vendor who understands and anticipates what a partner needs and treats them with respect. That type of real partnership is what you will hear about when you speak with other Acumatica partners.
| Partnership Advantages | Benefits | Acumatica | Vendor X |
| --- | --- | --- | --- |
| We don't compete with our partners | We are 100% channel-centric with no direct sales. We work only with VAR organizations that have a strong record of sales and customer satisfaction. | Y | N |
| Acumatica supplies significant training and support resources | We offer extensive help, pre-sales and post-sales, and we'll help ensure your first customers turn into references for you. | Y | ? |
| Dedicated partner account manager | We offer a true relationship (not a call center) and we're invested in our mutual success. | Y | ? |
Show Next
The Acumatica Adaptable Cloud concept has flexibility designed into everything we do. Deployment, licensing, UI, BI, workflow, ISV extensions are examples. Here are some highlights to compare against other ERP vendors.
| Flexibility Advantages | Benefits | Acumatica | Vendor X |
| --- | --- | --- | --- |
| No per user pricing | Acumatica licensing is by resource level, not per user or per seat, which makes sense for a Web-based system. This means the more users the system has, the lower the cost is per user. | Y | N |
| Deployment options | Deploy where your customer wants: in our SaaS cloud or private cloud of their choice, or on-premises in their facility. | Y | N |
| Licensing options of subscription or purchase | Most of our customers choose the subscription option, but if they want to purchase the solution, they can own it. | Y | ? |
| Data accessibility | Customers can decide where the data is located. Also, the customer can make a copy and move it to another location whenever necessary. | Y | N |
| Upgrade when you want to upgrade, not when the software vendor wants you to upgrade | Typically, with cloud vendors, you have to upgrade when they tell you. With Acumatica's flexibility of deployment, you can choose the option that lets your customer decide when to upgrade. | Y | N |
Show Next
We are very proud that our True Cloud ERP has technology second to none. It was designed and written for the new cloud and mobile world. Our founders learned from the mistakes of the past and designed the "Acumatica Modern Business Platform" to ensure future adaptability that keeps our solutions relevant and competitive.
Hosted legacy systems don't offer all of the benefits of a True Cloud solution. Do not make the mistake of thinking that an alternative is "good enough". Beware of those last generation applications that use "cloud washing" and "faux cloud" to retrofit their products to run on the web without any of the benefits of True Cloud.
Acumatica is definitely, and may be the only, True Cloud ERP. These are some of the results of being True Cloud:
Build on the platform of the future: Technology leaders are building their future on Acumatica. As an example, Acumatica is trusted by Visma and MYOB, two of the world's top business management and accounting software providers in the Nordic and Australia/New Zealand regions. Collectively, they have over 1.5 million customer.
Freedom to decide where data lives: Who controls your customers' data? You should. Unlike other vendors who lock you into their data center, with Acumatica you decide where to host company data: on the public cloud, in a private cloud, or on-premises.
Share in the connected cloud platform: It's built for your customers' business and can grow with their needs. You can add capabilities such as CRM and data visualization. Our flexible architecture allows for customization without the need for coding.
Extensible: To integrate other solutions and applications beyond ERP, use Acumatica's Cloud xRP for rapid development of vertical solutions that integrate with ERP and CRM modules.
Show Next
ERP has been around since the late 90's and each wave of technology improves on the past. We know that the true ability to sell and implement ERP correctly lies with the teams that sell and install it. That is why Acumatica wants to take your decades of knowledge of the benefits and features of ERP and apply it to this new wave of technology and functionality.
| Functionality Advantages | Benefits | Acumatica | Vendor X |
| --- | --- | --- | --- |
| Sell what you already know | It takes a long time to effectively sell and implement ERP systems. Leverage that knowledge and talent by selling the next generation of ERP. | Y | ? |
| ERP is more than on-line accounting | Unlike many SaaS "ERP" solutions that were designed for entry level customers, Acumatica has the advanced functionality you know and expect in ERP. | Y | ? |
| New applications to expand your knowledge | New types of tools and applications that take advantage of the Web are included in Acumatica, such as Business Wiki's, Employee Portal's, true mobile apps like expense management, etc. | Y | ? |
| Add your industry specific ISVs solution to the Acumatica portfolio | Use the Acumatica platform to migrate your solutions to enhance Acumatica and expand your sales channel through other Acumatica partners. | Y | N |
| Upgrade when you want to upgrade, not when the software vendor wants you to upgrade | Acumatica applications are built on the Microsoft .NET platform and are modified with standard Microsoft tools your staff already knows. Dazzle your customers with your ability to modify the UI and generate customized reports and amazing dashboards. | Y | N |
Show Next
Acumatica will not be successful unless our VAR partners are successful, and your success is built on satisfied customers. To attain that goal of success, an extensive understanding of how an application works and how best to configure it is required. We appreciate that and put together what we think is a premier (if not the best) training and support offering in the ERP industry.
| Training and Support Advantages | Benefits | Acumatica | Vendor X |
| --- | --- | --- | --- |
| Partner Portal filled with valuable information | Your 24/7 source to find what you need, when you need it, including the Acumatica on-line university, training videos, demo scripts, marketing materials, pricing info, etc. | Y | ? |
| Comprehensive enablement program | The Acumatica program will ensure that you have access to all the tools and resources you need to be successful. From enablement sessions to training and beyond, the curriculum has been developed for you to get up to speed quickly and become certified as a business consultant, sales consultant, pre-sales engineer, system administrator, technical specialist, etc. | Y | N |
| Free pre-sales resources to help you get your first deal | The first one is the hardest, so we'll help you qualify and demonstrate the Acumatica solution. | Y | ? |
| Implementation assistance program to help you with your first deal | And we'll help to ensure your first customer is a raving fan! | Y | ? |
| Free on-going technical support | So you can provide great support to your customers. | Y | ? |
| Monthly partner newsletter and monthly marketing enablement call | Stay abreast of all the great news, tools and campaigns we're creating for you. | Y | ? |
| Annual Acumatica Summit | Get together yearly to celebrate accomplishments, learn about the future direction and get additional training on Acumatica ERP. | Y | ? |
What our partners are saying about Acumatica

Why PC Bennett Chose to Become An Exclusive Acumatica Partner, by Patricia Bennett from PC Bennett Solutions

7 Characteristics of a Software Vendor That Partners Want To Work With, by Sandi Richards Forman from NexVue
Partner with Acumatica — and get ready to differentiate your business
Our partners' businesses are booming. Our customers are flourishing with True Cloud ERP.
Let us know if you'd like to join us.