We live in a world that has made getting what we want and need as easy as clicking a button or voicing a request. As a result, buyers looking to buy an ERP system have high ERP usability expectations—and they should.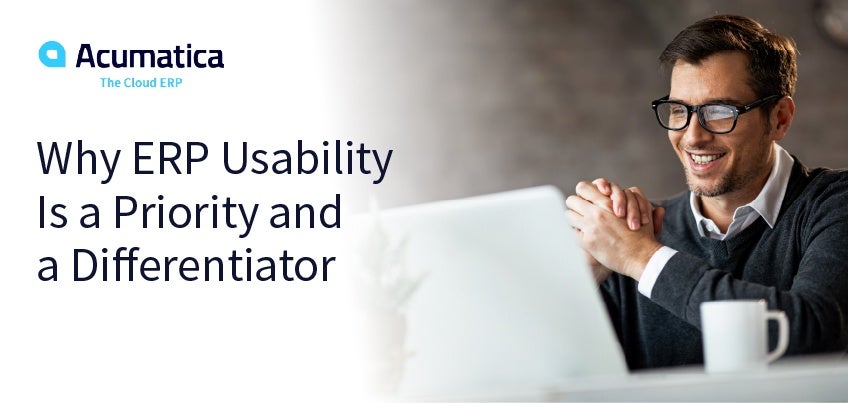 Contrary to popular belief, ERP usability is not an oxymoron. While it's true that legacy ERP systems are cumbersome and unfriendly to users, modern, cloud-based ERP solutions are just the opposite. However, not all cloud ERP systems are created equal, and if you're in the market, then usability should be a top priority as you assess the capabilities of any ERP system.
The power of ERP usability
Every day, we use technology to make our lives easier. Take Amazon's cloud-based voice service, Alexa. If we want to find a recipe, the name of a song, or the weather forecast, we just say the word (or ask the question), and Alexa takes care of it. Alexa also takes care of our professional needs with Alexa for Business, an intelligent assistant designed to help you get real work done utilizing Natural Language capabilities. (Interesting fact: Acumatica was the first company to release an ERP integration to Alexa.)
This simplifying of our everyday personal and professional lives through user-friendly technology has become the norm, and we're now wired to expect the same usability from our ERP solutions. To meet these expectations, many ERP vendors have worked to improve their ERP's usability with intuitive user interfaces, personalization capabilities, mobile applications, and more…with mixed results.
It's incumbent on you, the buyer, to factor ERP usability into your cloud ERP evaluation. Thankfully, Nucleus Research can help you. Their analysts rated 23 cloud ERP software vendors based on usability, functionality, and potential ROI in their 2020 ERP Technology Value Matrix. They designated each ERP vendor as a Core Provider, a Facilitator, an Expert, or a Leader.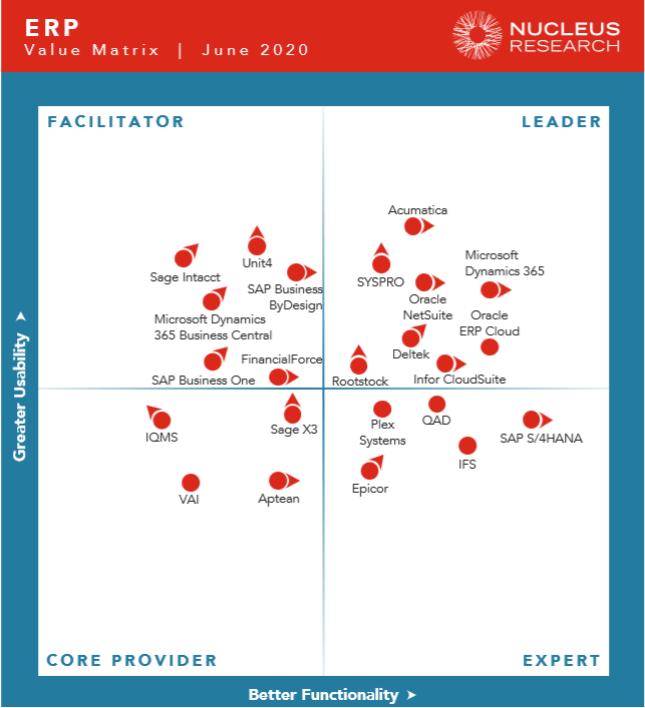 Acumatica's ERP usability
We are excited that Acumatica was once again named an overall Leader, as well as the single ERP offering with the Highest Usability. This is our fifth year holding the title, and the Nucleus Research analysts explain why:
"Customers note that the solution's usability is a differentiator during initial evaluation and implementation, but the software can then scale to handle complex and high-volume data processing as well. New users can be onboarded quickly and collaborate efficiently across departments and geographies. Acumatica's flexibility enables users to configure their implementation to match existing best practice, while promoting the move away from siloed data and processes. The vendor has made significant investments in bringing Industry 4.0 functionalities to both its General Business and Industry Editions, demonstrating its commitment to providing long-term value for customers."
As the analysts point out, Acumatica's ERP usability differentiates our cloud-based ERP solution from some of our major competitors. They also point out that our twice-yearly releases, most recently Acumatica 2019 R2 and Acumatica 2020 R1, focus on usability enhancements to our mobile application and industry editions. The enhancements included a new integration with Google's G suite, new ML-enhanced capabilities for expense management, the new Acumatica Payroll, and much more.
ERP usability in action
Selecting an ERP based on its usability provides you with some amazing benefits:
Increased user and employee satisfaction
Reduced time, effort, and money to train users
Better data management
Improved collaboration
Enhanced forecasting
Increased productivity and business growth
Family-run industrial and marine supply distributor Bell and Company experienced these benefits after implementing Acumatica. President Dan Wilkins says before Acumatica, the company had moved from paper-based processes to QuickBooks' Enterprise Edition, but it was no match for their growing business management needs. That's when Dan instigated a search for a modern ERP solution.
"Most of the software companies I looked at could provide the functionality I needed, but the key thing for me was to find something everyone could use and understand," he says in the Bell and Company's customer success story. "My Acumatica demo helped me realize that the layout and workflow processes of Acumatica were better than any other offering."
With the help of Acumatica, Bell and Company has grown, and Dan praises Acumatica's ERP usability. He's not alone. Thousands of Acumatica customers have experienced the same ease of use and functionality, and it has not gone unnoticed.
Onward and upward with award-winning ERP usability
In the 2020 Technology Value Matrix report, the analysts write, "Nucleus expects Acumatica to continue building upon its recent successes and improving its position in future editions of the Value Matrix."
That's our plan.
Our 100% browser-enabled ERP solution—accessible from anywhere and from any device—provides you with a single, centralized source of truth. With our unlimited user licensing, you and your team can share and analyze information across all departments in real time through personalized dashboards and built in BI. The result? Faster, more informed decision-making through company-wide collaboration. And Acumatica provides a single look and feel across all applications, which contributes to our overall usability.
Dan and his Bell and Company team have first-hand experience with Acumatica's ERP usability. "You often hear about the complexity of ERP systems. With Acumatica, I think we got the full capability of an ERP with the simplicity that allows not only me but our whole sales force to take advantage of the system."
That's how it should be.
Acumatica puts customers and their ability to use our cloud ERP solution first, inputting customer feedback into every major release. Our new release, Acumatica 2020 R2, launches September 16, 2020 during our Virtual Launch Event (registration is open!), and we're excited for you to benefit from our new advances across the Acumatica Cloud xRP Platform. You'll enjoy enhanced Usability, Reporting, Financials, CRM, Inventory & Order Management, Payroll, Project, and each specialized Industry Edition, including Commerce, Construction, Distribution, Manufacturing and Field Service.
For more information about our award-winning cloud ERP software, also recently named a Midmarket Leader in the 2020 IDC MarketScape report, contact our team today.