True or false: you should randomly pick your cloud ERP system. The answer is obviously false, and G2's new Grid Report for ERP Systems will help you evaluate and choose the right solution for you (hint: Acumatica is a Leader).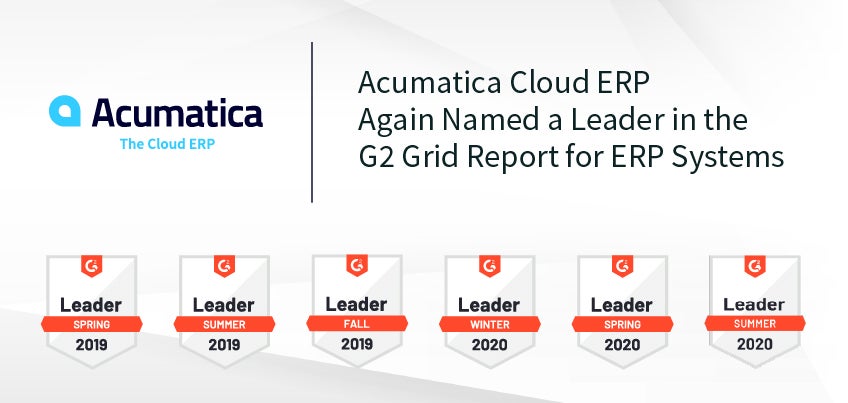 Cloud ERP systems are all the same…or are they?
According to the over one million authenticated G2 reviewers, cloud ERP systems run the gamut, with some excelling in customer satisfaction and market presence and some not so much. The Acumatica team is excited and honored to report that we're the former, being named once again a Leader in the G2 Grid® Report for ERP Systems.
About the G2 Grid Report and Acumatica's placement
G2 has been assisting businesses research, buy, and manage software products and professional services since 2012. Over four million tech buyers and sellers have visited the leading software review platform since its inception, relying on the real-time, unbiased reviews to guide their buying decisions.
The Summer 2020 G2 Grid Report for ERP Systems, which we're making available as a free download, places 51 ERP systems within a four-quadrant grid. Their products are designated as a Niche, a Contender, a High Performer, or a Leader. G2 uses a "unique algorithm (v3.0)" based on real software users' experiences (vs. analysts) as well as data from online sources and social networks to calculate their Customer Satisfaction and Market Presence scores.
G2 notes, "Acumatica has been named a Leader based on receiving a high customer Satisfaction score and having a large Market Presence. 92% of users rated it 4 or 5 starts, 91% of users believe it's headed in the right direction, and users said they would be like to recommend Acumatica at a rate of 87%."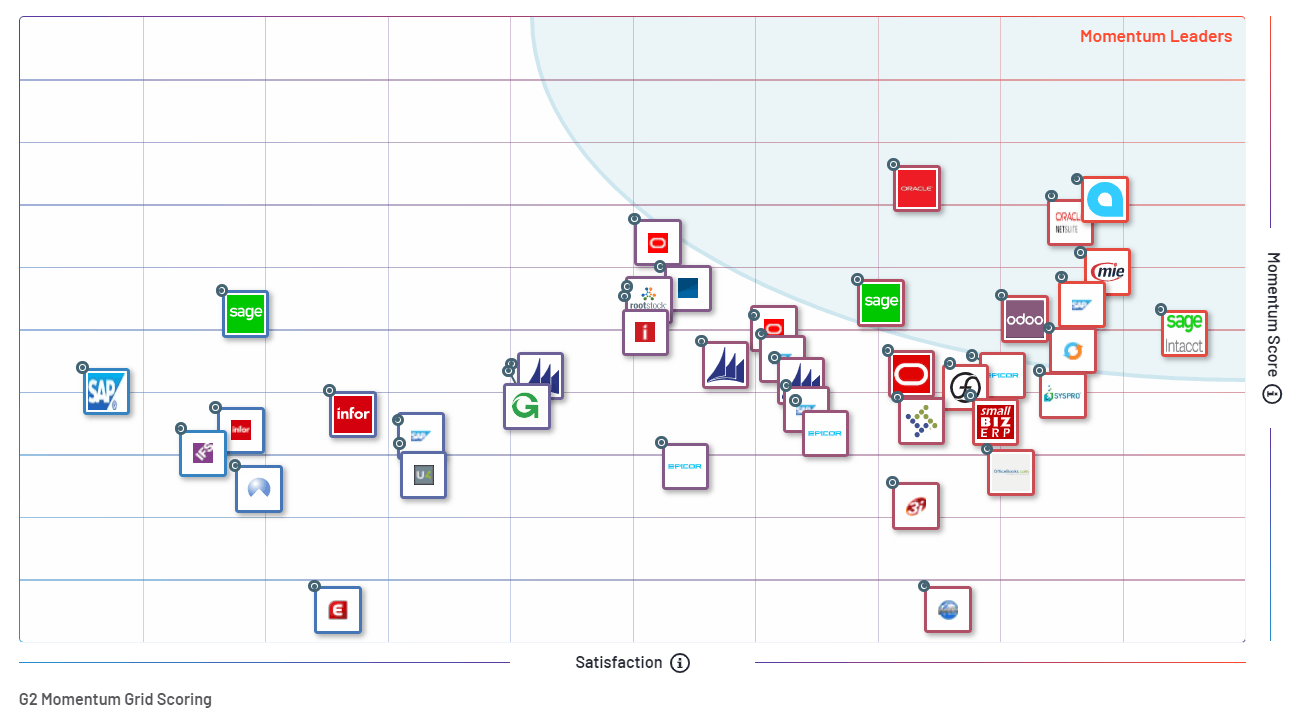 The report further details Acumatica's:
Satisfaction Ratings (e.g. Quality of Support, Ease of Use, Meets Requirements, etc.)
Highest-Rated Features
Lowest-Rated Features
Top Industries Represented
G2 reviewer John O. writes in part, "Acumatica is a great system and the user interface is so easy to use. The systems is also very versatile and can easily be customized to meet our company's needs."
Valuable cloud ERP evaluation for the taking
We're pleased to offer the G2 Grid Report for ERP Systems as a free download to businesses in every industry looking for a thorough, up-to-the-minute, and unbiased evaluation as they research their cloud ERP software options. The fact is, there are many ERP solutions to choose from and more coming down the pike. Choosing the right cloud-based ERP solution is critical in today's marketplace.
Receiving seven G2 Badges (Leader, Momentum Leader, Best Usability, Best Relationship, Leader Mid-Market, Enterprise, and Users Love Us) for the Summer of 2020 has provided the Acumatica team with deep satisfaction. Our efforts to provide our current and potential customers with the best business management solution are paying off. And with the advent of COVID-19, we've doubled down on our commitment to increasing our ERP usability and functionality, continuing to utilize Acumatica user reviews, including those on Acumatica's G2 profile, to enhance and improve our bi-annual releases.
Contact our team today to let us know how we can help you get the most out of Acumatica cloud ERP.