Deciding between Acumatica cloud ERP and NetSuite? The new G2 Crowd User Satisfaction Ratings report will give you the lowdown on how actual users feel about each vendor after their software purchase.
Acumatica is dominating in the battle for satisfied users. G2 Crowd, the world's leading business software review platform, has released their newest User Satisfaction Ratings report rating three competitors against Acumatica cloud ERP, and our modern, flexible, and customer-centric solution outranked Microsoft Dynamics and overtook Sage Intacct in seven core categories.
As to the third and final competitor, we're excited to share that Acumatica sweeps the board in every category.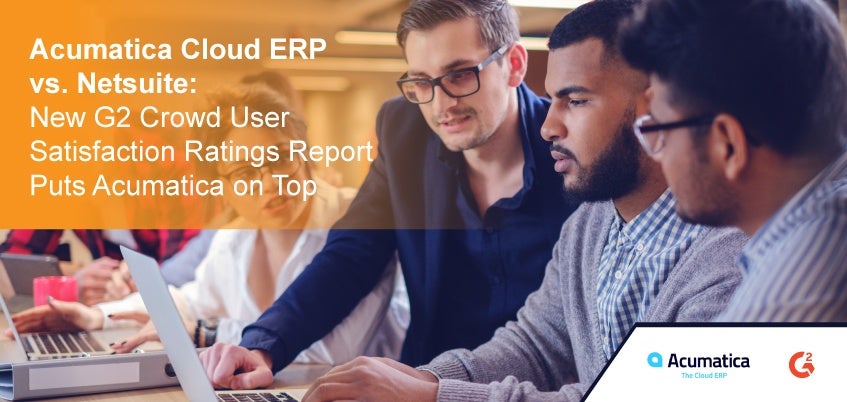 Why Acumatica cloud ERP tops NetSuite
G2 Crowd's mission is providing unbiased ratings from actual users. Real business user reviews speak to technology buyers, investors, and analysts who are researching and evaluating their cloud ERP software options.
Interestingly, Acumatica and NetSuite have many features in common. Both offer cloud-based SaaS ERP applications; integrate ERP, CRM, eCommerce, and BI; allow for true mobility; and support a variety of vertical industries. But there are some differences that can't be overlooked.
Here's what we mean:
Deployment: Acumatica users can choose between cloud, on-premise, or hybrid (and can change their mind at any time). NetSuite only runs in the cloud with multi-tenancy required.
Relational database export: Want to directly export your data in a relational format? You can't with NetSuite. Acumatica's built-in automated backup service and snapshot feature means access to your fully relational copy of your data at any time.
Customizations: With Acumatica's modern platform, users can access their data, servers, and source code. Not so for NetSuite users. Customizing Acumatica's cloud ERP software is possible through point-and-click tools or C# and .NET, but NetSuite uses proprietary programming language SuiteScript—not a common language, making it difficult and expensive to customize.
Scalability: Growth is rewarded by Acumatica. Adding users? No additional cost. Acumatica's customers pay for the resources they consume. NetSuite, however, charges per user and for additional resources.
There are even more differentiators between Acumatica and NetSuite. Hearing from an Acumatica customer who has worked with both ERP vendors highlights the differences even further.
Shoebacca is an online retailer reseller of brand name shoes at competitive prices. They been using several software packages to run their growing operations, including NetSuite. The cobbled-together solution wasn't cutting it.
"We wanted a fully integrated solution that could handle our e-commerce solution, Magento; a warehouse management system and finance, one that could handle a high degree of customization," says Thomas Finney, IT Director. "It also needed to scale and be flexible to meet our needs as we kept growing."
Building upon NetSuite wasn't an option. ""One of the big issues with NetSuite was the lack of full integration, and we had an issue with Parent/Child relationships on the SKU level," says Ryan Schlachter, Shoebacca president.
Finney adds, "We had difficulty with the lack of timeliness of getting data into and out of NetSuite, which would mean we couldn't be operating in real time. NetSuite also lacked the level of customization that Acumatica provides, so we would have had fewer options in the future to customize it to suit the specific needs of our business."
Cost (citing the expense of NetSuite's per-user licensing) and seamless connection with third-party applications also played a part in their decision. Choosing Acumatica was the right call for Shoebacca, who experienced interoperability, growth, and increased profits.
"Acumatica can be molded to our specific needs, which allows us to achieve the highest degree of efficiency and automation that provides for a better bottom line," Finney says. "Acumatica has been behind our success and their support team has been integral in making sure that we've been as successful as possible. I would definitely recommend Acumatica to someone looking for a new ERP solution."
You can read their full customer success story for more details.
Real users, real satisfaction
Like Shoebacca, many other companies have chosen Acumatica's cloud-based ERP and have found five-star satisfaction, such as this reviewer on G2 Crowd's Acumatica review page: "I have been using Acumatica for almost 8 years now. The company continues to evolve and improve without losing sight of its customers. It is fast and flexible and serves as our hub for our cloud strategy."
Selecting the right cloud-based ERP for your organization takes time and effort. G2 Crowd's User Satisfaction Ratings report provides feedback from real users based on real-life situations and experiences, including their company's estimated ROI on their ERP product and how long it took to go live. Their insights offer an unbiased view of major cloud ERP players, helping you make an expensive and critical decision.
If you'd like to learn more about Acumatica, please contact our team today.