G2 Crowd drives better buying decisions through the power of peer reviews and social data. Their latest User Satisfaction report compares Spring 2019 ERP products, and Acumatica cloud ERP is sitting pretty. 
If you've ever wondered how Acumatica cloud ERP ranks against other ERP vendors, G2 Crowd is the place to turn. The business software review platform uses verified, real-business users (currently 732,600 and counting) to assess software vendors' capabilities, and their reviews aid other technology buyers, investors, and analysts in purchasing the best option for their organization. G2 Crowd's March 2019 User Satisfaction Ratings report compares Acumatica's cloud ERP software to Microsoft Dynamics, Sage Intacct, and NetSuite, and we're excited to share how we did.
You can check out our comparison to Sage Intacct here – then read on for info on Acumatica vs. Microsoft Dynamics.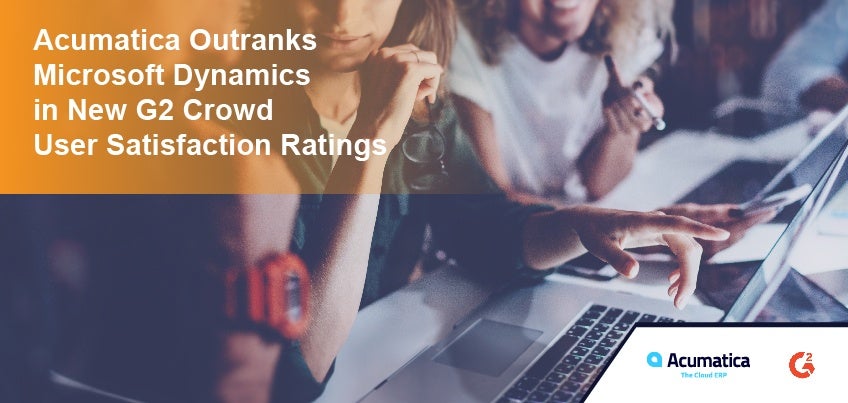 Outranking Microsoft Dynamics
G2 Crowd's report asked reviewers to rate Acumatica and Microsoft Dynamics on seven categories:
Ease of Doing Business With
Ease of Use
Quality of Support
Meets Requirements
Ease of Admin
Ease of Setup
Is the product headed in the right direction?
Acumatica garnered the highest satisfaction in every category, leading by 10% in several categories. The complimentary report also highlights the estimated ROI and how long it took for the company to go live with each ERP product.
For Acumatica partner Advanced Solutions and Consulting (ASC), the report will come as no surprise. Iqbal Rashid, VP Strategic Sales for ASC, says in a partner post, "Advanced Solutions and Consulting (ASC) has been an Acumatica partner for over five years. In that time, we've never regretted the decision to switch from Microsoft Dynamics to Acumatica cloud ERP. The fact that Acumatica's ERP software is a comprehensive business management solution for companies in diverse industries—and that the Acumatica team is focused on providing quality customer service—means we can provide our customers with an advantage over their competitors and a solid return on their ERP investment."
Acumatica vs. Microsoft Dynamics 365
G2 Crowd's report compares Acumatica with several of Microsoft Dynamic's versions: The legacy products (Dynamics GP and Dynamics NAV) as well as the online product Dynamics 365 for Finance and Operations for large organizations and Dynamics 365 Business Central for midsize companies)
For the legacy products of GP and NAV, Acumatica is rated higher in every category.
It is also true for Dynamics 365 that Acumatica outranks Microsoft in every category. The difference between the two Dynamics 365 solutions is night and day. However, as a rule, Acumatica in features and customers is closest to Dynamics 365 Business Central (365 BC). Let's look at how Acumatica and 365 BC differ in a few categories.
Pricing: Acumatica's unique pricing is based on resources consumed, applications/modules selected, deployment option, and licensing. Microsoft Dynamics 365 BC charges per user and charges extra for additional apps and add-ons.
Deployment: Acumatica users have the choice of cloud, on-premise, or hybrid, while Microsoft Dynamics 365 BC offers on-premises or multi-tenant on Azure.
Licensing: Both companies provide subscription licensing.
System Access: With Acumatica, users can access their own data, servers, and code. Microsoft Dynamics 365 BC users can't.
Data Export: Exporting data directly is possible with Acumatica, not so with Microsoft Dynamics 365 BC.
Jon Reed, in a recent digonomica article on choosing your cloud ERP partner carefully, notes a specific incident involving a former Microsoft Dynamics customer. While he was primarily focused on the importance of choosing a partner well suited for your industry, he touched on another Acumatica differentiator.
"I just talked to a former Microsoft Dynamics customer who landed in this purgatory. This customer kept asking their partner for more and more customizations. The partner was more than happy to crank them out," Jon writes. "Until their system was so over-customized that the customer was bogged in technical debt, unable to upgrade or integrate without severe pain. Yes, cloud ERP imposes discipline when it comes to customization, but you can still get into trouble without informed guidance. You still need a partner that knows their stuff, brings up the hard topics, and rolls up sleeves."
Acumatica, a relative newcomer in the ERP space, is all about customer satisfaction, high usability, and high value. Our adaptable cloud-based ERP, open xRP platform, and our 100% reliance on our worldwide network of partners has enabled us to become the fastest-growing cloud ERP company with over 5,000 customers and growing. User feedback is instrumental in fine tuning our product roadmap, and we appreciate customer reviews, such as those available on G2 Crowd's Acumatica page.
For example, one five-star reviewer writes, "Acumatica is both a very powerful tool yet extremely easy to use. Their pricing model is superior to others in the marketplace and we feel that from a price/performance standpoint, it far outshines its competitors."
Access real-life business user reviews
G2 Crowd's User Satisfaction Ratings report is a helpful (and free) resource if you're comparing ERP products in a market that has become increasingly crowded with options. Utilizing real-life and unbiased business user insights can assist you in making a better decision.
The Acumatica team is also available to answer any questions about Acumatica's cloud ERP software or to schedule a demonstration. Stay tuned to learn how Acumatica ranks against Sage Intacct (hint: we're happy).
Already use Acumatica? Click here to review Acumatica for G2 Crowd.