Is your business eCommerce ready? If you don't know, download Acumatica's quick reference checklist, answer the questions, and find out today. Your business' future depends on it.
Almost every business that exists today—regardless of industry—is dabbling in eCommerce, and if they aren't, they should be. Why? Because there are a slew of brick-and-mortar stores closing their doors as consumers (both individuals and businesses) turn to the convenience of online shopping.
Setting up an online presence for your business, however, isn't just about setting up a website. There's a lot that goes on behind the scenes, including how you'll take and fulfill orders, process payments, handle returns, manage inventory, ensure security, calculate taxes, track financials, provide customer support, and more. With so much to do and so much at stake, comprehensive eCommerce software solutions, like Acumatica and Acumatica Commerce Edition, are necessary investments.
Once you've made the investment, Acumatica's free checklist, A Quick Reference Checklist to eCommerce Readiness, can help you and your Acumatica partner determine how your eCommerce software and cloud ERP solution should coexist to the benefit of your eCommerce business.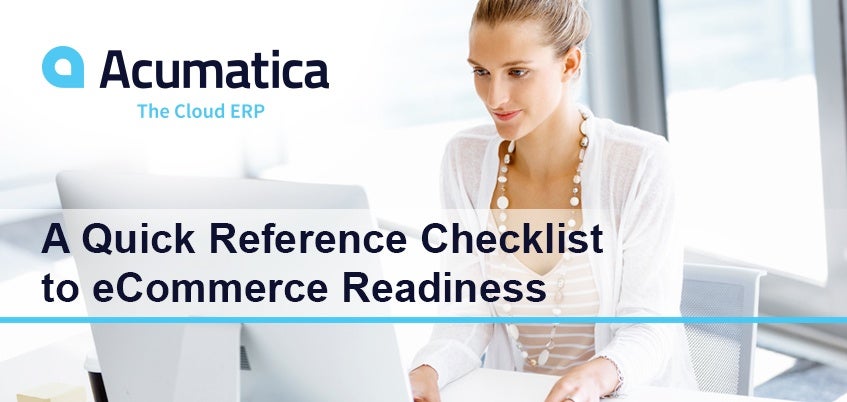 Connecting your eCommerce software and cloud ERP
The checklist offers 33 questions under five categories: Current eCommerce Status, Product Types, Selling to Consumers (B2C), Selling to Businesses (B2B), and Content and Media. Each question and its subsequent answer offer you and your Acumatica partner direction for connecting your B2C or B2B eCommerce software with Acumatica cloud ERP.
Under Current eCommerce Status, you'll answer such questions as: Are you selling on any marketplaces (e.g., Amazon or Walmart.com)? And what shipping services do you use? Two questions under Content and Media are: Do any of your products require significant explanation to help the customer select a product? And does your team use content marketing, videos, or blog articles to attract customers?
Your answers to the Quick Reference Checklist questions will help you seamlessly integrate Acumatica with your eCommerce software, providing you with real-time, bidirectional communication between your eCommerce front-end and Acumatica's financial, sales, inventory, CRM, and fulfillment systems. You'll have the information you need at your fingertips resulting in a functional, efficient, and customer-focused experience and a transformed business.
What Acumatica Commerce Edition can do for you
It's easy to see how Acumatica Commerce Edition will transform your eCommerce business, with such benefits as:
Sharing real-time data between your website and your financials, warehouse, and distribution, resulting in business-wide visibility, accurate inventory displayed to web customers, reduction of double-entry errors, and streamlined fulfillment processes
Utilizing a single back-office application to handle online, in-store, mail order, or phone orders, as well as processing credit cards, adjusting inventory, updating financials, managing pick-pack-ship processes, and collecting data for analysis from one dashboard
Integrating with popular eCommerce platforms, including BigCommerce and Magento
Offering customers multichannel returns and exchanges, real-time order tracking, and new offers and promotions
Automatic reconciliation across channels
And much more
But we can also show how these benefits translate into real-life business success. Acumatica customer xByte Technologies—a company that provides refurbished Dell servers and network switches by Cisco, Juniper, HPE, and Dell with an intense focus on customer service—chose Acumatica for its flexibility, ease of third-party integrations, automation, dashboards, continual development efforts, and mobility.
"The key thing for us with Acumatica is that not only was it web-based, but it wasn't purely cloud," says CEO Ryan Brown. "We liked that we could control it ourselves, so we bought the on-premises model. Acumatica also makes it very easy to integrate with other software and has many more features."
xByte's complex inventory requirements and on-point customer service coupled with Acumatica has helped the company increase visibility, productivity, and profitability.
Read their full success story for further details.
Are you eCommerce ready?
After learning about the benefits of connecting your B2C and B2B eCommerce software solutions with Acumatica cloud ERP, the question is, are you eCommerce ready? If you're not sure, download A Quick Reference Checklist to eCommerce Readiness today and find out.
You're also welcome to check out our 10 B2B eCommerce DOs and DON'Ts infographic and to contact our team with any questions or to request a demonstration. Entering the eCommerce world may seem challenging, but we assure you that the benefits far outweigh the effort.