So many eCommerce back-office systems and so little time. Thankfully, Acumatica's evaluation checklist can help you quickly and thoroughly decide the best option for you. 
You've set up your eCommerce website, and you're ready to open your online doors to your customers. Or are you?
If your back-office system—or ERP—for managing orders, payments, inventory, returns, and more isn't seamlessly connected to your website, your business will be at a standstill, and you'll need to find one that can. You don't, however, want to make a hasty decision on which of your many eCommerce software solutions will work best. Instead, you'll want to evaluate your options thoroughly (but efficiently) based on five main categories, and Acumatica's eCommerce Back-Office System Evaluation Checklist has them all.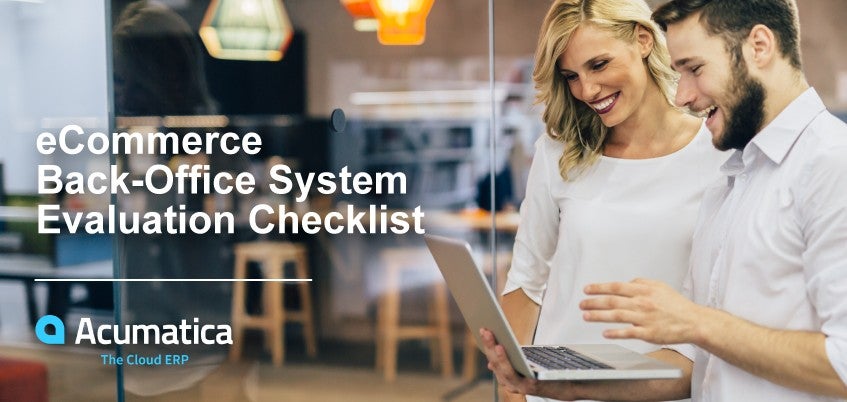 Evaluating your eCommerce back-office system options
As a retailer, manufacturer, or distributor, you already understand that a successful business in today's market relies on an omnichannel shopping experience. Some consumers may prefer to walk into a store, others to make a phone call, and, more and more, many are preferring the ease of shopping online. They expect that they'll be able to purchase your product or service without issue using whichever method they choose.
This leads directly into the five categories you can use to evaluate your B2C or B2B eCommerce software options, as noted in the free evaluation checklist. These categories include Productivity, Functionality, Technology, Value, and Risk.
Let's take a brief look at how these features and benefits within each category can impact your eCommerce solution and business.
Productivity
The back-office system you choose must increase your organization's productivity. A feature imperative in making this happen is the ability to integrate the system with your eCommerce front end seamlessly. The benefit is synced customer, inventory, sales, and shipping data.
Is the ERP system your contemplating purchasing intuitive? Does it provide access to the system from any device, whenever you want and from wherever you are? These, plus six more features, are important to the overall efficacy of the B2C or B2B eCommerce software solution you choose.
Functionality
Performing daily accounting and business management functions is a requirement for any back-office system. The features include multi-entity, financial management, third-party software integrations, CRM combined with cloud ERP, and integrated business intelligence. The checklist lays out the benefits of these features (as well as three more features and their benefits).
Technology
In today's market, utilizing modern technology is a must. Your assessment of the system should include its synchronization capability. By synching between the systems, you'll automatically exchange product pricing, categories, inventory, images, customers, orders, and more.
It should be a true cloud option, which means you can access the system over the internet through a standard browser—no need to install client software. Customizability and flexibility are also essential for meeting your specific business requirements, as is a highly usable user interface and six other features.
Value
You should ask yourself: Can the system scale with us as we grow? Are there multiple deployment options? Are the licensing options flexible? And how are we charged: by the number of users or by the resources used? The answers to these questions and more can help you determine the true value of your back-office system.
Risk
Finally, your back-office system evaluation should consider how it can reduce risk and increase security. For example, of the ERP software solutions you're considering, which one allows you to predict your monthly costs and provides verifiable best-in-class security? Deploying quickly, with simple integrations to other applications and backup and disaster recovery are all included in the Risk category.
eCommerce powerhouse
Your business has the potential to be an eCommerce powerhouse—if you select an eCommerce ERP that meets the criteria noted in Acumatica's eCommerce Back-Office System Evaluation Checklist.
Connect with us. We'll fill you in on eCommerce DOs and DON'Ts and all that and Acumatica's cloud ERP software can do for you and your business.
Acumatica Commerce Edition helps eCommerce businesses have more control over orders and fulfillment, gain full visibility into their organization, simplifies workflows, inventory management, reduces manual-entry errors, facilitates easier returns and exchanges, and real-time order tracking.
Our team of software experts are available to answer your questions and provide a personal demonstration.
Download the eCommerce Back-Office System Evaluation Checklist