The point of having a business is to stay in business. Planning for the future, however, can be a challenge—unless you implement a future-proof ERP solution.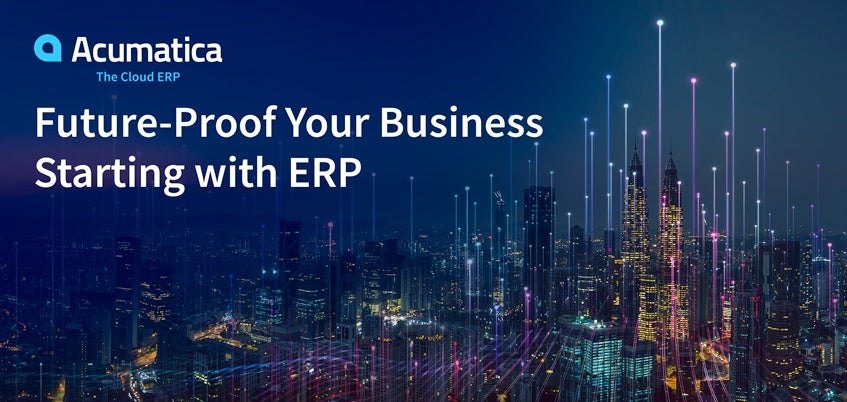 The future is an ambiguous concept. We don't know what it holds for us, and we never seem to reach it, but we're always striving to ensure that it's good. For businesses, a good future is one where they're still operating successfully. This then begs the question, How do you future-proof your business?
Answer: Start with a future-proof business management solution.
What is a future-proof ERP solution?
Simply put, a future-proof ERP solution is a modern, cloud-based ERP system that allows you to adapt to changing circumstances.
The ERP system should be based on an open, flexible platform for easy integration with critical third-party applications. It should be updated regularly through continual investments in emerging technology. And it should provide company-wide access—from wherever and whenever—to a single source of business truth. The result is a fully connected business that achieves continuity and resiliency in the face of an unknowable future.
BigCommerce supports future-proof ERP. In a recent post, the leading eCommerce platform notes that eCommerce businesses trying to future-proof their digital sales streams can do so by  "investing in the right technology, including an enterprise resource planning (ERP) solution." They highlight five ways an ERP solution can future-proof an online store, including supporting complex pricing (store all pricing data in the ERP solution); minimizing human error in processing; reacting quickly to change; simplifying the user's system and processes, and keeping the store secure.
The good news is that future-proofing with cloud ERP software and the resulting benefits aren't just for eCommerce businesses. Any business in any industry can plan for a brighter future using this technology.
Gartner, a leading information technology research and advisory company, also recently released a report that addresses future-proofing, and their focus is on future-proofing via a modern integration strategy for your cloud ERP solution, which is another key consideration. It's a detailed report, but the gist of it is that businesses must have a strategy (they recommend Gartner's pace-layered application strategy) that allows the business to seamlessly integrate their ERP solution with other, necessary business applications. By doing so, they'll extend their business capabilities, reduce the risk of rising maintenance and support costs, and set themselves up for future success.
And IDC, the premier global provider of market intelligence, advisory services, and events for the information and technology industry, released a recent report on how the COVID-19 pandemic has transformed businesses. The report notes that "cloud enterprise resource planning (ERP) technology helps make the digital business resilient, durable, and sustainable so that it is able to withstand the factors of health and safety, social distancing, and working from home."
Experts agree—a cloud ERP solution is an answer for businesses that a) understand that the future holds many surprises, and b) know they must be agile enough to flex accordingly.
The future with Acumatica's future-proof ERP solution
Let's look at a specific example of a company that trusted their future to Acumatica's future-proof ERP solution.
M3 Technology Group designs, builds, and installs audiovisual and videoconferencing systems for many industries. They believe in offering outstanding customer service and technical support, but they weren't getting that from their legacy ERP system, Everest Software. The solution was slow and required manual processes. M3 also needed to operate on several different platforms. What they really needed was a cloud ERP solution that would be their foundation for continued growth.
"Once we started pricing things, no competition," says ERP Developer and former COO Kelly Burns. "Acumatica was on the rise while others felt like they were fading away."
After implementing Acumatica Distribution Edition with Advanced Financial Management, Order Management & Inventory Control; Acumatica Project Accounting; and Acumatica Field Service Edition in 2012 (and adding Acumatica Customer Management in 2019), Kelly says the company "came out of the gate billing bigger orders."
He adds in the company's customer success story, "Everyone is busier, but we're covering work with the same people. We aren't stressed or working overtime, yet we're doing way more in sales and transactions through Acumatica."
The company also implemented Avalara, Microsoft's Power BI, APS Payment Solutions and Velixo as well as developed customizations with ease due to Acumatica's open API interface.
"We [worked with] a firm to help us develop a solution that collects several silos of data from different applications, and they were very pleased with how easy and clean Acumatica's API is to work with. They said they haven't experienced that very often," Kelly says.
What about M3's future?
"We're confident Acumatica can take us into the future, grow with us, and still maintain all the data we're going to flood it with," Kelly says. "Employees, users—we're not afraid of the system not being able to take us there. To me, Acumatica has the capabilities and all the functionality we need. We're just scratching the surface."
While the future is nebulous, the benefits of a future-proof ERP solution are not.
Contact our team to discuss how Acumatica, a company whose solution is continuously enhanced through twice-yearly releases (Acumatica 2020 R2 is launching on September 16, 2020 during the Acumatica 2020 R2 Virtual Launch Event), can help you and your business succeed today and tomorrow.