Why are Key Performance Indicators (KPIs) invaluable to distributors and why does the right distribution software matter? Our new (and complimentary) whitepaper answers these questions and more.
Automating distribution processes, integrating business activities, and measuring outcomes is vital for running an effective and efficient business. Our new whitepaper, Key Performance Indicators for Distribution, explores how KPIs provide critical insights and how modern, cloud-based distribution software—like Acumatica Distribution Edition—is necessary for succeeding in today's marketplace.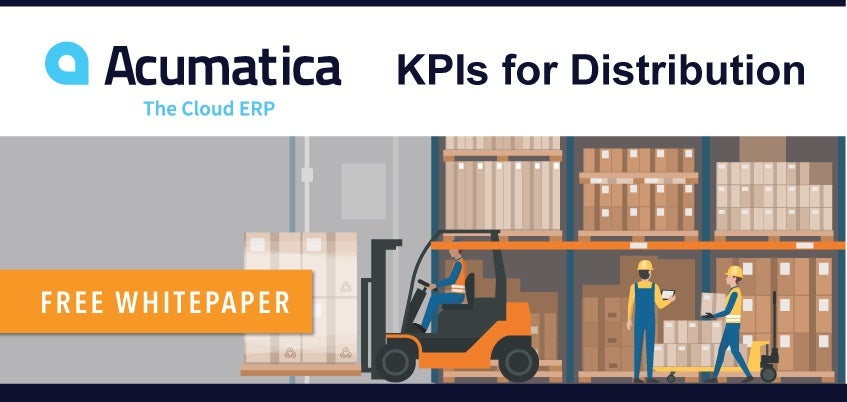 Distribution management using KPIs
Innovative technology, such as Industrial Internet of Things (IIoT) (a system of connected sensors and smart devices), offers distribution companies unparalleled visibility into their operations. This is a good thing, but for companies to benefit, they must have the ability to harness the data they've gleaned, analyze it, and translate it into wise business decisions. This is where KPIs shine. They measure how well your business is performing and provide intel on both the positive and negative activities happening within your organization.
KPIs come in two different types: historical and predictive. Historical KPIs measure activities that have already happened, and predictive KPIs provide future projections based on leading indicators. Many are financial and monitor sales, costs, margins, cashflow, and asset utilization.
"But," the whitepaper states, "many more KPIs are operational measurements that managers and executives use to focus in on specific activities and interests relative to transportation schedules, inventory, on-time delivery, backorders, customer service and more."
With a modern distribution management system, distributors can monitor these KPIs via customizable dashboards containing graphics with drill-down capabilities, giving them the information they need quickly and easily. Team members, whether in the office or in the field, can access these same KPIs on their mobile devices at any time, a time-saving benefit.
"Each node of the distribution network can be monitored individually or in combinations across multiple factors. You can look at factors like inventory, on-time shipments, profitability, etc. for a single warehouse or leg of the supply chain or other groupings and categories," the whitepaper states.
Many distribution ERP software options include pre-defined KPIs. However, the whitepaper warns that these initial KPIs are meant to start the process, not complete it. You shouldn't continue to use these start-up KPIs but should instead learn from them. Once you do, you can determine which KPIs provide the most impact.
"Best practice is to have a relatively small number of high-impact KPIs (for an individual user)—no more than 8 or 10—aimed at the critical factors for that business, department, project, or area of responsibility," the whitepaper explains.
If you download the whitepaper, you'll learn about operational KPIs specific to distribution, including:
Inventory Turnover Ratio
On Time Shipping Ratio
Profitability by Item
The whitepaper also explains why you need a flexible distribution management system and why end users must be involved in the development of the ever-changing KPIs. And the paper points to a concern for distributors when it comes to KPIs: information overload. The influx of data provided by KPIs may cause business decision-makers to miss early warning signs of impending problems or of possible opportunities. Thankfully, they can manage their KPIs by utilizing data, analytics, and business intelligence tools, which help them generate reports and track relevant information easily and in real time.
Choose your distribution software carefully
Download Key Performance Indicators for Distribution today for the complete discussion on the importance of KPIs and choosing the right distribution software. (Hint: the right one should be true (not fake) cloud distribution software, software that is flexible, mobile, and adaptable with powerful and easy-to-use KPIs.)
You may also want to download Acumatica's Distribution Management System Evaluation Checklist to learn more about choosing the right cloud ERP software that will streamline your supply chain management processes.
To learn more about Acumatica Distribution Edition, or if you have questions about our whitepaper or Acumatica cloud ERP, please contact our experts today.