Once again, Acumatica leads the mid-market with our user-approved cloud ERP solution. G2's free new Mid-Market Grid Report for ERP Systems provides the details.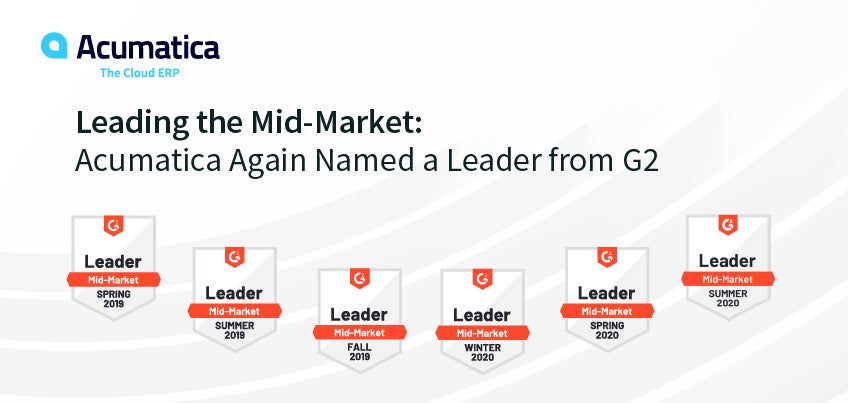 As a small-to-mid-market business (SMB), is it time—or past time—to find a new ERP solution? If so, look no further than G2's user-inspired report. Their Summer 2020 Mid-Market Grid® Report for ERP Systems ranks 31 mid-market ERP systems by customer satisfaction and market presence, and Acumatica cloud ERP is proud to announce that we've been named a Leader for the sixth quarter in a row.
What the G2 Grid Report will tell you
Before G2 came to be, the founders questioned why it was possible to find user reviews on hotel rooms but not on software. To fill the massive software review void, they created a leading business solution review platform.
According to G2, their goal is to "be a trusted source that helps every business professional in the world make better technology decisions." For eight years, millions of buyers, sellers, investors, and analysts have had a reliable, real-time, and easy way to research—and review—thousands of software product and professional service options.
G2's new Mid-Market Grid Report for ERP Systems, updated quarterly and based on unbiased user reviews, will tell you everything you need to know about your ERP solution options. For example, if you want to know the percent of reviewers that would recommend a certain ERP system or if it's easy to use, then this is the report for you.
Every software vendor included in the report is placed within four categories: High Performers, Niche, Contenders, and Leaders. G2 says products in the Leader quadrant "are rated highly by G2 users and have substantial Market Presence scores." Acumatica's Mid-Market Leader ranking is in part due to 92% of our users giving it 4 or 5 stars and 89% believing that it's heading in the right direction.
"I've liked seeing where Acumatica is headed both in terms of the ERP system itself but also in their growing the number of partners around the world and in developing separate modules for other business, like the construction business," writes verified reviewer Beth M.
To read more reviews like this one, check out Acumatica's G2 profile.
Don't wait: Download your free G2 Grid report today
The COVID-19 pandemic has shown us that things can change in a heartbeat. Now is the time to find a cloud-based ERP solution that can give you the business continuity needed for success in our ever-changing times.
G2's new Mid-Market Grid Report for ERP Systems can help you distinguish between your many options based on authenticated user reviews. You'll learn how each ERP vendor rates in Customer Satisfaction and Market Presence as well as their overall G2 Score, including Acumatica's. Go to our Acumatica user reviews page for additional user feedback.
We're delighted that Acumatica's cloud ERP software continues to be a mid-market Leader in ERP usability, functionality, and satisfaction. We hope you'll contact us today to learn more.