Every year, the Acumatica team eagerly awaits Bob Scott's annual list honoring his 100 VAR Stars, and every year, Acumatica VARs make a great showing. Today, we'll share who they are as well as congratulate them on this honor.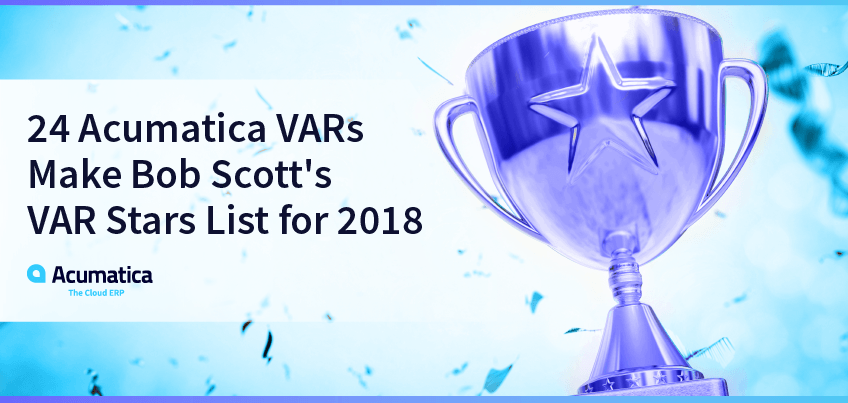 To those in the reseller community, which includes our very own Acumatica VARs, Bob Scott is a recognizable name. He's the founder of Bob Scott's Insights, a popular and long-running online newsletter dedicated to delivering industry insider insights to the reseller community. From the latest news and special reports to new products and random thoughts by Bob himself, he delivers entertaining and educational information the mid-market accounting and ERP software community needs.
He also publishes an annual list of his 100 VAR Stars, each of whom is selected based on meeting various qualifications, including (but not limited to) growth, unique product development, and leadership. Revenue is not one of the qualifiers.
We're excited that 24 of our Acumatica VARs have made Bob Scott's 100 VAR Stars for 2018 list. Here they are in alphabetical order:
Clients First Business Solutions
WAC Consulting
Congratulations to all the VAR Stars making the list in 2018, and a special thank you to those Acumatica partners who continue to bring so much success to our partnership.
You, and all our Acumatica VARs, represent everything that is great about Acumatica cloud ERP. We rely exclusively on your dedicated efforts and knowledge to sell our comprehensive business management solution. Acumatica's continuing reign as the fastest growing cloud ERP software provider on the market today is a testament to your abilities.
If you're not yet a member of our amazing team and are interested, check out how to become an Acumatica VAR. Acumatica VARs are automatically enrolled in the award winning Acumatica Partner Program, which offers ongoing training and resources. They also have our full support as they become a modern VAR, successfully meeting the needs of today's customers.
Again, congratulations to our Acumatica VARs who made Bob Scott's 100 VAR Stars for 2018 list. We appreciate all you do.
For any questions, reach out to us today. We'd love to hear from you.