Factoring usability into your cloud ERP selection process is critical. We cover the top three reasons why.
The marketplace is teeming with businesses trying to decide which Cloud ERP solution should replace their outdated on-premises software. Their ERP evaluation and ERP selection process often involves online research, gathering first-person reviews, or enduring multiple demonstrations to help narrow the options.
Whichever process (or combination of processes) they use, they will probably also have a list of requirements already in mind for measuring the suitability of a cloud ERP solution for their business, but how often is Usability among those requirements?  There are three reasons why it should be on the list (if not at the top).
In a 2013 Wall Street Journal article about Avon Products' failed SAP software implementation, the author quoted Michael Krigsman, an industry analyst, writer, and commentator, who said, "Basically, users will accept less crap today, when it comes to software. That is because the world of consumer software has become easy and simple to use and has trained users to expect that business software will follow a similar model. And if it doesn't, people are much less patient than they were in the past."
That was six years ago. This statement in only more valid today.
The term "usability" is often a synonym for "ease-of-use." In terms of modern technology, user expectations for ease-of-use—both personally and professionally—have risen dramatically. Users expect fast, friendly, and intuitive technology that is easy to learn and use. This even includes ERP software, which has traditionally been cumbersome, and arcane, and limited to a small subset of users within an organization. Combine these new expectations with the fact that cloud ERP solutions are considered expensive and ERP implementations as challenging, and it's plain to see why choosing the right one is such a critical decision.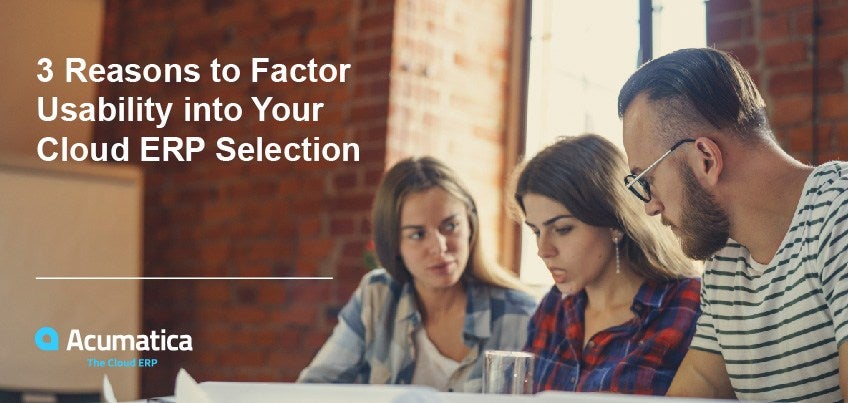 3 reasons usability is your #1 goal
1. User satisfaction (or lack thereof) can make or break your team
It should come as no surprise that user experience is becoming one of the top predictors of success for ERP implementations. In a survey of 200 industrial users that was commissioned by IFS (a global enterprise software provider), a whopping 88% of those surveyed said they would create a workaround using desktop spreadsheets (with a majority suggesting Microsoft Excel) if their company's ERP software had poor usability. And, of course, workarounds and employee dissatisfaction lead to negative outcomes.
Cloud ERP software systems are designed to eliminate these negative and unnecessary outcomes. They're end-to-end business solutions that allow businesses to seamlessly connect their business applications, creating one "source of truth." The sharing of information with users in real time enables each department to collaborate for faster, more informed decision making. If employees avoid using the ERP system, data is lost, insights are limited, and the business suffers.
This leads to frustration on the part of every team member, both those who use the ERP system and those who don't. In many cases, this frustration can even lead to employee defection—losing knowledgeable, creative, and expert team members.  This is certainly not the desired outcome when businesses are implementing their cloud ERP software.
2. Usability = less time, cost, and disruption
Business decision makers who go through the ERP evaluation and ERP implementation process know that training users on a new cloud ERP system is a crucial part of the deal. If they factored usability into their initial ERP software selection, then they have few if any concerns.
If they didn't, then that's a different story.
Training end users on a new ERP system while maintaining daily operations is a juggling act. Choosing a modern, cloud-based ERP system with an intuitive, well-designed interface that is easily navigated by those in the front office, the shop floor, and the field will ensure a much faster implementation. The faster the implementation, the less cost and disruption to the business—and to its bottom line.
3. Usability creates growth
Users' expectations have been shaped by easy-to-use personal applications, such as smartphone apps. These apps have a short learning curve, allowing users to figure out what to do, where to go, and how to get the information they want quickly and efficiently. It's not surprising that users now expect their professional software to work the same way.
Fortunately, ERP providers have recognized the importance of usability and have introduced user-friendly solutions. The result? Users can easily learn how the software works and can therefore recognize the benefits of an integrated, automated system.
These benefits include better data management, increased collaboration, improved forecasting, and more—all of which leads to increased efficiency, customer satisfaction, and growth for the business.
A win-win for everybody.
Usability over functionality
Nucleus Research, an ROI-based technology research provider, publishes The Cloud ERP Value Matrix, a tool that helps businesses assess and compare their technology options. Their analysis is plotted on a chart along two axes: functionality and usability.
Here's what they have to say about these two factors:
"What's the point in having the best functionality if few people within the business can actually use it. In fact, we're seeing a big trend toward broader technology use as solutions are being leveraged by more departments and employees throughout the organizations. That's because there is great value in the data many apps contain. Analytics, CRM, ERP, for example all offer strong insight for the business. Plus, there is a general move for enterprise software in particular to integrate with other apps for new efficiencies. That's driving the need for more people across the business to have access to apps that are easy to use."
As Nucleus Research points out, functionality is important, but it becomes obsolete if users can't access it—which is why Acumatica has focused on usability from the beginning. In fact, Nucleus' ERP Technology Value Matrix 2018 ranked Acumatica highest in usability over 21 other leading ERP vendors for the third year in a row.
Analyst Seth Lippincott said in the report, "High usability and flexibility are at the center of Acumatica's development philosophy… ."
Acumatica's latest releases, Acumatica 2018 R2 and Acumatica 2019 R1, provide a series of upgrades and enhancements based on user feedback and usability. Assessing cloud ERP solutions with usability at the forefront will ensure businesses choose the right one.
If you have questions or would like an Acumatica demonstration, contact us today.