Acumatica VAR SWK Technologies, Inc. is back with their second post in their migrating to cloud ERP series. Today, they'll address a technical approach to the migration and three factors to keep in mind.
In the first post of this series, we discussed taking a vertical approach to migrating your back-office systems to a cloud ERP system. While vertical focus is an important facet of your organization's transition to the cloud, there are additional avenues to consider when reviewing ERP migrations. 2018 features many compelling software purchase business cases revolving around buzzwords like SaaS, PaaS, and IoT. How can we navigate through this noise and leverage technology to fuel growth and efficiency? We can answer that by looking beyond the vertical-focused model.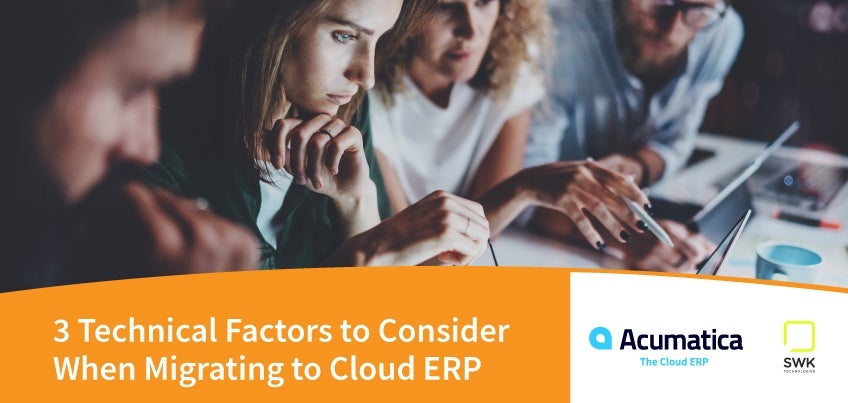 Another dimension in ERP migrations: A technical approach
Some of the most important work your organization can do in the ERP software selection process happens before you even begin evaluating your options. This leads us to three factors to consider before you migrate to cloud ERP.
1. Technology strategy
The most organized clients I engage with already have two planning items completed before I even arrive on-site:
A list of requirements (not necessarily a full RFP, but at a minimum a list of functional requirements you can share)
A well-defined map or list of their existing software systems used (current state)
These two components demonstrate a clearly defined technology strategy and answer questions like, "What systems are we using today?" and "What are our siloes of data today?" Some companies have the internal capability to map out their technology strategy using a tool like Visio. Others simply make a list in Word or Excel.
This exercise will provide your organization with a tool to make higher-level strategic decisions. We often forget to remember just how many applications we're using! It's a common trend that I will analyze a business's current state architecture and see that they use a dozen or more systems, many that don't speak to one another. By engaging in the exercise above, you'll be able to meet and come up with some outcomes for your cloud migration and ERP implementations. Common outcomes I've seen customers engineer might be:
Take these outcomes and use them as a filter for your ERP evaluation process. Strategy first, technology second. If a system isn't aligned with your overall technology strategy, it is likely not a good fit for your business.
2. Access to data
The cloud has changed our daily lives as we know it. As consumers of technology, it is possible that we may use 4-6 different clouds daily in our personal lives (iCloud, Online Banking, Netflix, Gmail, the list goes on). As you will find out during your ERP migration, there are many different flavors of the cloud. Some vendors today boast a cloud-based product, but they have simply hosted a legacy application on a server and "retrofit" the cloud. It's common that I run into QuickBooks users who jump through many hurdles (RDP, VPN, etc.) just to run a simple report.
We live in a multi-cloud world, and so should your ERP software. This means that your system should be able to be accessed by a browser, on any device anywhere. This also means that you don't need to manage any servers, database versions, etc. The next wave of employees (digital natives) won't remember a world before the cloud or before mobile. For this reason alone, it's important to stay relevant in the way we access data. Could you imagine giving a college graduate an old film reel 35mm camera and asking them to provide you with black and white images tomorrow? They've never used this camera, developed this film, or likely even know what a dark room is. Now imagine giving that graduate access to an application they can't access from home or even forcing them to log into a server to complete their work at the office.
If you cannot access your business application from the web and a mobile device, it doesn't fit your migration to the cloud.
3. Tribal knowledge
Each organization has a bias towards certain technologies over others. Often, this reflects the capabilities internally of the staff that will be working within or managing the ERP system. A very common theme in many of the companies I work with is the ability to use access data via APIs. Perhaps a developer on staff is familiar with using this integration method via web services. It's important to consider the tribal knowledge within an organization, since this can play a big role in one's success in a new cloud ERP system.
Every ERP system comes with an ecosystem of ISV solutions. ISV's are Independent Software Vendors who have decided to connect their application in one way or another to the ERP core. If your employees are comfortable using a tool like Scanco for Warehouse Management or SPS Commerce for EDI, you'll want to be sure to consider the level of comfort your employees have achieved in those system as you make your move to the cloud.
This concept comes back to your overall technology strategy we discussed earlier. A good question to ask your team before making a cloud migration is, "What technologies/applications come second nature to you?".
Cloud technology enables you to leverage a whole new side of ERP
If you're considering migrating from a legacy accounting system to a cloud ERP system, you have the opportunity to gain big efficiencies across the organization and set your business up for future growth. Taking on a technical approach to your migration strategy and ERP selection will help set your cloud migration project up for success.
Contact us at SWK Technologies to learn more about how cloud technology can accelerate your business and deliver the most value for your ERP migration.