In the first post of our three-part series on Acumatica Construction Edition, we addressed how our end-to-end solution can help you stay ahead of the competition. Today, we examine the transformative nature of cloud construction accounting software.
Construction professionals—whether general contractors, home builders, subcontractors, or land developers—who implement cloud construction accounting software have found the one tool that can help them streamline their business processes and transform their organizations. Today, we'll explore the top benefits of a full-featured construction accounting software, like Acumatica Construction Edition.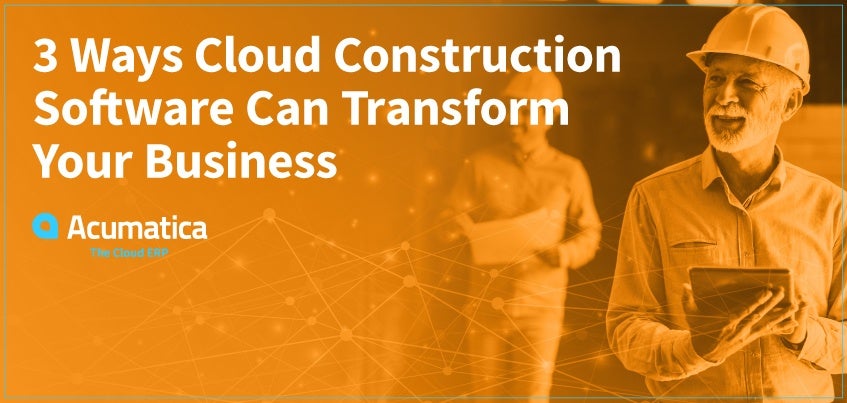 Key benefits of cloud construction accounting software
Cloud-based computing gives users access to software applications that run on shared computing resources (for example, processing power, memory, and disk storage) via the internet. These computing resources are maintained in remote data centers dedicated to hosting various applications on multiple platforms.
With this in mind, here are three transformative benefits of cloud-based construction accounting software:
1. Cloud construction accounting software gives you access to your business-critical applications at any time from any location.
Consider the time savings possible with construction ERP. With a legacy or on-premise software, employees in the field must enter data twice: once on location and again when they reach the home office. This double data entry opens the door to errors that are annoying and time-consuming to correct. With cloud construction accounting software, employees simply enter the data on their mobile device and the information is automatically synced back to their cloud software.
Perhaps the cloud's greatest superpower is its ability to deliver real-time data to users across multiple locations:
Construction firms with several locations can communicate and collaborate using real-time data.
Remote workers or employees in the field can stay connected to the most up-to-date insights.
Field employees can update RFIs and project issues, which helps reduce project delays and increase customer satisfaction.
2. True cloud construction accounting software provides users with mobility through a construction-specific app.
Shoehorning desktop software into a smartphone is not the same as designing an app with mobile in mind. True cloud construction software, like Acumatica Construction Edition with Project Accounting, supplies remote access through our Construction App.
This secure, private app enables field team members to have a "single source of the truth" with real-time data as well as the ability to check intuitive dashboards on a phone or tablet, accessing revenue, costs, and commitments along with managing contracts and changes orders. Exchanging information with customers, suppliers, and specialty applications (e.g. Smartsheet, Procore, and Hyphen Solutions, part of Acumatica's growing list of integrated partner solutions) has never been easier.
Bundling together a bunch of point solutions—a stop-gap measure by fake cloud construction accounting software—doesn't work as well as a purpose-built, integrated suite.
3. Cloud construction accounting software allows users to access the software over the internet and reduces costs.
Accessing construction accounting software over the internet generally has much lower upfront costs than on-premise construction software. This is because companies can lease their computing resources by the month rather than purchasing them outright and maintaining them on premises.
In addition, Acumatica's unique pricing format supports growing companies by charging for the computing resources used versus the traditional per user pricing. The format is based on three factors: what applications you want to start using now (all of which are able to be integrated and can be added at any time), what type of license you want (SaaS Subscription or Private Cloud Subscription), and what the projected level of consumption is based on the volume of business transactions and data storage.
Concerns about the initial investment into cloud construction software are allayed with Acumatica's pricing structure.
Transformation guaranteed with remote access, real-time data, and streamlined processes
Acumatica Construction Edition does the heavy lifting for construction companies looking to transform their organizations. Our construction accounting software offers a full set of management features, including accounting, project management, field management, CRM and mobile. And, as discussed, the Acumatica Construction mobile app, which allows seamless, mobile connection between the field and the front office.
Acumatica customer Texas Scenic Company, Inc. implemented Acumatica Construction Edition and found it to be a perfect fit for their needs. CFO Ron Fairchild explains why, "It's a modern cloud solution that handles our manufacturing, service, distribution, and construction business in one cohesive, integrated solution allowing a seamless flow of data. We expect this to provide significantly better business insights and improve overall efficiency."
Ultimately, cloud construction software is the foundation for transformation. When employees have access to complete, current information, their productivity increases, communication improves, and the entire construction cycle runs more smoothly.
You're also welcome to contact our team, and we'll get you started right now.