How can Acumatica customers up their cloud ERP platform knowledge quickly and effectively? One way is to attend Acumatica Summit 2019. And attending our annual event leads to three additional ways customers can get more out of their cloud ERP experience.
In the first post of our recent two-part series about customers attending Acumatica Summit 2019, I touched on how our prospective customers could learn how to expedite their ERP discovery process at our premier cloud ERP event. Today, I want to address how attending Acumatica Summit 2019 provides our current customers with three important ways that will help them fully utilize their cloud ERP platform.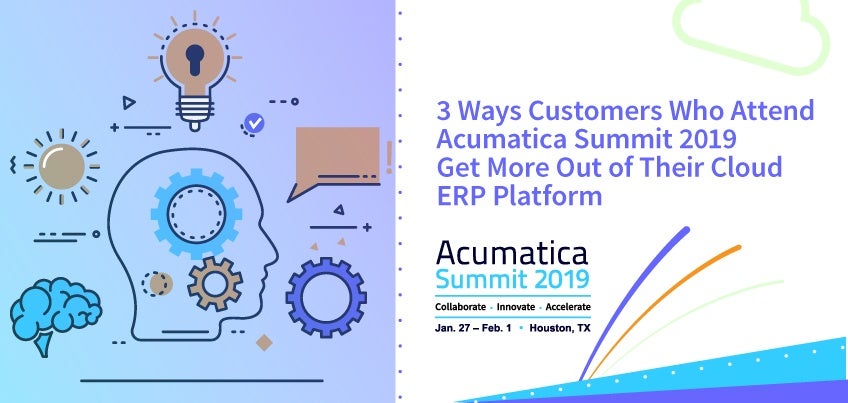 3 ways Acumatica Summit 2019 offers deeper insight into Acumatica cloud ERP
Acumatica is a modern cloud ERP solution with integrated business applications, including Financials, CRM, Manufacturing, Distribution, Project Management, Field Services, and more, all in one system. Our VARs—who are solely responsible for selling our cloud ERP solution—are highly trained experts at ERP implementations. As a cloud-based ERP, it provides users access to their data at any time from any device from wherever they are. Our cloud ERP software also allows users to streamline their workflows, provides role-based access, and offers the highest level of security along with flexible licensing and deployment. It's a cost-effective, flexible, and scalable solution for your business management needs.
However, because we're constantly improving on our award-winning solution, it can be difficult to unlock its full potential and functionality if you don't stay abreast of the advancements we make. Attending Acumatica Summit 2019 will give you that deeper insight.
Here are three important ways you'll learn the full capabilities of Acumatica's cloud ERP software at our annual Summit:
1. Learn firsthand about our improvements and upgrades, some before they even happen
There's nothing that helps you stay current with our cloud ERP innovations more than having inside knowledge. Acumatica Summit 2019 shows you where we've been and where we're headed, which includes live demonstrations and an in-depth look at our product roadmap. We're not here to surprise you. Instead, you as our customer help us steer our course of action through your feedback. Combine your input with using the latest in technology—e.g. artificial intelligence (AI), blockchain, internet of things (IoT), etc.—and we are ensuring that Acumatica is the best cloud ERP solution available.
"I really like previewing the new features because we can start working on how we want to optimize the system before we even have access to them," says Nick Novy, President and Founder of Korpack, in a post about why he's attending Acumatica Summit 2019. "Some things that we would have spent time customizing don't need to be. We know it's coming in an upcoming release."
2. Network with other Acumatica customers
As with any product you're researching to buy, getting first-person reviews and hearing how users utilize it is probably the best way to get insight into that product. This holds true for Acumatica cloud ERP software.
Nick agrees. "You feed off the excitement and from hearing other people's stories, how they're using Acumatica, and how they've customized it. They're businesses may not apply to what we do, but it may spark an idea that could make us better. I love hearing stuff like that."
Customers will have many opportunities to chat during Acumatica Summit 2019, including during the breakout sessions and training tracks, which can be customized to meet their specific needs, as well as at the entertainment events in the evening and at the Solutions Showcase.
3. Meet Acumatica ISVs and Acumatica's leadership team
You'll have the chance to speak directly with the Acumatica partners responsible for third-party Acumatica cloud ERP integrations.
In a recent post on his three reasons customers should attend Acumatica Summit 2019, Matt Stoner, CFO of Dakota Red Corporation, said visiting the Solutions Showcase with the Acumatica ISVs was important. "Being able to go around to all the different vendor booths and see what third-party options are available. That was great exposure to see what was out there beyond the out-of-the-box Acumatica model. It's a good resource for customers and a great opportunity to network with each other."
Our ISV's industry-specific solutions and specialized extensions help you grow your business. You can ask them specific questions, get answers in real time, and learn about new and exciting options.
In addition to speaking with our ISVs, you can meet Acumatica's leadership team.
"It was also neat and kind of surprising to me to see the CEO [Jon Roskill] and other executives right there, not only on stage during the sessions but at the events in the evenings and being able to approach them and talk to them," Matt says.
Meeting and speaking with members of the Acumatica executive team provides you additional insight into our cloud ERP products and platform as well as into the company's mindset. They make themselves available every year precisely for this reason. We're a true cloud ERP that is dedicated to meeting the needs of our users, and you can only do that if you hear what those needs are. As Matt said in his previous post, we're an "approachable" company, which means we treat each customer as a partner, not a dollar sign.
Get the most out of Acumatica's cloud ERP software
Have you registered for Acumatica Summit 2019 yet? Attending our premier cloud ERP event can make your Acumatica experience even better, resulting in greater success for your business. Plus, if you sign up sooner than later, you'll benefit from our special early bird pricing as well as get to stay at our amazing venue, the Marriott Marquis Houston. We have a special guest room rate we've negotiated for the Summit, but don't wait because there are only so many rooms available.
Feel free to contact us with any questions you may have about Acumatica cloud ERP, ERP implementations, or Acumatica Summit 2019. We're here to help you get the most out of Acumatica's cloud ERP software.