Adding an event to an already packed schedule may not be of interest to you, but if events—such as our Acumatica 2018 R2 Launch Day Event and Acumatica Launch Event Series—promise to streamline your operations, help you comply with industry regulations, and enhance customer satisfaction, you may want to reconsider.
What are you doing Wednesday, September 12, 2018? I hope you're planning to join us in Boston, Massachusetts where we—a cross-section of the Acumatica team and our partners—will be revealing the exciting cloud ERP enhancements from our latest release, Acumatica 2018 R2. After this initial Launch Day Event, the Acumatica Launch Event Series kicks off in various cities across the country throughout October.
If you're not sure you need to attend any of these events, I have some thoughts I'd like to share with you.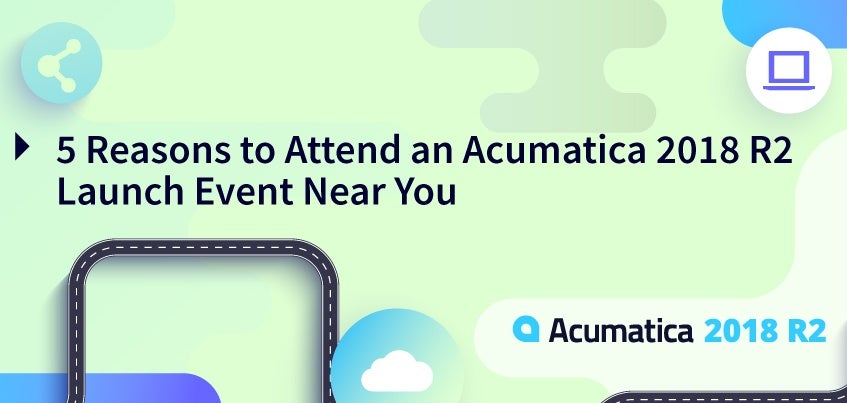 Why attending an Acumatica 2018 R2 launch event is a great idea
Attending our Launch Day Event in Boston or one of our other Acumatica Launch Events has some specific and tangible benefits. These benefits, in my opinion, are the top five reasons you should register now.
1. It's an in-person experience
As an Acumatica user, the release of Acumatica 2018 R2 will provide you with a series of enhancements that will increase the usability and functionality of our product and platform as well as your overall productivity. Ray Rebello, Director of Product Marketing at Acumatica, wrote a post highlighting the improvements we've made to our Financial Management, Project Accounting, CRM, Distribution Management, Manufacturing, Field Service, Commerce, and Construction editions. While informative, reading about the improvements is not the same thing as seeing them in person.
During the Acumatica Launch Event Series, the business benefits and functionality of Acumatica 2018 R2 will be discussed in detail by those who created them. Have a question about 2018 R2? You'll be with the right people who can answer it. Want to have a hands-on experience with the updates? You'll be in the perfect place to do so.
This firsthand look at the practical improvements brought by Acumatica 2018 R2 leads to my second benefit/reason to attend.
2. It's personal
At Acumatica, we don't just sell a product: we offer a comprehensive cloud ERP experience.
Starting with your ERP research and ERP evaluation and continuing throughout your ERP software selection, ERP implementation, and beyond, our team is dedicated to your success by supplying multiple resources and encouraging personal connection. In the process, our partners and customers become a part of the greater Acumatica community resulting in friendships that benefit you both personally and professionally.
Whether you attend our initial Launch Day Event in Boston or choose a city that's part of our Acumatica Launch Event Series, you'll have ample time to network with employees, customers, VAR and ISV partners and to speak directly with our leadership team. This is also true if you attend Acumatica Summit 2019 in Houston, Texas.
Steve Collins, the founder of Collins Computing, Inc., agrees, "The Acumatica Summits are the ideal venue for learning what's new and building relationships within the Acumatica community."
Learning about Acumatica 2018 R2 at Acumatica Summit 2019 and at one of the locations from our Acumatica Launch Event Series allows you to grow your business and your cloud ERP community connections.
3. It's quick
No need to rearrange your entire schedule. You can experience our latest release in a short, half-day format. In just four hours, you'll get the insight you need to fully utilize Acumatica 2018 R2. Here's a look at the agenda:
Registration, Breakfast, & Networking in Partner Showcase
Welcome
Acumatica 2018 R2 Business Benefit Keynote
2018 R2 Functionality Overview/Demo
Break
Special Event: Acumatica Construction Edition Overview and Demo – Take a deep dive on the latest features in Acumatica 2018 R2 Construction Edition and network with your peers and the Acumatica team.
Title Partner Spotlight
Exhibitor Spotlight
Customer Panel
Industry Analyst Panel (Construction attendees rejoin to hear closing analyst panel)
Closing/ Lunch / Peer & Partner Networking
The schedule for the Boston launch event and for the other locations in the series are the same but have different start and end times. Check out our Acumatica 2018 R2 Launch Event Series page for more information.
4. It's close
You won't have to travel far to see our latest enhancements. After Boston, we're hitting the road and coming to a city near you.
Chicago, IL on October 2nd
Columbus, OH on October 3rd
Anaheim, CA on October 4th
Dallas, TX on October 9th
Bellevue, WA on October 10th
Atlanta, GA on October 11th
New York, NY on October 16th
Orlando, FL on October 18th
5. It's FREE
Perhaps this should have been the first benefit/reason. I'm certain you won't find another cloud ERP company willing to provide this level of product education—which includes networking, demonstrations, and lunch—at no cost to you. In fact, providing a cost structure that includes amazing service benefits is standard operating procedure for Acumatica. Our Acumatica service offerings are unique in the industry and available to every member of the Acumatica community.
For example, our partners (those who sell our cloud ERP solution and who are our only channel to market), are enrolled in the Acumatica Partner Program, which provides superlative training and support along with generous margins/terms. For our customers, Acumatica's Customer Portal, Customer Premier Support, annual Summit, Acumatica Open University, numerous YouTube videos in our Acumatica Video Library, and community forums combine to ensure your business succeeds.
Please note that lodging accommodations are not included with our Launch Day Event or Acumatica Launch Event Series.
Advance your cloud ERP success with Acumatica 2018 R2
The Acumatica 2018 R2 improvements are based on user feedback and critique; your assessment of Acumatica cloud ERP combined with our focus on using the latest in technology promises a sustainable and competitive product and platform. If you register for our Launch Day Event in Boston on September 12, 2018 or register for a city included in our Acumatica Launch Event Series, you'll be setting yourself up for impressive gains in functionality, profitability, and customer satisfaction.
I hope you'll join us as we reveal the latest upgrades during our launch events as well as at Acumatica Summit 2019. These events are meant to develop and solidify your cloud ERP knowledge. If you have any questions about them, please contact our team. We'd love to hear from you.