Taking your construction firm to the next level requires running your business in the connected cloud. Acumatica's new, complimentary Whitepaper highlights five things you'll love about the connected cloud and cloud construction software.
With the advent of mobile, cloud-based technology, construction firms can connect their independent systems, share vital project data with workers in the office and in the field, and automate their business processes. For those who are hanging on to legacy ERP systems and manual processes, Acumatica's new Whitepaper, 5 Things You'll Love About Connected Cloud, explores how implementing cloud construction software sets construction firms up for success and drives home the major benefits of the connected cloud.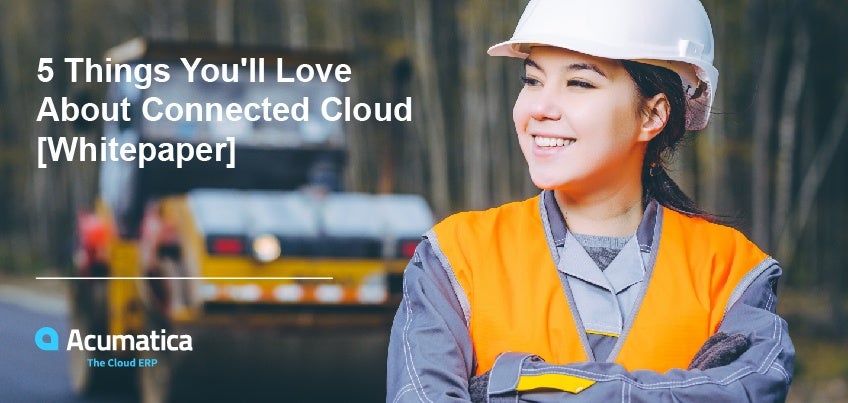 Connected cloud "increases visibility, team collaboration, and profitability"
Construction projects are a sea of overlapping, motion-filled components. If you want to complete them on time and on budget, you must have collaboration between those working in the office and those working in the field. Sharing accurate, timely project data is critical for making strategic decisions and for moving projects—and the business—forward. Unfortunately, running a business with disconnected accounting and project teams results in delayed communication and incomplete information.
"Having a solution that can communicate with other tools was a must. In construction, there are a lot of pieces and moving parts, multiple vendors and subcontractors, and different expenses and financial controls that need to be tracked and communicated in multiple places. Integration is essential," says Bruce Young, co-founder of Curran Young Construction Company, a General Contractor firm located in southwest Florida.
The Whitepaper offers a list of five things you'll love about connected cloud and true cloud construction software. Here's an overview of what connected cloud does for your business:
1. Expands your system's capabilities
Integration between software applications is essential in today's fast-moving, high-expectation marketplace. Thankfully, advances in technology are enabling construction firms to keep up.
Modern cloud platforms allow seamless integration—through the use of secure, open APIs—to other third-party construction solutions, such as Procore, ProEst, and more. Utilizing a single online system and automating business processes (in addition to receiving multi-company, multi-language, and multi-currency support) ensures better business results.
2. Provides the right information at the right time
Flexible cloud construction accounting software offers construction professionals the specific tools and resources they need for the job at hand. Obtaining accurate data when you need it is vital for keeping projects on track.
3. Increases visibility
To fully comprehend what's happening with your business, you must have access to information organization-wide. Cloud technology provides the visibility you need through real-time, customizable dashboards with drill-down capabilities.
4. Eliminates redundant data entry
Redundant data entry: three words that are erased from your vocabulary by cloud construction software. How? The connected cloud allows you to integrate the multiple software applications your construction firm utilizes for estimating, accounting, project management, bid management, and project scheduling. Because they're connected, you don't need to re-enter data into multiple systems.
Even better, implementing cloud-based construction accounting software retires spreadsheets, reduces human error that comes from manual data entry, and saves time across the board.
5. Lets you work smarter and faster
Connected cloud offers construction firms the ability to find answers and information quickly and easily. The Whitepaper offers five specific ways the connected cloud enables you to work smarter and faster.
"With a connected cloud system, field staff and office workers will have the tools they need to communicate properly. Your operations and accounting staff will be able to make sure that both groups have the information they need to make smart decisions," the Whitepaper notes.
Love for the connected cloud
As co-founders of Curran Young Construction, Bruce and business partner Chris Curran embraced the connected cloud. Their mission was to offer the "best-in-class construction services," and they knew they needed modern, innovative, and integrated construction accounting software to help them succeed. They recognized Acumatica was the right choice after being introduced to Acumatica Construction Edition.
With Acumatica's construction ERP, Bruce and Chris have transformed their business by connecting their business applications with cloud technology. This has allowed them to seamlessly integrate with industry-specific applications, communicate and problem solve with mobile access, and eliminate the need for separate software programs.
"Once we made a decision to go cloud, other software couldn't compare to Acumatica's Construction Edition. Being cloud-based takes away the necessity of having servers and infrastructure and their associated operating costs. It was a logical choice," Bruce says.
You can read more about Curran Young's experience with Acumatica Construction Edition in their customer success story. And downloading 5 Things You'll Love About Connected Cloud today will help you research how your construction firm can benefit from the connected cloud through cloud construction software.
Don't hesitate to reach out to our team with any questions about Acumatica cloud ERP, our new and enhanced Acumatica Construction Edition, or the connected cloud.