Our new release – Acumatica 2017 R2 – improves business processes through a number of productivity enhancements. We want you to have the opportunity to learn about these important enhancements and encourage you to upgrade your system in collaboration with your implementation team.
Acumatica 2017 R2 will be released to market the week of October 9th, 2017. I want to make sure you have an opportunity to read about Acumatica 2017 R2 through a series of upcoming blog posts. It's important to us that you understand our enhancements, as they're specifically geared to increasing your business' productivity and growth.
In our Acumatica 2017 R2 launch day event press release, Acumatica CEO Jon Roskill said, "Our existing customers and midmarket companies just learning about Acumatica Cloud ERP will really appreciate the advances in our product."
I agree! In today's post, I'll address business process improvements; stay tuned for our other posts coming soon.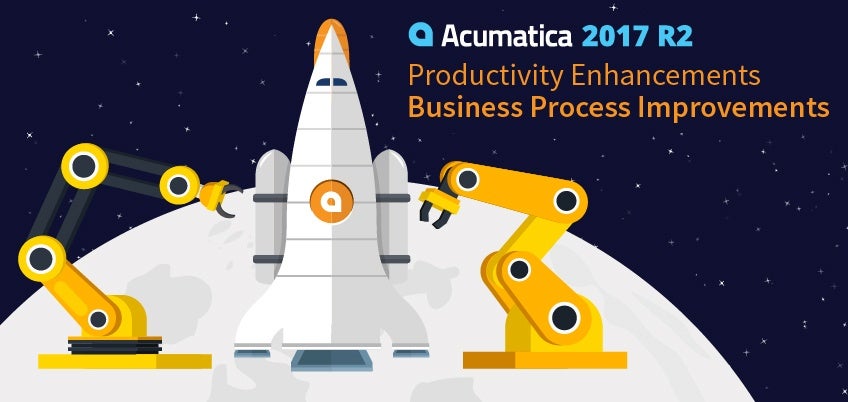 Acumatica 2017 R2 business process improvements: what they mean for you
Our customers – and our potential customers – are always at the forefront of our decision-making. How do our improvements make your job easier? How do the changes we make increase your customer satisfaction and bottom line?
With these questions leading the way, here are our comprehensive business process improvements to our award-winning ERP software, all focused on providing measurable results for you.
Financial Management
Overview: Acumatica's Financial Management software fully integrates with our Customer Management, Distribution Management, Manufacturing Management, Field Service Management, and Project Accounting suites. This integration is imperative if you want your business to remain competitive in your industry by having a "single version of the truth" across your company. Whether you have complex requirements or are part of a smaller organization, our Financial Management suite can streamline your operations, provide a real-time view of your business in a centralized dashboard, and allow you to work locally and internationally, and so much more.
Acumatica 2017 R2 Financial Management enhancements:
Increased flexibility and functionality in closing tax periods for companies and vendors that have multiple branches, such as retail stores, warehouses, or subsidiaries. Instead of being required to close the tax periods for your multiple branches at the same time, you can now configure and define separate tax periods.
New automated multi-level payment approval process allows your companies to purchase and pay for goods and services while adding more control over the cash flow.
Additional security measures have been added for credit card processing. A new API plug-in updates the PCI DSS-compliant integration with Authorize.net. Your sensitive credit card information is not stored in the Acumatica ERP database and we highly recommend you upgrade to Acumatica 2017 R2 to ensure the security of the plug-in.
Easily move selected historical data from a legacy system to Acumatica seamlessly. You can see historical data (A/P and A/R invoices with their detailed line item information) directly within the software.
Distribution Management
Overview: As with the Financial Management Suite, our Distribution Management suite is fully integrated with our other Acumatica modules, allowing you to view and automate your entire organization, manage your sales orders, track inventory, and provide customer support in a mobile format.
Acumatica 2017 R2 Distribution Management enhancements:
Changes in Unit of Measure (UoM) and Pricing make it more flexible for our customers to stock, sell and price by different UoM (such as bottle or case).
A new feature for UoM allows users to specify inventory by their alternate IDs when creating a sales order. And the alternate item's UoM will be used if the default item's UoM is different.
Acumatica now extends item class support. The new tree-like hierarchy allows for parent-child (how the items classes are related) relationships. Defining the default class for stock and non-stock items is now possible, as well.
When changing prices on items, the Price Adjustment feature now automates updating prices for other UoM.
In sales order entry, users can also identify sales prices by warehouse (any location) and by alternate IDs. This provides the ability to compare pricing in the ordering process.
Field Service
Overview: Acumatica Field Service Management has been a part of Acumatica ERP since 2016; this means the user interface and the web-based and mobile applications communicate effortlessly. Customer service and satisfaction increase when businesses are able to monitor and view every activity, as well as access customer information and product history in real-time.
Acumatica 2017 R2 Field Services Management enhancements:
Users can easily track detailed equipment components and their warranties through the upgraded software. For example, if you have a large A/C unit, you can track the A/C unit's warranty as a whole along with the warranties (including labor and materials) for each separate component of the unit, such as the compressor.
Users have had automated service orders for recurring contracts. Now we also have an automatic appointment feature, to define frequency and start times, that your service personnel have been waiting for.
Appointment cloning allows workers in the field to copy the same type of appointment easily, quickly, and automatically for the customer.
Bing Maps has replaced Google Maps. This switch provides users with a lot more functionality including recording travel time, exact locations, and the start and finish of appointments while still providing the quickest routes for the field service personnel.
Acumatica 2017 R2: take a close look
With all the listed enhancements, I urge you to take the time and check out our latest release. Much of them are explained in more detail on our site www.acumatica.com. If you have questions about any of the new features, please contact us and we'll be happy to go through everything one-on-one.
Another way to have one-on-one time with our team here at Acumatica is to attend Acumatica Summit 2018. There's still time to get our early bird pricing for our yearly, cloud ERP event coming January 28 through February 2, 2008 in Nashville, Tennessee. I always enjoy the time I get with our community of customers and partners at the Summit and this year's event is shaping up to be not only educational but also a lot of fun. I hope you'll register now and join us!