Acumatica's new release has brought some significant changes to Acumatica CRM and it's important to us that our customers and partners have the opportunity to learn about them. We believe combining sales, marketing, and customer service with financials in a single location – the definition of fully integrated CRM and ERP – is the way to a more efficient and profitable business.
Acumatica 2017 R2 has been announced and we hope our Acumatica community is as excited as we are for its release to market the week of October 9th, 2017! The launch day event in Boston was filled to capacity and our roadshow city events showcasing our new release have had amazing turnouts so far. If you were not able to attend any of these events, we urge you to register now for Acumatica 2017 R2 Roadshow before it's too late; this is a great way to learn about our enhancements firsthand.
In addition to the roadshows, we feel breaking down the specific enhancement details through a series of posts is beneficial to our current and future users. Today we'll address Acumatica CRM and various marketing enhancements. You can view our other posts about additional enhancements in 2017 R2 in the coming weeks.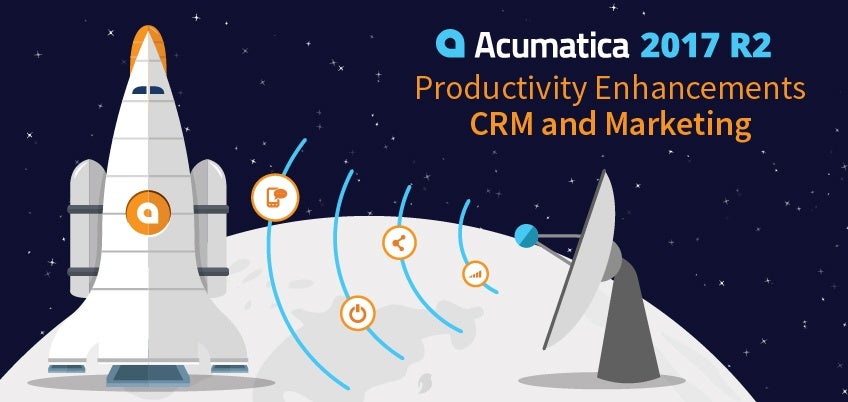 CRM: The beginning
Do you remember the days when CRM (Customer Relationship Management) first came on the scene? John Grande of DimeSoft Business Solutions remembers, and it's not a fond memory.
As he says in his ERP and CRM integration blog, the concept of CRM as a way to monitor sales activity, sales funnels, follow-ups, communications, and support cases seemed to be the solution everyone had been waiting for. It was a way to keep sales reps and sales management on the same page from beginning to end. Except, it didn't work. Users quickly found out they still had to go into their separate accounting system or their Outlook account to view their customers' activities, histories, and any other information not found in CRM.
Because of this inability to get important information in one place, Grande points out that sales reps formed two distinct groups: those who used it "grudgingly" and those who said no way. The result? Inaccurate reports and forecasting, team members at odds with one another, and disappointment in a solution that wasn't meeting the hype.
Ultimately, stand-alone CRM was a tool that was best left in the technology toolbox.
Enter fully integrated CRM
CRM was built into Acumatica from the beginning making the issues Grande talks about obsolete. Acumatica CRM is a solution that fully integrates with ERP systems and allows you to manage your customer information from a consolidated, single location providing users with a 360-degree, real-time view. Sophisticated reporting tools, integrated marketing, automated sales and workflows, power BI built into role-based and customizable dashboards, access to financials, and improved customer support and service are all value-driven reasons to look at Acumatica CRM as a way to streamline your customer management needs.
Janet Talley, ERP Consultant for Acumatica and Sage at Milestone Information, also addresses the importance of integrating CRM and ERP in a guest blog post. She points out that when the usability of any CRM is poor, then the result is software adoption failure.
Integrated ERP and CRM, such Acumatica CRM, provides users with a positive, user-friendly experience and many other benefits including:
Consistent, modern look and feel across all applications due to the single user interface (UI)
Integrated financials, marketing, sales and service
Complete data sharing between the two systems allowing the customer's journey to be documented from the beginning to end along with eliminating duplicate data entry tasks
Employees and customers receive real time information at the push of a button; service reps can quickly and efficiently provide status, inventory levels, shipments, order history, and more while customers have access to their own Customer Self-Service Portal
Acumatica CRM Add-In for Microsoft Outlook allows users to track correspondence, add emails to appropriate accounts, support cases, or opportunities and also allows users to create leads, support cases and opportunities directly from the emails, all of which are automatically shared with ERP
Sales managers receive a 360-degree view into the customer lifecycle and the sales process along with improved analytics and ability to detect trends (and more), all in real time
With these benefits, one may wonder what there is to improve, but we believe the best technology can always get better.
Acumatica CRM enhancements
Here are the enhanced features for Acumatica CRM, geared towards increasing your business' efficiency and productivity:
Marketing Lists: Improved marketing lists for better tracking and analysis using both static and dynamic lists. With dynamic lists, you are able to generate a generic inquiry for a particular set of information, select the data you need, assign them to the dynamic list, and the information is then automatically fed to your members.
Lead Tracking and Campaign Management: Improved lead tracking and campaign management, where you can associate activities with a campaign. As well, you can have activities that can be associated with a specific campaign, associate a new lead directly into a campaign, and track the success of campaigns while moving them through their cycle. "Statuses" have changed to "stages" to better align to the sales funnel from prospect through deployment. Now, instead of one set of cycles for your stages, you can define different stages based on the type of opportunity. Utilize our HubSpot integration to integrate marketing campaigns to your marketing automation system.
Real-time Synchronization with Salesforce: Bi-directional, real-time synchronization of data (opportunities, contacts, customers, cases, etc.) between Acumatica ERP and Salesforce CRM is now as easy as hitting the refresh button.
Acumatica CRM fulfills the hype
If you're still using a CRM that is unfriendly to users, unable to communicate and consolidate with your ERP, or even still exporting important information from Excel, then you're not using the power of integrated CRM and ERP. The ability to access and analyze important data immediately from multiple business systems, to have a complete view of (and complete information about) a contact's journey from prospect to customer, and to be able to empower your employees and customers with accurate, real-time information is crucial to the success of your business.
Can you tell we're excited about the endless possibilities you can experience with our enhanced Acumatica CRM? We hope so! We also hope you'll contact us so that we can answer any questions you may have.
And before you go, just a friendly reminder that Acumatica Summit 2018 is coming January 28 through February 2, 2018 in Nashville, Tennessee. It's not too late to get early bird pricing but you'll want to register soon so that you can have first dibs on the training session that fill up fast! I'll see you there.