Let's continue to dive into Acumatica 2017 R2 and the many improvements it brings to the table. Cloud ERP productivity enhancements, such as in our Project Accounting Suite and in our integration with Smartsheet, continue to provide our customers with the ability to compete, and succeed, in our multicloud world.
I'm excited to jump into our topic today: Project Accounting improvements and our new integration with Smartsheet, recently announced as part of Acumatica 2017 R2. The upgrades and the addition of Smartsheet as an Acumatica Partner reflect the value we place on providing the best cloud ERP to our current and future customers. This is the third in a series of posts focusing on Acumatica 2017 R2 enhancements and how they benefit you. If you missed the first post, go here to read about the CRM and marketing productivity enhancements. You'll find the second post here, laying out the business process improvements in Acumatica 2017 R2.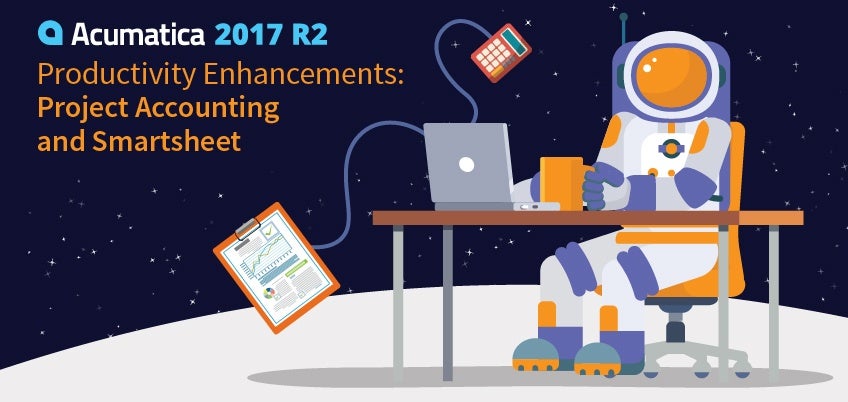 Project Accounting upgrades
As you may already know, our Project Accounting software integrates with General Ledger, AP, AR, Sales Orders, Purchase Orders, Inventory Management, and the Time and Expense mobile application – all of which contribute to efficient and productive business processes. Acumatica 2017 R2 includes a number of upgrades to our Project Accounting suite, but though extensive, they do not require you to re-learn the program; there are many similarities to what you already know. You can expect the changes to be user-friendly and highly functional.
Let's look at these valuable enhancements, which simplify and add more value to our Project Accounting suite:
The budget is now split into two parts: Revenue Budget and Cost Budget. The revenue budget can be defined by task or by task and item (an extra level of detail for large projects). A cost budget line can be linked to a revenue budget line. These links give users flexible profitability analysis by the revenue structure, which may not exactly match the cost structure. The project balances and profitability can now be easily analyzed in multiple dimensions by means of pivot tables created on top of budget records.
Commitment tracking is also now available. When a large project is underway, it's essential that you can view your budget commitments, the connected Purchase Orders, negotiated rates, and on. It's as easy as clicking on the corresponding boxes and gathering all your information in one place. It's the only way to do project costing for any projects lasting longer than a couple of weeks, and allows you to monitor potential cost overruns.
No matter how simple your project, you still have milestones you need to track and charge for. Progress billing for both Time and Material and Fixed Price is now available.
A new billing workflow means you no longer need to configure the allocator to do the billing. Because the billing engine is now separated from the allocation engine, you can do simplified billing for simple projects that don't require complex calculations.
Part of this new billing workflow includes Proforma Invoices; this allows you – not just the Accounting Department – to review and edit the invoices before they reach your customer.
Along with these billing workflow changes, we've simplified rate configuration. For less complex systems, you will now be able to set up simple rates for your resources quickly in your resource screens and they will flow into the simple billing workflow.
The benefits of tracking project costs, flexible billing options, extensive budget reporting capabilities, and a complete, real-time view of your business are yours when you implement Acumatica's Project Accounting suite and take advantage of the enhancements provided by Acumatica 2017 R2. You'll also have the benefit of learning about our new Partner, Smartsheet.
Smartsheet integration
Acumatica delivers a large number of transaction-driven business processes for project centric business as describes above. However, in those types of business, scheduling resources is a critical component to the success of the projects. We have found that the best people to do that are the ones supervising the projects, which are typically not the back-office staff. The resource supervisor could be the project managers or supervisors. They may, or may not be on site.
Because of that we have decided to partner with a cloud visual scheduling provider. This would allow us to provide the very best back-office and project costing tool that would work with an excellent resource scheduling tool.
Smartsheet is a true SaaS solution (cloud and mobile) specializing in visual resource scheduling. As with our partnerships with DocuSign last year and Adobe Sign this year, our Smartsheet integration allows you to combine Acumatica with specialized applications through our cloud ERP hub. This is part of our multicloud mindset: Acumatica cloud ERP as the central system-of-record between multiple cloud environments. Smartsheet is both very easy to learn and to use; it's also priced well for small to midsize businesses (SMBs).
Let's look at how to use Smartsheet in conjunction with Project Accounting:
The process starts in Project Accounting: The Project Manager or Accountant enters in the basic project info (name, budget, etc.) and selects a standard template, or enters primary tasks, standard subtasks, initial start and stop dates. Once saved, with one click the initial sync with Smartsheet is completed within seconds.
When the field supervisor opens their Smartsheet workspace, the new project will appear. They can see all the tasks and subtasks created in Project Accounting.
It's possible to make changes – in both systems – to tasks and subtasks. But, typically those will be made by the supervisor. Additionally, they can add resources, change durations of tasks, add dependencies, and most importantly rearrange tasks or the duration of the project by grabbing and dragging the task to make it longer or shorter.
When the project is added to the Acumatica Scheduler, it will sync the two systems as frequently as require.
Project workers use their mobile devices to enter timesheets, expenses, and requisitions into Acumatica, and the information becomes accessible in Smartsheet.
In summary, all transaction based business processes (Purchase Orders, Expenses, Billing, AP, AR, reporting, etc.) take place in Acumatica and the resource scheduling needs (project schedule, milestones, dependencies, resources) occurs in Smartsheet; updates are shared between the two. The systems integrate with the express purpose of streamlining your project business processes and providing a complete and updated view, all of which increases customer service and satisfaction.
Read from the analysts about Acumatica 2017 R2
Acumatica 2017 R2 makes a difference
Acumatica 2017 R2 has provided many improvements to a number of Acumatica ERP Cloud suites, offering our users the opportunity to differentiate themselves from their competitors. My hope is that you will take advantage of these improvements to do just that and to continue accelerating your business in our multicloud world.
And I hope you'll take advantage of our early bird pricing for Acumatica Summit 2018, coming January 28 through February 2, 2018. Register now and celebrate with us as this year marks Acumatica's 10 Year Anniversary! I expect it to be a big celebration as well as a great time of collaboration and learning.