At Acumatica, we never want to take for granted the resources you need for your business to succeed. That's why we're constantly working to improve our award-winning Cloud ERP offering and keeping you at the forefront of our decision-making, just as we did in our most recent improvements with Acumatica 2017 R2.
As the final post in our series focusing on Acumatica 2017 R2 improvements, I may have saved the best for last. Having said that, I do believe the previous posts on CRM and Marketing enhancements, business process improvements, and Project Accounting and Smartsheet integration are all equally important and filled with information about Acumatica 2017 R2 that you will find beneficial, including how implementing our new release can accelerate your business. Our goal in providing continual improvements is to offer you the ability to increase your customer satisfaction as well as your profit.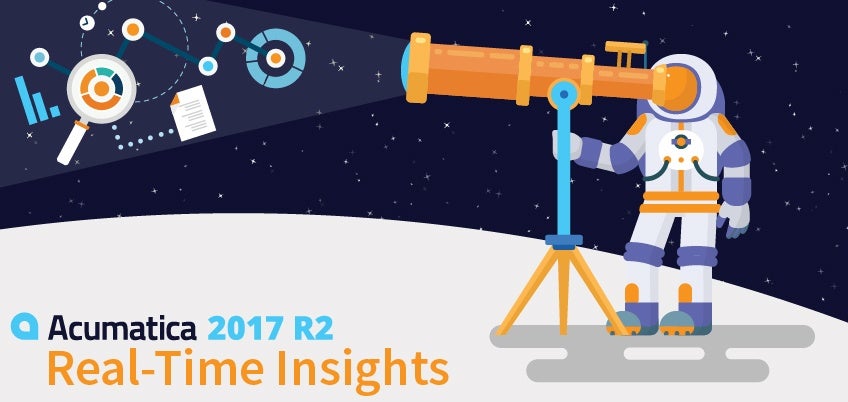 Real-time insight improvements: what they are and why they matter
Gaining real-time insights and visibility into your business processes is essential to the success of your business; you don't have time to wait for crucial information when technology advancements, such as mobile capabilities, push for immediate response.
With that said, here are the Acumatica 2017 R2 improvements affecting real-time insights:
Push notifications sent by Acumatica ERP can be processed by external applications, allowing them to track data changes in real-time; the push notification also eliminates the constant reminders of ongoing changes. This insight and visibility enhancement is important for businesses trying to keep up in the fast-moving marketplace.
Our new, more personalized user interface (UI) allows you to configure the menu screens and dashboard to your preferred processes and easily access the forms you use most. Instead of suites and modules, you now have workspaces that combine forms and reports using the navigation pane, links to forms, and tiles (links with additional parameters to forms).
For overall productivity, the assigned Administrator has the ability to organize the "standard" user interfaces as he or she sees fit, including pinning and unpinning workspaces on the navigation pane, adding and removing links to forms, and managing the tiles in a workspace. Every user, not just the Administrator, has the ability to personalize the interface, including the ability to add his or her most frequently used forms to Favorites.
You'll also find the universal search function is further improved and that you can configure Quick Menu items to your specific needs, eliminating the time it takes to find things through the Full Menu option.
Predefined dashboard packs are now available and downloadable. You'll be able to pick and choose from different role-based dashboards such as project dashboards, service management dashboards, warehouse management dashboards, and many others.
Users will be able to use list entry points across the entire application. This means that if you're looking for sales orders, invoices, or accounting transactions in a data entry screen, you will now be presented with a list of these items and can quickly create or search for what you're looking for directly from these entry points.
Create custom online reports using Acumatica Generic Inquiries. Simply request the data you need and our query tool allows you to see tables and field names; you can easily gather the data together then apply filtering, sorting, and grouping options. Find more information on reporting enhancements in our Product News from Acumatica Cloud ERP.
As a way to improve efficiency, productivity, and profitability, Acumatica focuses on the user's experience with ease-of-use and flexibility underscoring our improvements.
Implement Acumatica 2017 R2, experience the benefits
Every Acumatica Cloud ERP customer, whether current or future, has the opportunity to implement our newest release and reap the many benefits that come with it. Let's quickly recap these Acumatica 2017 R2 benefits: the enhanced business processes within a number of our product suites provide a more efficient and productive system; the Project Accounting and Smartsheet integration provides a cloud-based and mobile resource management tool that communicates changes in real-time and effectively manages projects; and insight improvements provide a new user interface, reporting enhancements, and data exchange in real time.
If you have any questions about Acumatica 2017 R2, you can find answers in two easy ways: contact us here at Acumatica and attend our upcoming Acumatica Summit 2018, January 28 through February 2, 2018. Our annual cloud ERP event is filled with trainings, keynote speakers, experts, a tradeshow, and much more. The location – Nashville, Tennessee – has a variety of fun things to do and see. Register today and get our early bird pricing. I promise you, it will be time well spent.