Today, we reveal our Acumatica 2018 MVP Program winners. If you've ever been nominated as an Acumatica MVP, then you're someone who has donated your time, energy, and support to the success of the Acumatica community, and we appreciate everything you do.
We've reviewed the nominations for our Acumatica 2018 MVP Program and selected the winners. I never tire of seeing who the nominees are (thank you to those who nominated someone!) and reading why their peers, Acumatica employees, or they themselves feel they deserve this recognition.
Our MVP program emphasizes what lies at the heart of Acumatica: Community. It was created to show tangible appreciation to those community members who go above and beyond. This means they actively participate in growing and improving Acumatica's cloud ERP solution by engaging in our various webinars and forums (Stack Overflow, LinkedIn, and GitHub), attending our annual Summits (there's still time to register for Acumatica Summit 2018!), and freely, consistently, and unselfishly offering their insights and knowledge they've earned in the cloud ERP trenches.
This year, we included nominees from a very important part of our team, our Developers! As well, we've increased the number of awardees for the Acumatica 2018 MVP Program.
These individuals work for the success of their fellow customers and partners; they foster the community mindset and contribute to the amazing growth we have experienced through the years.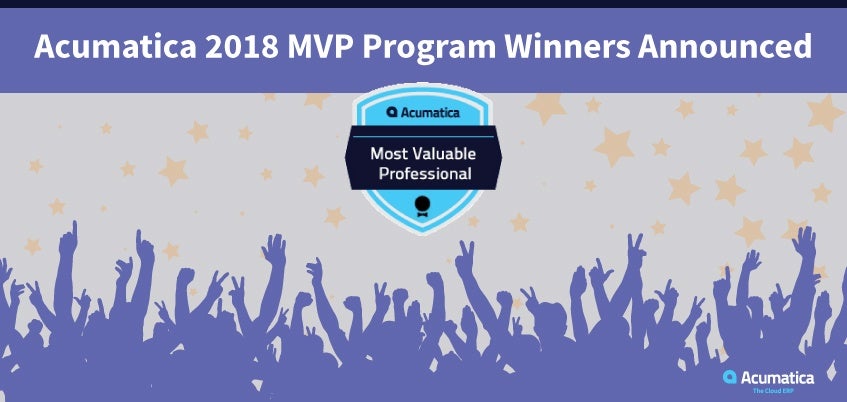 A
Who are the winners of the Acumatica 2018 MVP Program?
Without any further delay, here are our Acumatica 2018 MVP Program winners, carefully selected by a core Acumatica team:
MVPs with focus and contribution to the community on Acumatica Cloud ERP:
MVPs with focus and contribution to the community on Acumatica Cloud xRP platform. This includes the list of our specially designated Developer MVPs:
Congratulations! We can't thank you enough for your contributions that have directly influenced the success of Acumatica and our community. Your willingness to share your expertise, answer other customer and partner questions, and offer your feedback we use to advance our platform and products is invaluable.
What are the benefits of being an Acumatica 2018 MVP Program winner?
The effort it takes to make your own business succeed is big, but to extend that effort to include the success of other Acumatica community members is immense. Like our 2017 winners, our Acumatica 2018 MVP Program winners put forth this extra effort and deserve credit for their selfless service as well as to receive the following benefits:
Discounted or Free Registrations to Acumatica Summit 2019
A recognition ceremony and token of appreciation given by Acumatica CEO, Jon Roskill, and myself during the Summit's Welcome Reception
An Acumatica MVP Badge or Acumatica MVP Developer Badge, which can be displayed on profile pages, social media, resumes, and third-party forums
The opportunity to write guest blogs for the Acumatica Development Network (ADN) and attend quarterly synchronization meetings
Our Developer MVPs will also participate in our Stack Overflow, LinkedIn, and GitHub forums, answering questions and submitting sample codes. To encourage friendly competition, we'll be recognizing Developer MVP contributions in a leader board format, with the leaders acknowledged quarterly.
Would you like to meet our inspirational MVP winners?
If you'd like to have the chance to visit with our Acumatica 2018 MVP Program winners, then you'll want to register for Acumatica Summit 2018. As you read, the winners will be able to attend the Summit at a reduced rate and will receive recognition at the Welcome Reception. Their avid support of Acumatica is clearly exhibited in everything they do, and this is a great opportunity to network with them.
Join the winners and the rest of the Acumatica community as we continue to accelerate our success in the cloud via expert-led training tracks and breakouts, inspirational speakers, and fun entertainment. It will be time well spent!
And feel free to contact us if you have any questions about joining the Acumatica community as a valued customer or partner.