Nominating and awarding members of the Acumatica community as Acumatica MVPs is one of our favorite things to do, and it's finally time to reveal the 2021 winners.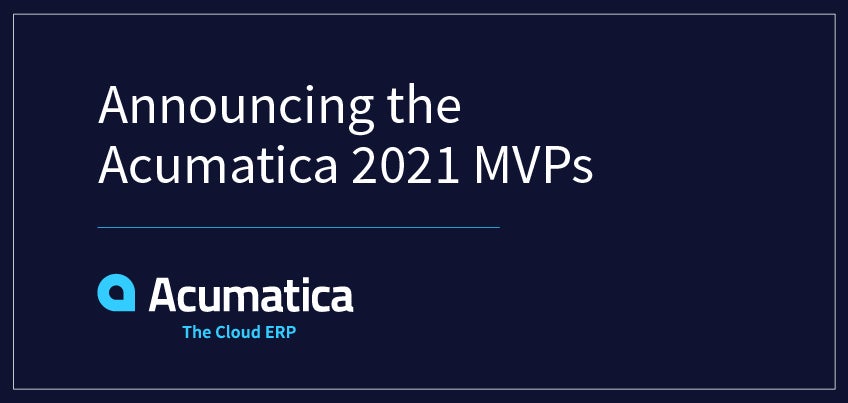 Acumatica 2021 R1, Acumatica's latest release, and our Virtual Launch Event are upon us. As we anticipate the functionality improvements and product updates brought by Acumatica 2021 R1, we decided this was also the perfect time to announce the much-anticipated Acumatica MVPs.
How do you become an Acumatica MVP?
An Acumatica MVP (most valuable professional) can be likened to sports MVPs (most valuable players). Take baseball. Starting in 1931, Major League Baseball (MLB) has recognized two outstanding players, one in the American League and one in the National League. The Baseball Writers' Association of America (BBWAA) determines who the winners are postseason and announce the results after the World Series.
The Acumatica MVP Program is similar. We award two badges: Acumatica Product MVP and Acumatica Developer MVP (Acumatica developers were added in 2018 for their dedication and contributions to the Acumatica Cloud xRP Platform and to the Acumatica developer community). Like the BBWAA, we have a core group of Acumatica team members who determine the winners.
However, unlike baseball MVPs, Acumatica MVPs are nominated by their peers or by themselves. Customer, partners, and developers reflect on who they've seen passionately commit themselves to using and improving Acumatica's cloud ERP solution and then nominate them for consideration.
Specifically, Acumatica MVPs are front and center in the Acumatica Community Forums as well as in our other dedicated forums, including Stackoverflow, LinkedIn, and GitHub.  They regularly attend our Acumatica events, such as our Launch Day/Roadshow events and our annual Acumatica Summit. Being a team player by engaging with the Acumatica team, providing their real-life insights into how to improve Acumatica's already award-winning cloud ERP software, and freely offering encouragement and advice to their fellow Acumatica users round out their MVP credentials.
Who are the Acumatica MVPs?
Following are the 2021 Acumatica MVPs.
Product MVPs
Mary Abdian, SWK Technologies
Mike Aichinger, Crestwood Associates
Nikki Alsop, Vaughn Bay Construction
Gregory Archambault, BHE Consulting, Inc.
Art Ardolino, EIS Consulting
Michael Augello, i-Tech Support
Alec Baghdasaryan, Information Integration Group, Inc.
Patrick Baker, Constructive Business Solutions
Justine Bangert, Bangert, Inc.
Colette Bashir, Alliance Solutions Group
Kurt Bauer, i-Tech Support
Patty Benitez, APS Payments
Tiffany Bennett, Crestwood Associates
Patricia Bennett, PC Bennett Solutions LLC
Tim Birdseye, Hope Builders
Melissa Blassingame, Crestwood Associates
Naveen Boga, Kensium Solutions
Ben Bratland, SPS Commerce
Ryan Brown, xByte Technologies
Kelly Burns, M3 Technology Group, Inc.
Francisco Callegari, BDO
James Carroll, Advanced Solutions & Consulting Co
Tadeo Castillo, ClandBus S. de R.L. de C.V.
Pat Chappell, Strategies Group
Christopher Cleary, Proserve Solutions, LLC
Steve Collins, Collins Computing, Inc.
Sharon Conkey, Dynamic Tech Services
Kevin Cox, NWS Inc.
Justine Crowley, Cloud 9 ERP Solutions
Ehren Dimitry, Panova
Yuri Dorovskikh, OFS International LLC
Mike Duberstein, SWK Technologies
Derrick Elledge, Power Storage Solutions
Chris Eng, Bangert, Inc.
Ron Fairchild, Texas Scenic Company, Inc.
Thomas Finney, Shoebacca
Brian Fletcher, Eclectic Innovative Solutions
Randy Forkner, Collins Computing, Inc.
Jeffrey Franklin, TrueCommerce
Rahul Gedupudi, Kensium Solutions
Mike Gifford, Crestwood Associates
Joni Girardi, DataSelf Corp.
Joel Gress, Dynamic Tech Services
Timothy Grice, Advanced Systems Group, Inc.
John Gwaltney, Pool Source LLC
Jeff Hamilton, Roberts Glass
Charles Hutchinson, InSync Healthcare Solution LLC
Gary Jensen, WAC Solution Partners
Ralph Kubek, eWorkplace Apps
Ming Kwan, Onni Group
Jason Leveson, Somerset CPAs and Advisors
Mike Lisi, PostcardMania
Salvador Vilchis Mackay, Santandreu Home Center
Julia McCarty, Advanced Systems Group, Inc.
Koy McDermott, Big Commerce
Gregg Mercede, Cloud 9 ERP Solutions
Reinaldo Mesquita, Hartzell Construction
Rafael Mijares, Cloud Info & Systems MCM, SA de CV
Michael Mullin, Integrated Business Systems, Inc.
Dave Munson, Saddleback Leather Co.
Tim O'Sullivan, PC Bennett Solutions LLC
Jaclyn Patterson, Focus Design Builders LLC
John Pavain, MaxQ Technologies, Inc.
Guillermo Pineda, Crestwood Associates
Jeremy Potoka, SWK Technologies
Andrew Rashid, Alliance Solutions Group
Eric Ratte, Les Services Sipd Inc
Abdul Rehman, Netsense Business Solutions
Tina Renner, Blytheco LLC
Tim Rodman, AUGForums.com
Kevin Ruppert, Blytheco LLC
Chris Sandford, Classical Conversations
Harsha Sarjapur, InfoSourcing Inc
Colleen Schils, Crestwood Associates
Daniel Schwartz, NexVue Information Systems
Meg Sebastian, Sebastian Tech Solutions
Shawn Slavin, ITA
Rick A Stefanone, Kensium Solutions
Vijay Ural, Tayana Solutions
Shel Waggener, American Asphalt
Michael Wansor, JCM Associates
Shannon Ward, Aktion Associates
Glen West, Alliance Solutions Group
John Wiebke, Envelop Group
Developer MVPs
Jean-Claude Abela, Computime Software
Sharif Ahammad, Kensium Solutions
Fernando Amadoz, SkyKnack
Stéphane Bélanger, Asgard Alliance Software
Joseph J. Caruana, Computime Software
Diane Cawley, Savant Software
Patrick Chen, SPS Commerce
Chris Hargrove, NextTec Group
Gerhard van den Heever, Astraia Technology
Kulvir Kaila, The Answer Company
Gabriel Michaud, Velixo
Samvel Petrosov, Information Integration Group, Inc.
Keith Richardson, Haun Welding Supply
Nicole Ronchetti, DSD Business Systems
Terry Sample, AIM Solutions, Inc.
Brian Stevens, SETECH Supply Chain Solutions
Joshua Van Hoesen, ASI
Marco Villaseñor, Interastar
Robert Waite, APS Payments
Yuriy Zaletskyy, Kensium Solutions
Congratulations to all our Acumatica MVPs who hit it out of the park every time. We can't thank you enough for generously contributing your time, effort, and expertise to the Acumatica community.
What benefits do Acumatica MVPs receive?
There are some specific benefits of being an MVP.
Winners receive an Acumatica MVP Badge or Acumatica Developer Badge, which they can display on profile pages, social media, resumes, and third-party forums. They participate in our Stack Overflow and LinkedIn forums by answering questions (recognizing Developer MVP contributions in a leader board format with the leaders acknowledged quarterly). Developer MVPs write guest blogs for the Acumatica Development Network (ADN), present at developer events, and attend bi-monthly meetings. And they all receive a token of appreciation from Acumatica CEO Jon Roskill and Acumatica EVP, Products and Chief Strategy Officer Ajoy Krishnamoorthy during our annual Acumatica Summit.
Less tangibly but no less importantly, MVPs can be proud of the work they've done to not only grow their own business but help others in the community do the same. As baseball legend and MVP Babe Ruth is quoted as saying, "The way a team plays as a whole determines its success. You may have the greatest bunch of individual stars in the world, but if they don't play together, the club won't be worth a dime."
Acumatica would not be the best business management solution on the market today without these individuals and the entire Acumatica community coming together as a team. If you would like to learn more about either becoming a member of the Acumatica team or about our cloud-based ERP solution, contact us at any time.
And if you would like to find out who made the Acumatica MVP list in the past, check out the announcements from 2018, 2019, and 2020.