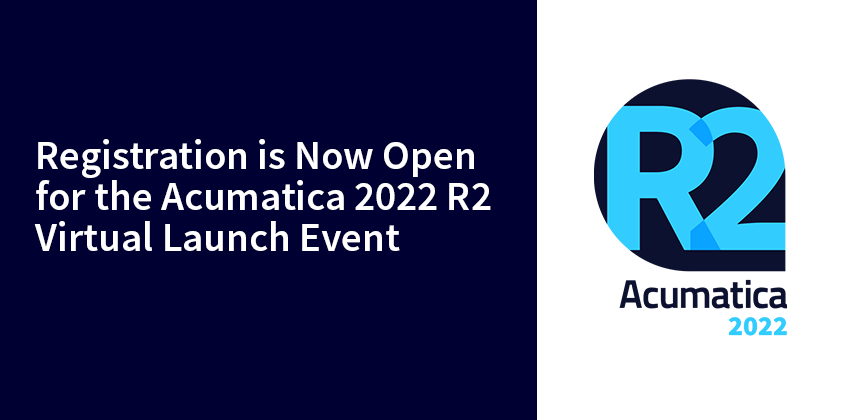 The Acumatica 2022 R2 Virtual Launch Event is scheduled for Thursday, September 22, 2022, at 10 AM PST, and we couldn't be more excited to reveal the enhancements made to our cloud ERP platform in our second annual release of the year. Registration for the virtual event is now open.
3 Reasons to Attend the Acumatica 2022 R2 Virtual Launch Event
If getting a detailed and firsthand look at Acumatica 2022 R2 isn't reason enough to set aside time in your busy day, then here are three more reasons:
The event is only one hour long.
It's loaded with exciting new features ranging from usability enhancements to platform features to Financials capabilities to industry-specific enhancements.
Acumatica team members will demonstrate the new features and will also answer any questions live.
Ensuring high usability for our users while cultivating strong relationships is a top priority for us, which makes our earning the highest score in G2's Mid-Market Relationship Index Report and G2's Mid-Market Usability Index Report for Summer 2022 particularly gratifying. We were also awarded the Best Relationship Badge and the Best Usability Badge based on customer feedback regarding our ease of doing business, quality of support, and usability.
Join Us at the Acumatica 2022 R2 Virtual Event
Register today for the Acumatica 2022 R2 Virtual Event. It's an opportunity to learn more about the new features and functionalities found in our latest release and how they are designed to help businesses prosper even in uncertain times.
It's also an opportunity to provide feedback on the pros and cons of our cloud ERP software. User feedback is the backbone of our product, and we appreciate—and utilize—users' candid reviews, such as the one provided by Acumatica customer Elena Mheidze, CFO, Erickson International:
"Acumatica's user interface is absolutely fantastic, engaging, and intuitive. If you are moving between screens or places, it gets you back to the same place—you don't have to retype or remember something. Acumatica is very dynamic and intuitive and customizable; all our users are happy."
She also says, "If you are a midsized business that desires to grow and has the need to unify your locations, Acumatica brings this amazing gain; it connects people. In today's world, we need communication, and Acumatica provides the ability to have information at your fingertips that's unified and delivered fast. Acumatica has everything I need."
That's our goal: to provide everything you need within one solution. Join us at the Acumatica 2022 R2 Virtual Event to learn more.
If you have any questions about the event, Acumatica, or our cloud ERP solution, contact our team today.