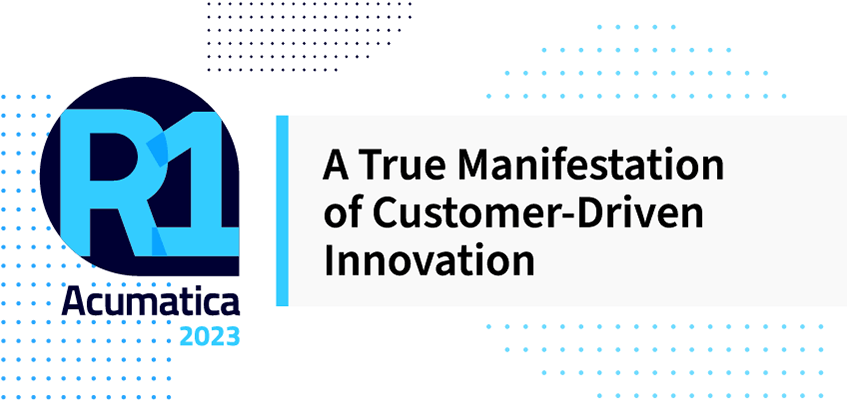 We're excited to announce the general availability of Acumatica 2023 R1, our first release of the year. It marks a significant milestone in the evolution of Acumatica Cloud ERP as we deliver the latest capabilities and features. Now, every Acumatica customer has access to the newest updates, significant improvements, and key enhancements this special release has to offer.
We provided a glimpse of Acumatica 2023 R1 at Acumatica Summit in Las Vegas earlier this year, and today, we're delivering a host of new functionality, refinements, and features, and reimagining existing capabilities that will benefit businesses across every industry.
However, before we dive into some of these enhancements, we want to highlight how our customers have provided valuable input through "customer-driven innovation," which is the foundation for every cloud ERP release we produce.
Acumatica's Customer-Driven Innovation
As we develop each release, we're not only focused on delivering new functionality, we're also fine tuning them based on constructive customer feedback, which allows us to take existing functionality further. This is a process we call customer-driven innovation.
Our product roadmap is guided by customer input from various processes and channels including industry user groups, customer advisory boards, focus groups, customer visits, and online voting. We take specific suggestions coming from our ideas portal and implement those that deliver benefit to the broader Acumatica community, helping customers solve real-world problems and create greater efficiencies. For example, delegating or handing off approvals to a coworker—and making it easy to turn on and deactivate—is now possible in Acumatica 2023 R1 thanks to user feedback.
We're continually introducing new technology based on the way some customers are using features. One example is Acumatica customer Curran, a manufacturer of flooring and home furnishings.
The manufacturing company—which mostly operates in the US but manufactures products in Europe—needed to automate their European operations and expand sales globally with multiple base currencies. With their needs in mind, we were able to provide a single tenant that covered both the US and Europe entities, making reporting much easier as well as helping them share configurations, customers, numbers, and inventory data across the entire organization.  While this helps Curran solve a specific challenge, this is also a benefit available to all of our customers.
Fabuwood is another example. Based on the feedback of this leading kitchen cabinet manufacturer and Acumatica's 2018 Customer of the Year, we saw the need for MRP Display Screen side panels and added them in Acumatica 2023 R1.
Consistent with our commitment to act on customer input in product development, we are introducing in Acumatica 2023 R1 experimental and controlled release features, which enables you to test new capabilities and provide feedback. We'll apply your feedback to perfect these features, including Special Orders, SendGrid Templates, and a transformed Microsoft Teams integration. The program also introduces Acumatica Payments, a modern approach to the ever-changing payment landscape, which will be available in the second half of 2023.
By getting your feedback, we're able to offer the features and capabilities you want and need in future updates.
With all of this in mind, let's take a look at some of the Acumatica 2023 R1 upgrades and features.
Acumatica 2023 R1 Product Upgrades and New Features
Acumatica 2023 R1 empowers users with exceptional usability, evolves businesses with an intelligent platform, and enables them to dominate vertical segments with industry-focused functionality. Here are some high-level summaries of each area.
Exceptional Usability: Acumatica 2023 R1 includes out-of-the box panels and dashboards, streamlines processes, and simplifies configuration and setup. This allows you to get information when you need it, run processes with fewer clicks, and achieve value faster. Additionally, help files are easier to access—which means you get the help you need when you need it—and you can expect a more forgiving experience with improved error checking and better error messages.
Intelligent Platform: Our open architecture enables rapid integrations, allowing you to extend applications with artificial intelligence and machine learning. In Acumatica 2023 R1, we have also strengthened global operations by retrieving values in any language, streamlining AP processes, and enabling additional workflow capabilities.
Dominate Vertical Segments with Industry-Focused Functionality: The Acumatica 2023 R1 updates for each of our industry editions, including Construction, Manufacturing, Distribution, and Retail, are tailored to help businesses in each of these industries succeed. These enhancements include streamlined counter sales and reporting along with side panel access to purchasing, sales, inventory, and manufacturing from data entry screens.
Much work goes on behind the scenes with each of these features. Our ongoing goal is to make our technology seamless for you as a user—so much so that you are unaware of the technology that makes our innovative cloud ERP software work.
In the coming weeks, my colleague Divya Ganesh will be sharing more details in each of these three product areas. Look for her first blog on exceptional usability soon.
Acumatica 2023 R1 Designed for Growth
It was exciting to share some of these new features and capabilities with our community of customers and partners at Acumatica Summit 2023 in January, and it's even more exciting to make these new innovations available to all Acumatica customers today.
These advancements are designed to help companies grow in today's challenging economic environment. And based on the input we've gotten through our extensive channels, these enhancements will help our customers address their real-world needs—the essence of true customer-driven innovation.
To learn more, watch the Summit Day 2 Keynote and check out the Summit Day 2 press release. And if you have any questions about Acumatica 2023 R1 or would like to set up a demonstration, contact our experts at any time.