Every business wants ease-of-use, functionality, scalability, and flexibility when they choose a Cloud-based ERP platform, with the goal being profitability and a better run business. To help businesses in this selection process, Nucleus Research publishes a yearly ERP Technology Value Matrix. I'm excited to announce that Acumatica has achieved leadership status in the latest Matrix. Nucleus Research, a case-based technology research provider, centers its ratings on the usability of a vendor's products as well as on how the functionality of the products directly benefits customers. They also review the vertical and horizontal capabilities of each vendor. The research firm essentially takes each vendor's product apart to see how it works and then compares its properties against those of competitors. This is fact-based research, which sets the results apart from many opinion-based research providers.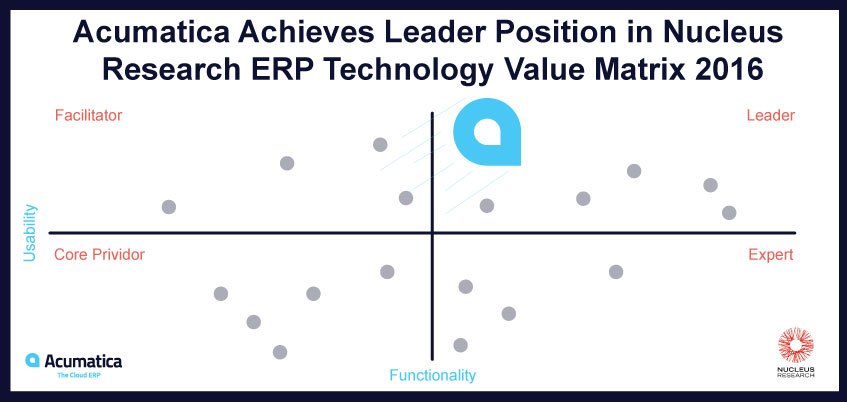 We encourage you to read the Value Matrix details of Acumatica's leadership position for yourself; go here and download the full matrix.
Where does Acumatica go from here?
The answer is…up! While Acumatica typically delivers ERP solutions to midsize companies, the ERP Technology Value Matrix 2016 rates ERP vendors at large. As an established provider of Cloud business management software, we are not an "up-and-comer" in the industry. This advancement to leadership status cements the fact that we are, in fact, the "here-and-now" along with "more-to-come" among all other ERP providers.
Technology advances daily. Here at Acumatica, we fully embrace the challenge of keeping up and spearheading these advances. The role of a successful customer-centric ERP provider is to fully encompass your specific needs and challenges completely from end-to-end. See why our partner, i-Tech, thinks this is critical.
Why is this the Leadership Quadrant ranking significant to Acumatica customers?
The leadership quadrant ranking of Acumatica clearly demonstrates our goal to provide customers with an impressive ROI when making the important, if not imperative, decision to move to the Cloud. We continue to improve the fit and functionality of our software solutions. Your decision either to move your current software solution to the Cloud or to update your technology means choosing a product that works. Acumatica is that choice.
Jon Roskill, CEO of Acumatica, says this about Acumatica's superb rating, "Being recognized as a leader in ERP value is a great honor and one we've worked hard to achieve. We're also quite focused on ease-of-use for our customers, so it's very affirming to see Acumatica ERP ranked highest in Usability."
As Acumatica continues its upward projection, we want to bring you with us. Accelerating your success in the Cloud is of the utmost importance. One way to achieve this is to attend Acumatica Summit 2017 where you will, among other things, learn more about our products and solutions as well as receive product certifications. The Summit provides in-depth trainings and sessions, covering everything from Acumatica framework fundamentals to specific courses on System Administration, Writing Reports, CRM, and more. You can go here to register. The Summit begins shortly on January 29th, 2017 in sunny San Diego, so make sure to reserve your spot today.
Join us. We want to help you successfully navigate the Cloud and bring your business into 2017 ready to stand as a leader in your industry. We can't wait to see you there!