There are many reasons to choose Acumatica cloud ERP. Martin & Associates provide the top five provided by their customers, highlighting why Acumatica is their first choice.
Accounting and cloud ERP software is not known for being glamorous or exciting. Many systems are either too plain, too small, too expensive, too complex, too old, or other "too" options. But somehow Acumatica tends to be the one that is "just right." Why is that? We received some great responses from our customers.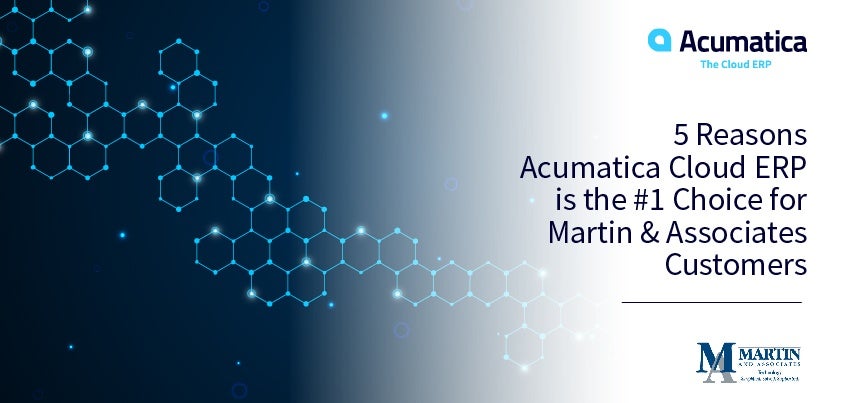 Why our customers see Acumatica as the #1 cloud ERP choice
Below are some of the top reasons our customers at Martin & Associates believe Acumatica trumps the competition.
1. Deployment options
This was high on everyone's list. While other systems lock you into their own cloud hosting, or only offer on-premise options, Acumatica is open.
Want to have Acumatica run and manage your environment? They do that. Want to host the software at a local hosting provider, or your own private cloud? Acumatica can do that. Want to run it internally on your own servers? Go for it. Do you have unique hosting needs only available through special hosting solution providers? Super—host Acumatica there.
No matter where or how, the experience is the same. Acumatica meets you where you are.
2. Product direction
Acumatica's funding source combined with a vast majority of revenue goes directly to product research and development, and it shows.
New features are consistently being added into the product (read more about their latest release, Acumatica 2019 R1, and its enhancements) as well as significant investments in vertical editions. For a customer, seeing this cloud ERP investment adds confidence that the product will continue to get better, be enhanced, and keep up with technology.
3. Reporting
With a built-in financial reporting engine, hundreds of canned reports, and many canned inquiries, Acumatica is strong in the reporting area. Add to that the ability to customize existing reports, create totally new reports in the system, and create custom inquiry windows, it's no wonder customers find Acumatica's reporting, dashboards, and data analysis tools to be top notch.
If the data is in there, it can be reported on. Did I mention the integration with Power BI as well? Acumatica has that, too.
4. Ease of use
Acumatica is consistently rated high in ease of use, and our customers find this to be true.
Do you need to import data from Excel for a journal entry? Easy! Need to copy and paste transactions for speed? Do it! Search the menu, help files, and transactions from one search box. Customize your workspace to your own needs. Customize your data entry grids as you see fit.
These are just a few examples of what makes Acumatica easy to work with and great to use.
5. Licensing and pricing
I don't believe any Acumatica post would be complete without mentioning their unique licensing model.
While it has changed some over the years, they strive to once again provide options to the customer to suit their needs and set them up for growth. Hire that new staff accountant and let them work in Acumatica. Let your salespeople login securely and run sales reports. Give your CFO access to those dashboards. Let people enter their purchase requisitions.
This accessibility by multiple users can happen without needing a new user license. Acumatica charges for the resources you use, not the users you add.
Go ahead and grow—Acumatica wants to grow with you.
Check out Acumatica cloud ERP
If you're in the market for cloud ERP software, then we at Martin & Associates—and our customers—highly recommend you check out Acumatica during your ERP research and ERP evaluation process.
We understand that ERP implementations can be challenging, but Acumatica's deployment options, product direction, reporting, ease of use, and licensing and pricing contribute to a rewarding and successful experience. Contact us if you have any questions about Acumatica's cloud-based ERP.
As for other value-added resellers, we recommend becoming an Acumatica partner. It comes with some amazing benefits, including their Acumatica Partner Program that provides excellent training, ongoing support, and generous margins and terms.